Women who beat the odds: Khayelitsha's Nokuthula Sibaba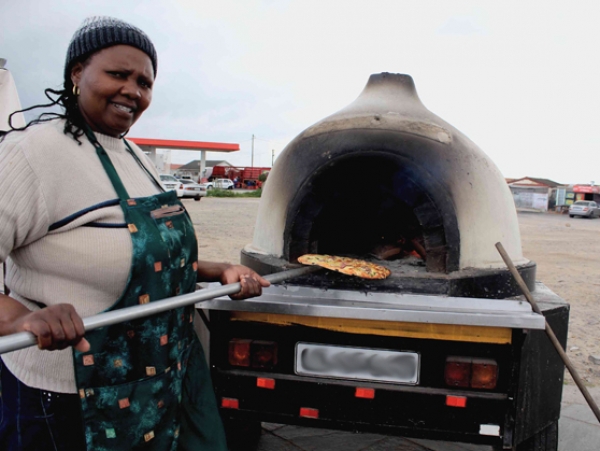 Thanks to a successful woman, people in Khayelitsha don't have to go to a mall to buy pizza - they can go to a pizza stand in Litha Park.
Nokuthula Sibaba has opened a pizza stand in one of the busiest corners of Khayelitsha.
The stand, which only has an oven and a small shelter is famous amongst the pizza lovers of Khayelitsha and nearby areas.
" I opened this stand in June this year and since then I've had customers from all over Khayelitsha and other areas. People queue here all the time wanting pizza, and for them it's exciting because there is no place that sells pizza in the townships other than the malls. Instead you find places that sell meat and other foods", she says.
Sibaba grew up in the Eastern Cape, in Mthatha. " I grew up in a very poor family where we struggled to get food everyday. I could not even afford to go to school because there was no money at home.
"When I was older I decided to go to Cape Town to greener pastures. I finished my matric in a school in the township and went to study Human Resources at Cape Collage. I couldn't finish my course because I did not have money, so I had to drop out", she says.
After dropping out of school she went to work at a restaurant and that is where she learnt to do pizza and other foods. She says she always wanted to be a businesswoman and she loved cooking.
" I never went to a cooking school. But I think cooking is my gift and I love it. I can create a tasty dish from simple things".
Simphiwe Mbubeni, who assists Sibaba in her shop, says that he applauds Sibaba's idea of bringing this pizza place to the township because it shows people that there are many ways to get out of poverty.
"In many restaurants, those who work in the kitchen are people from the township and they make good food. Why can't they take their skill and bring it to the township and create jobs by opening restaurants, or sell their food, just like Sibaba did?"
Sibaba says her business is growing though she faces challenges everyday.
"My stand is still new and I do not yet have a space where customers can sit and dine. And also I struggle when it rains because there is no shelter for customers.
"But I believe my business will grow soon and will turn this space into a restaurant ", she says.
Sibaba regards herself as a successful woman because since 1996 she dreamed of owning a pizza restaurant in the township and now she is starting to live her dream.
" I say to everyone, especially women, that if you have a dream make sure it happens. And try to be your own role models and learn from yourselves and also embrace your successes", she says.
Business hours: 9am until 10pm daily. Contact number for ordering: 071 793 9711/ 061 028 4691.
Dodgy people are suing us. Please support us by contributing to our legal costs and helping us to publish news that matters.
© 2016 GroundUp.
This article is licensed under a
Creative Commons Attribution-NoDerivatives 4.0 International License
.