Gay and not free in South Africa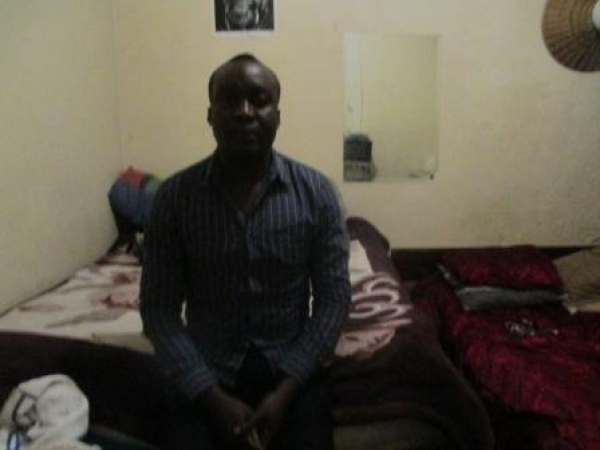 A gay man from the DRC claims the Congolese community in South Africa will not rest until they kill him. Junior Miteo Kalonji, 34, wept hard as he talked about his life. GroundUp had to stop the interview three times when he broke down.
On 11 August, Kalonji says he was attacked by two Congolese men who stole R2,500 from him. He does not know where they stay nor their full names.
Kalongi became a refugee in South Africa in May 2009. He fled his country because his life was in danger, he says. The family of his boyfriend, Erick Lukala, disapproved of their relationship. The father, a high ranking soldier in the military, threatened to throw his son in jail. Lukala committed suicide.
"Because of this I moved from my family in Lubumbashi and went to stay in Kolwezi, 400 km away," said Kalonji. "My boyfriend's family continued to attack my family. They were searching for me. They blamed their son's death on me. Some of the family members are here in Cape Town. One lives in Observatory, where I am also living, the others in Parow and Maitland. Whenever they see me in public, they shout at me and say one day you will die".
"When my father realised the situation was out of hand, he organised a passport and sponsored my trip to Cape Town. Besides the war between Lukala's family and ours, my dad was relieved that he finally got an opportunity to get rid of me. Both him and my mother including the whole family were ashamed of my gay life; my parents are high profile people".
Kalonji's mother works for the Ministry of Communications and his father is a manager for an international company. His father is polygamous. Kalonji is the first born of his mother's nine children. His dad also has seven children with his other wife. At family gatherings his sexuality caused much strife between the members.
In the DRC, he was attacked several times, also at Lubumbashi University where he was studying international relations for three years. He has also been savagely attacked in South Africa.
In Cape Town, Kalonji dated Eddy Bako, a Congolese man who hid his sexuality in public. People used this to extort money. One such incident ended with Bako beaten to death. At the crime scene, Kalonji guarded the body from 9pm to 5am before police took Bako to the mortuary.
"That same morning, my place was infested by angry Congolese. They wanted to kill me. Then there was financial problems, the family were willing to pay for the corpse repatriation but they could not afford. His body lay in the mortuary for two weeks because it was hard for me and his family to gather R25 000 needed by the undertaker. The Congolese people hit me again in church at the memorial service; police had to intervene."
After the funeral, another Congolese man claiming to be a member of the family persuaded Kalonji to tell his story on video, but the story, says Kalonji, was twisted and posted on YouTube and other social networks.
Kalonji's parents saw the clip and no longer want anything to do with him. He is sleeping and eating at friends.
"I am hurting and psychologically not alright. Losing two close people to me in such ways … I hope God will help me," he said.
Kalonji has not received counselling.
Guillain Koko said PASSOP, a human rights organisation, is organising counselling sessions for Kalonji. Resettlement is an option, but it is a long and strict process which takes between one and two years. Another solution would be to help Kalonji integrate back into the community.
Koko said, "South Africa is a democratic country … Being gay is not a crime."
But many gay refugees from African countries find themselves victimised in South Africa. PASSOP and other human rights organisations are partnering in raising awareness. We will make sure the perpetrators of hate crime or homophobia are brought to justice".
Dodgy people are suing us. Please support us by contributing to our legal costs and helping us to publish news that matters.
© 2016 GroundUp.
This article is licensed under a
Creative Commons Attribution-NoDerivatives 4.0 International License
.