There's no excuse, Minister: Here's the proof
| Ashleigh FurlongNathan Geffen
News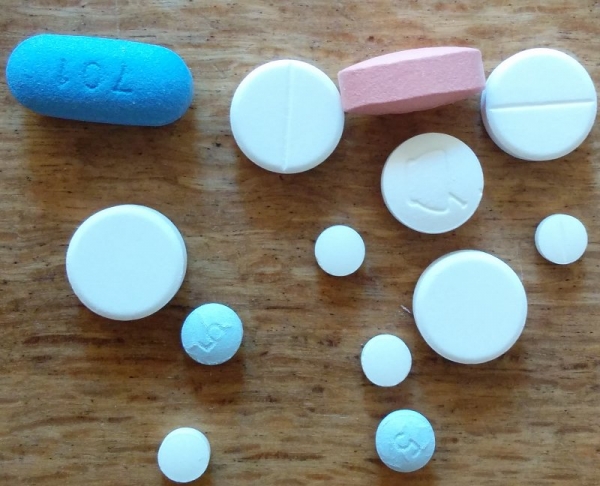 There are massive medicine stockouts in the public health system. These are mainly due to failures within the state system, not external problems such as global supply shortages that Minister of Health Aaron Motsoaledi has claimed are primarily responsible. Here's the proof.
On Monday 29 June GroundUp received three identically labelled anonymous letters by mail containing detailed reports of stockouts in public hospitals and clinics in KwaZulu-Natal. The reports have been confirmed by an independent source as having come from the official systems of the various health-care facilities. And staff at one hospital checked for GroundUp that some of the drugs listed were indeed out of stock.
The anonymously written cover letter said that it is true that some medicines are in short supply because of problems with supply by pharmaceutical companies. "But this is being used as a smokescreen to cover up the reason for the majority of stock-outs. The [KwaZulu-Natal medicine] depot is failing [clinics and hospitals] due to poor management and lack of knowledge of supply chain. Maintenance of stock levels at the depot, processing of orders, and distribution to its customers are the main reasons [for stockouts]."
GroundUp previously reported on stockouts in Ilembe District of KwaZulu-Natal but this new information shows that the problem extends far beyond Ilembe, and is ongoing. The out-of-stock items include medicines you can buy over-the-counter at pharmacies or even corner cafes, such as paracetamol.
The lists GroundUp received show that on 10 June:
King Edward Hospital had 389 items out-of-stock
Northdale Hospital had 246 items out-of-stock
Edendale had 200 items out-of-stock
Greys Hospital had 132 items out-of-stock
Ladysmith Provincial Hospital had 191 items out-of-stock
East Street Clinic had 96 items out-of-stock.
And as of 5 June Imbalenhle Clinic had 159 items out-of-stock.
In King Edward Hospital items such as codeine phosphate syrup 25mg/5ml, codeine phosphate tablets 30mg 100's, morphine sulphate injection 10mg and 15mg, ibruprofen 400mg 15's and 84's, paracetamol 500mg in 10s, 20s, 100s and 5000s and prednisone 5mg in 100s and 500s were out of stock. Sterile water for inhalation, alcohol, and eyedrops were also out of stock. A number of the facilities contained in the correspondence have stockouts of various antibiotics, some antiretrovirals and some doses of fluconazole, an essential drug used to treat two potentially lethal opportunistic infections associated with HIV. Several products used for the management and treatment of tuberculosis are also out of stock across most facilities. In East Street clinic an item listed as "CONDOM LATEX RUBBER 7200'S" is listed as out-of-stock.
Health workers were only prepared to speak to GroundUp on condition of anonymity. One told GroundUp that there have been veiled threats made for talking out. He said, "a henchman from the national health department in a big pricey suit and pointy shoes, talking the whole time on his cellphone," came to his facility. "The henchman" told him and his colleagues that the names of doctors who are reporting stockouts were known to the minister.
However, the health worker also said, "National is trying to get it right. My sense is that it's going wrong at depot level. People are being edgy about it, but that's my sense." He also said that health workers are finding solutions to the stockouts for their patients. "Drugs are being substituted with alternatives. Pharmacists are shopping around from clinic to clinic to find an appropriate drug."
Fed-up health workers at one facility went and bought some medicines from their local private pharmacy.
Minister Motsoaledi has equivocated on the primary reasons for public sector stockouts. In a statement on 24 May that took issue with the media's reportage, Motsoaledi laid the blame for stockouts primarily with suppliers. For example, he said, "In this whole problem of drug supply all over the world is that we source these medicines from companies that are in business and their actions and decisions are not always based on the needs of patients but on what makes business sense."
He further said, "Mention is always made of a long list of drugs that are out of stock which emerged from the department itself. That list was released on our website as an early warning system to solve particular problems. Firstly, we do not order drugs but provinces and facilities do so. In order to save time and cut down on problems it will be important for people who place orders to have knowledge of which companies currently have problems supplying specific drugs. This avoids the problem of placing orders and only discovering after 14 to 42 days that the company is unable to supply because none of the companies inform us up front that they don't have stock. This in business parlance, we are told is to protect their brand."
He makes several further statements about the problems with suppliers and also referred to an international report that "shows that we are not the only country that has shortages."

Photo from Stop Stock Outs Project's 2014 Stock Outs Survey.
Motsoaledi also said, "It is quite unfortunate that this whole sage emerged from KZN. Because this is one of two provinces where we are piloting and KZN in particular is fully covered by the new cell phone technology that traces drug stock outs right up to facility level." However in his closing speech at the South African AIDS Conference on 12 June Motsoaledi admitted that when drugs are not out-of-stock internationally and are still being manufactured the problem lies with logistics. "I never denied, I never ran away," he said.
Motsoaledi also acknowledged that there are facilities that are out of stock of certain drugs and that he could not promise that "at any one time [that] you go to the facility you will find stock". He did insist however that the country has sufficient stocks of the once-daily three-drugs-in-one pills (known as fixed-dose combinations) used in the country's massive HIV treatment programme.
Motsoaledi said that it did not help to go to the media with reports of stockouts as this will not help patients receive their medication. "I am not stopping anyone from going to the press. This is a free country. You can go there to the press but let's help the patient first."
In a recently released report looking at stockout problems in 2014, the Stop Stock Outs Project (SSP) found that only "20% of reported cases are found to be caused by manufacturing issues. The remaining 80% of cases are caused by management and logistical challenges between the medicine depot and clinics at provincial and district levels. These include incorrect quantities of drugs being ordered by clinics, inaccurate forecasting of drugs per population, and poor stock management at facility level."
Bella Hwang of SSP said that the National Department of Health's commitment to solving the problem of stock outs is important but "requires implementation and commitment at province, district and facility level."
Marcus Low who is head of policy at the Treatment Action Campaign (TAC) said that the Department of Health "keeps shifting the focus to international supply shortages, but this is a red herring". He said that drugs such as penicillin and abacavir — an antiretroviral used to treat HIV — are the exception as they are facing actual supply problems.
"These devastating reports from Kwazulu-Natal appear to confirm once again that the majority of stock outs are not because of actual medicines shortages, but because of the inability of provincial healthcare systems to distribute medicines effectively," said Low.
"To deal with this crisis we must address the underlying problems of poor management, cadre deployment and under investment in medicines distribution."
GroundUp's phone calls and emails to Heather Harding, the KwaZulu-Natal depot manager, were not answered.
The spokesperson for the Ministry of Health Joe Maila directed all questions to the KwaZulu-Natal Department of Health. The Kwazulu-Natal Department of Health did not respond to us.
Download a PDF file (nearly 10MB) with the anonymously received stockout lists.
© 2016 GroundUp.
This article is licensed under a
Creative Commons Attribution-NoDerivatives 4.0 International License
.