Cape Town's Congolese shun independence celebrations
| Bernard Chiguvare
Brief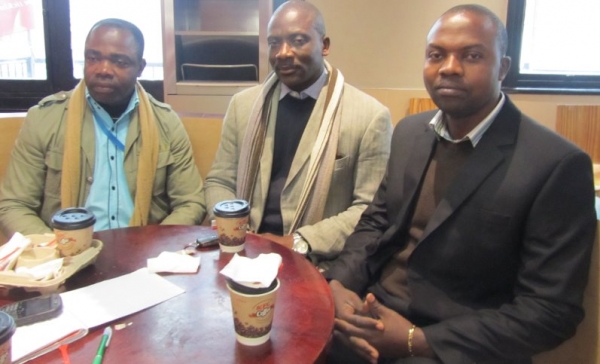 The Democratic Republic of Congo (DRC) marks 55 years of independence today but many Congolese who fled to Cape Town say there's nothing to celebrate since the country is at war and the government does not reflect the will of the people.
"Today we should be celebrating our independence in DRC but there is nothing to celebrate," said Vincent Kanyonga, chairperson of the Congolese Community of the Western Cape (CCWC).
"We thought we were independent but we are not. When a country is independent the citizens benefit, but we do not see anything. We as the Congolese community in the Western Cape have thought of celebrating it another way," he told GroundUp in an interview in Cape Town today.
Kanyonga said rather than celebrating, the CCWC had invited three speakers from the Pan African Congress (PAC) and two from PASSOP to be on a panel of speakers in Milnerton tonight to discuss the future of the DRC.
"Back home most people do not celebrate the way the government expects unless they are forced to," he said.
"Today we are going to do it the other way round. We are going to gather and reflect on the past and what this day actually means to us. As an organisation we have to think of a way forward for us to reclaim our independence. We'll use this platform to change our people's minds about what freedom is," he says.
Kanyonga said Patrice Lumumba, the country's first Prime Minister who was assassinated in 1961, had brought freedom to the Congo but had not been allowed to live. The country had never since had a government which reflected the will of the people, he said.
"We have to think of the sacrifice Lumumba made for our independence. Our aim today is to speak to the Congolese and the South Africans, saying that we are not celebrating independence because independence on paper is not fair," said Leonard Mulunda, spokesperson for the CCWC in the Western Cape.
Mulunda said the organisation urged South Africans to help reclaim their independence. He also blamed the African Union (AU) for the way the DRC was being run.
"In 2006 and 2011 Joseph Kabila did not win the elections but he is the current president. Today we have to reflect on this," said Mulunda.
Kanyonga said they would again take the opportunity to urge all Congolese in the Western Cape to work together for a cause – reclaiming DRC independence.
© 2016 GroundUp.
This article is licensed under a
Creative Commons Attribution-NoDerivatives 4.0 International License
.