NEWS
Some homeless prefer life on the street while shelters pave the way home for others
Two cardboard boxes, a tattered blanket, plastic sheets and old newspapers are the only things shielding 53-year-old Geraldine Rhoda and her children from the icy winter chill.
"It's a hard life (on the street), but there are some nights during winter you feel so cold like you going to die. After a few years you get used to it," she said.
Rhoda and her daughter, aged 21, have been living on streets in Cape Town for the past 20 years.
She also has a 25-year-old daughter who lives with a relative in Mitchells Plain and a son who passed away last year after contracting TB.
Rhoda said she prefered life on the street to living in a house or shelter where she would be told what to do.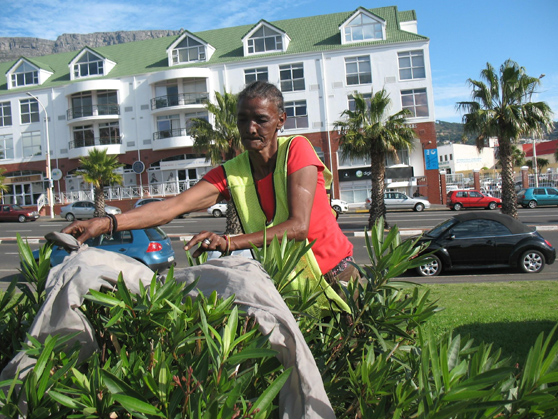 Geraldine Rhoda drying her clothes outside the Fruit and Veg store where she sleeps. Photo by Barbara Maregele.
Meanwhile, Willem Booysen and Jill Atkins who currently sleep at the Haven Night Shelter in Green Point have a different view and believe the shelter is helping their lives "back on track."
They are among the estimated 7,000 homeless, including children, in the greater Cape Metropole.
The City, last week, announced that it had allocated R280,000 in the form of beds, food and toiletries to assist non-profit organisations (NGO's) ahead of the winter months.
Rhoda, who grew up in Worcester, came to Cape Town in 1970 to search for work. "I got married and did odd jobs. I first started as a day stroller, coming into the city to beg and then going home at night. I was abused by my husband so I decided to leave," she said.
Rhoda and her daughter now sleep with a group she calls her "street family" outside the Fruit and Veg store off Roeland Street in the city centre.
"In the morning I get up and go ask the garage or the [security guards] around here to give me water to just wash my face. I usually just do it in the parking lot where I guard cars during the day. At night, we make a fire and cook whatever food we have, then we pack our things on the stoep and go sleep," she said.
During winter, Rhoda said getting shelter in a warm and safe space was difficult as they are often chased away by law enforcement officers.
"We all sleep in the rain, our clothes are always wet in winter. We have to make a fire to dry it. The security in the City put us in their vans because they say we are blocking the pedestrian walkway when we sleep. I've already been in jail for a month with my daughter," she said.
When asked what her reasons were for not going to one of the shelters, she said, "My only income is what I get as a car guard. Every time we go to the shelters, it's full or we have to pay money every night. What's the point if you can only stay there for six months before they kick you out."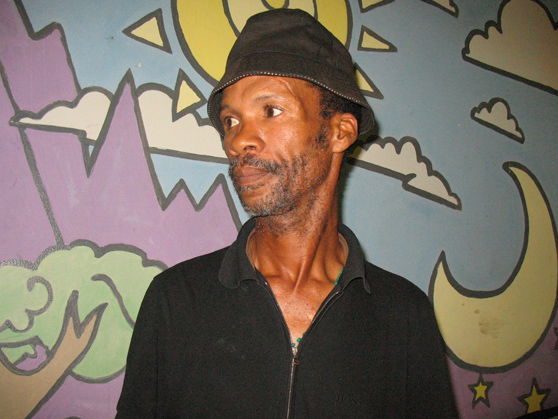 Willem Booysen, 45, at the Haven Night Shelter in Green Point.Photo by Barbara Maregele.
When GroundUp visited the Haven Night Shelter, we spoke to 45-year-old Willem Booysen 45, who has been living there since March this year.
"I've been living on the streets since I was 28-years-old. In order to survive on the streets during winter, we would collect wood and make a lot of fires. At the end of the day, we would collect rejects and leftovers to cook for supper," he said.
Booysen said while on the street, it was easy to fall into abusing alcohol and drugs.
"I have two children and both of my children are older now. I have to get my life in order before I go and see them. On the streets I found solace in alcohol. It helped me forget about everything. I'm still not used to life in the Haven. I keep to myself and it's very difficult to do that in a communal space. I'm just grateful to have a roof over my head and a warm place to sleep," he said.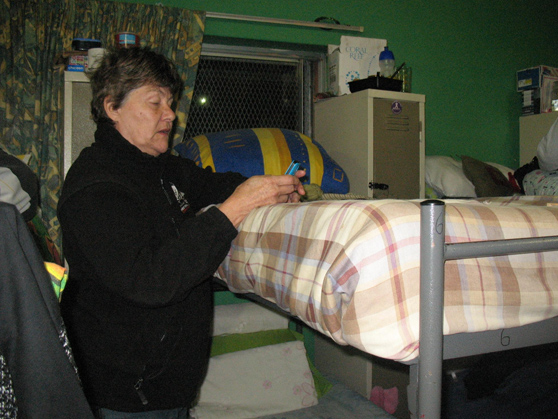 Jill Atkins by her bed at the Haven Night Shelter in Green Point. Photo by Barbara Maregele.
Jill Atkins, 59, has been at the shelter for the past seven months.
"For a number of years I've had a drinking problem and I have bipolar disorder. I started as a home based caregiver in 2010, but lost my job when I was caught drinking. Now, I'm back on my meds and hope to get my life back on track," she said.
During her time at the Haven, Atkins has attended rehab for her alcohol addiction.
"My children are also fed up with me. They see me build myself up, but then I stop my meds again. I'm almost 60 so I have to start looking after my health and saving some money. I don't want to be a burden to my children. I want to be an example [for them]," she said.
© 2016 GroundUp.
This article is licensed under a
Creative Commons Attribution-NoDerivatives 4.0 International License
.