NEWS
Six-year-old and siblings survive by begging for food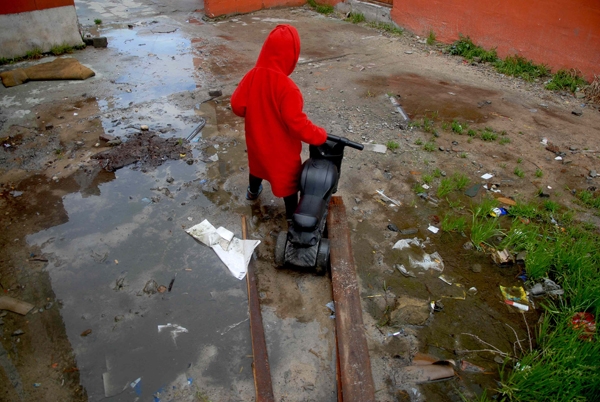 A kid known as Didi, who is six, walks the Nyanga streets asking people for bread and for money to buy sweets and chips. Didi says that sometimes he sleeps without eating; when he wakes up, he and his siblings have to go and look for food.
Didi has four siblings: a young man aged 22, and three sisters, aged 16, 13, and 9. The 13-year-old girl has a mental disability. Another sibling died in gang activities. The mother is alive, but can't support the children.
The mother is a known alcoholic. According to a neighbour, she is always drunk and often not around to look after her children. The children are usually on the streets, without shoes or warm clothes.
Until recently, the family used to stay together, but the eldest child chased the mother out of the house. According to him, his mother is not fit to be a mother. She now stays in a nearby shack with her first husband and his children.
The eldest told GroundUp he hates his situation; he did not think he would become a gangster. He blames his parents for his brother's death, saying that if they had been good parents, the family wouldn't be in this situation.
A few years ago, he and his deceased brother had been sent to a foster home, but they ran away claiming that they were abused by the foster parents. A year later, they both became gangsters.
When GroundUp visited the home in Nyanga, the house had broken windows and doors. The roof had holes, and the outside of the house was peppered with bulletholes.
The bedroom had one torn mattress with dirty blankets and a broken cupboard; the front room had two broken chairs; the kitchen had dirty plates, a broken sink and broken cupboards.
The house is a hangout for gangs, and it is used for smoking tik and as a hiding place.
Didi says he also sleeps at the house when he can't find his mother or the stepfather chases him and his sisters away.
"Sometimes gangsters sleep here with us. I've got used to it … But there are days when they leave us at night and they come back in the morning and the house will be full of blood," says Didi.
Didi also says that there are times at night when the police and "other people" come and search the house while the eldest and his friend are not around. He says they always carry weapons.
All the children used to go to school until they were discouraged by their circumstances. The 16-year-old girl, who should be in grade 9, said she doesn't go to school anymore because her uniform is torn and she doesn't have money for food and school materials.
"I sometimes don't sleep at home because of the situation and I sleep at my boyfriend so I do not wake up in time for school," she said. "At times, he beats me. I do not like to be seen having scars so I stay with him until I am healed. It's not because I enjoy staying with him, but he gives me a place to stay for the night and food."
She doesn't like the fact that her younger siblings are exposed to the gang environment. She said she would do anything to change the situation, but she doesn't know where to start.
The mother, however, thinks her eldest is the problem. "I do not know what happens in that house when they sleep there. I am scared those gangsters can harm the girls. I try my best to provide for the children; it's hard. I am a single parent and I am unemployed."
© 2016 GroundUp.
This article is licensed under a
Creative Commons Attribution-NoDerivatives 4.0 International License
.