City of Cape Town plan to acquire drones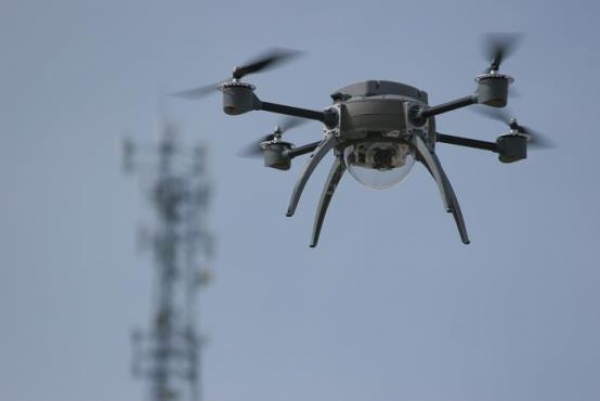 Shortly after referring to its CCTV system as "Big Brother" and expressing support for public video surveillance, the City of Cape Town has revealed that it is in the "planning phase" of a camera drone project.
Last week, JP Smith, the City's Mayco Member for Safety and Security, said in a meeting with the police that the City aims to test drones within the next two months.
In an interview with GroundUp, Smith confirmed and elaborated on the City's plans. He said that different departments within the City – Metro Police, Disaster Management, Fire and Rescue and Engineering departments – have had to spend money on hiring helicopters for aerial surveillance. The acquisition of a drone (for around R600,000) could be more cost-effective.
Drones would be used to monitor land occupations, crime, scrap yards suspected of harbouring stolen copper, shack fires and disasters. Two companies are set to demonstrate their products to the City in the near future, Smith added.
Drones are already widely in use in South Africa — in commercial filming, anti-poaching operations and for recreational use. In June, a Pretoria based company, Desert Wolf, made international headlines for developing a drone (marketed as a "riot control copter") that could spray tear gas and fire rubber bullets at protesters. At the time, the company revealed that an unnamed mining company had ordered 25 such units.
However, the South African Civil Aviation Authority (SACAA) has warned that, in the absence of legal guidelines for drone use, operators are breaking the law when flying these devices.
In response to growing confusion around the legalities for drone use, SACAA brought out an advisory in June stressing that no Unmanned Aircraft System (UAS), as drones are formally known, complies with the requirements for operating an aircraft in South African civil airspace. This absence of regulations is to be rectified by March 2015, the deadline given for interim standards for case-by- case allowances. Smith said that he is aware of the current restrictions on drone use.
The City already has a comprehensive CCTV system, which it uses to monitor crime, including social protests. In a press statement, "Big Brother zooms in on criminals", the City claims that the system has been successful in crime fighting and it intends to expand the network.
Jane Duncan, University of Johannesburg professor and author of Rise of the Securocrats, says that the crime prevention benefit of extensive CCTV is debatable when weighed up against threats to citizens' privacy and democratic freedoms. The sophistication and manoeuvrability of drone technology means that it has far more potential to be invasive than CCTV cameras.
"International precedents show that a certain threshold of risk to personal privacy is crossed when surveillance drones are acquired and deployed by the state," she said.
"The potential for near universal surveillance without detection and for a cross-over from public to private surveillance become real concerns. It presents a new and unique threat to South Africans' constitutional right to privacy."
Duncan said that government camera drone projects should be stalled until they can be scrutinised by the independent Information Regulator, the establishment of which is prescribed in the Protection of Personal Information Act. One of the Information Regulator's functions would be to monitor compliance to the Act's protection of South Africans' personal information. Existing CCTV systems should also be screened by the Information Regulator for contraventions of the Act, Duncan said.
Nevertheless, several civil society organisations have cautiously welcomed the Commission of Inquiry into Police Inefficiency in Khayelitsha's recent recommendation that police in the township optimise their use of CCTV cameras in crime prevention.
"We are not advocating for mass surveillance of people's personal information and comings and goings," explained Zackie Achmat of Ndifuna Ukwazi. "We simply acknowledge that safety in communities can be improved if (surveillance systems) are appropriately used. Yet these can be easily abused to become geared toward protecting the state and elite interests rather than serving the communities where they are installed."
In the United States, where drones have migrated from their use in international warfare to surveillance in domestic law enforcement in recent years, these debates are ongoing. The American Civil Liberties Union (ACLU) is leading the lobby for responsible, accountable, and regulated drone use in public surveillance. In a 2011 report, it motivated for a system of rules to ensure that the "steadily improving" technology does not "(bring) us a large step closer to a surveillance society".
The report summarised a number of threats to democratic freedom and privacy posed by state surveillance drones. These included "mission creep" — the process by which technology originally acquired for benign purposes becomes pervasive or is hijacked by law enforcement for "more controversial purposes". Among other concerns listed were the "chilling effect" on a human's psychology when they are being watched; individual abuse such as voyeurism; institutional abuse during times of social unrest; new uses such as the mounting of riot control weapons on drones; and discriminatory targeting.
In September, the ACLU hailed the California legislature for approving a bill which required that police get a warrant before using a drone to survey communities or individuals.
"I'm so tired of these conspiracy theories," responded Smith to questions about the invasion of privacy.
"Some people just want to believe in the worst possible agenda of the City's plans. Each time a drone is launched, a flight path request needs to be logged. These devices are loud and perceptible. We will have to comply with all the terms of engagement defined by the CAA and national government. It's not a case of chucking one in the boot and launching one in an uncontrolled way."
But Dr Christi van der Westhuizen, an author and analyst who has written on apartheid and post-apartheid state security, described surveillance drones as "a technology which is globally controversial due to the tremendous threat it poses to democratic freedoms". As a result, the City should present the public with a clear policy framework on the use of drones which should be subject to extensive consultation and debate before implementation is even considered, she said.
She expressed particular concern over the city's proposal to use drones to monitor land occupations of the type that saw hundreds of shacks erected on a private piece of land in Philippi East in August.
"If this goes ahead, it would amount to local government further criminalising poor and marginalised communities, all in the name of protecting private property rights, instead of addressing the real socio-economic needs that underlie land occupations.
"It also shows that the use of the technology in law enforcement is never neutral. In examples around the world, law enforcement operate and use the tools at their disposal in ways that entrench existing social inequalities. In the United States, as in South Africa, these inequalities are usually race and class-based."
© 2016 GroundUp.
This article is licensed under a
Creative Commons Attribution-NoDerivatives 4.0 International License
.