Peter trial: Constable's competence called into question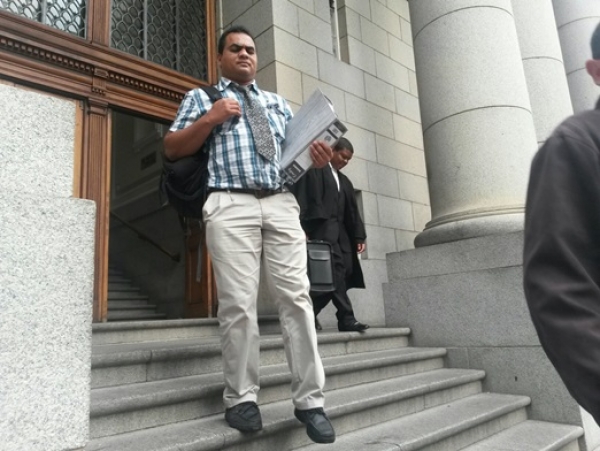 Defence attorney William King expressed concern yesterday at the lack of memory and of competency of the detective constable who led investigations into the kidnapping and murder of Rowan du Preez.
Activist Angy Peter and three others, including her husband, are being tried for the murder in the Western Cape High Court.
"I am worried about the lack of memory of this witness on key components in the matter," King said on Monday 18 August, referring to the testimony of detective constable Stanford Warren Muthian of Mfuleni police station.
Muthian and sergeant Lesley Freeman were subpoenaed as two additional witnesses to testify after the state and defence closed their cases on 11 August.
Peter, her husband Isaac Mbadu and their co-accused Azola Dayimani and Christopher Dina, are accused of kidnapping, assaulting and murdering Du Preez in the early hours of 13 October 2012.
Du Preez was suspected of stealing the couple's TV from their Mfuleni home the previous August.
It was submitted as hearsay evidence that before Du Preez died, he named "Angy en haar man" as the people who were responsible for his attack to the police officers who found him after his attack.
The couple say they were home sleeping at the time of the attack and claim they are being framed by police because of Peter's quarrels with police for her work with the Social Justice Coalition(SJC).
Muthian first took the stand on 11 August 2014 where it was revealed that he had no formal detective training in 2012 and was yet to complete the course.
On Monday Muthian briefly recounted how he conducted his investigation after interviewing the witnesses on the morning of 14 October 2012.
"We went to Khayelitsha to arrest Angy and her husband. We took them back to Mfuleni cells and dropped the victim's family at home. Went to Tygerberg Hospital and mortuary and they didn't have a record of the deceased there, so we had to find out from the ambulance where they took him," he said.
Muthian said they met up with Du Preez's family and doctor at Groote Schuur later that afternoon.
"I can't recall everything, but I remember the doctor telling the family about his(Du Preez's) 100 % burns. I went home after that," he said.
During cross-examination, King took Muthian through a series of photographs taken during a pointing out of the crime scenes exercise with witnesses Desiree Jack and John Ndevu.
King pointed out that one of the photos had no significance to the case at the time.
"Was this picture a mistake? You were the investigating officer in the matter and should've known what the main witness would be pointing out," King said.
Muthan said: "I'm not sure if it has relevance. I can't recall. I just had to submit. I didn't have time to go through everything because the docket was also away from me for a time. I can't answer how this happened."
King said it was strange that Muthian remembered a conversation the doctor had with Du Preez's family in 2012, but couldn't recall what eye-witnesses said during the pointing out done last year.
King told the court that Muthian was the common denominator in the statements where Du Preez's address was incorrect.
"The last two digits were switched on all the statements, including the statements from the witnesses who lived at that address. You influenced them and that's why the same mistake is made in all of them," he said.
Muthian responded: "I will go on a lie detector just for this. I didn't influence any of the witnesses."
King said defence would argue that the contents of the docket were "concocted" by police to implicate his clients.
A correction was made to this article after publication. It originally stated that "Angy Peter and four others" are on trial. It has been corrected to "Angy Peter and three others".
Dodgy people are suing us. Please support us by contributing to our legal costs and helping us to publish news that matters.
© 2016 GroundUp.
This article is licensed under a
Creative Commons Attribution-NoDerivatives 4.0 International License
.