Women who beat the odds: Lydia Ntonga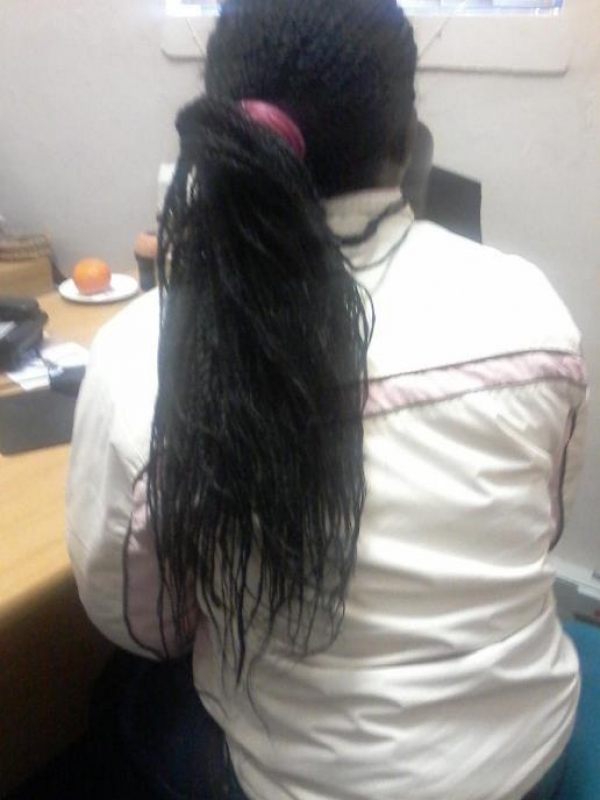 Lydia Ntonga, 25, will not allow the loss of her eyesight to hold her back. With courage and help from Cape Town Society for the Blind and The League of Friends of the Blind she is determined to get what she wants from life.
On 19 August, Ntonga surprised this journalist when she got out of the Kraaifontein train at Salt River train station and asked for help to go up the bridge out of the station.
The GroundUp journalist offered to walk Ntonga to school at the Cape Town Society for the Blind (CTSB) and watched as she passed through two busy roads with the help of her cane. She kept checking if we were already at the fish and chips shop and the BP garage.
Ntonga originates from Eastern Cape and lives in Kraaifontein. She is married, with a two -year old baby girl named Ziana.
She went to primary school at Mtebeli in Eastern Cape and high school in Plettenberg Bay but she did not complete her matric in 2008 because she was stabbed in the right eye. The injury affected the functioning of the left eye and she has become blind.
"I think my child understands that I am blind. She has developed a habit of taking my hand and she tells me to feel if there is something she would like to show me," says Ntonga.
At the moment she is living on a R1,300 a month disability grant and the baby is in a creche.
She rents a shack with her husband who also has an eyesight disability and her dream is to buy her own house and live comfortably.
"I do everything for myself, caring for the baby, house chores… Shopping I do with my sister's help".
Ntonga says after losing her eyesight she was referred to Cape Town Society for the Blind and League of the Friends of the Blind (LOFOB) by a social worker from Groote Schuur Hospital where she received treatment for her eye injury.
"Before I came in contact with these two organisations, I did not know how to do things for myself. At LOFOB I went through an orientation and mobility programme. I acquired skills which are helping me to move about safely, as easily as possible and looking as natural as possible, as well as knowing where I am and how to get to my destination.
"I started an independence training course at CTSB in July and will finish in December. The course covers lifeskills, public speaking and computers.
"We have three classes per day.
"At CTSB, we do not pay tuition fees. Everything is sponsored, including lunch".
Ntonga says she will not be choosy when the time comes to search for employment. She will do any computer job she can find.
Now she wants to overcome the challenges of public transport and to learn to rely on digital talking books for people who are blind or have a print disability, rather than to have people read to her.
CTSB Public Awareness Officer, Vincent Daniels, who has been with the organisation since 1983, is also blind.
Part of his work is to mentor and counsel people with sight disabilities and to encourage them to be self reliant.
He showed GroundUp the JAWS computer programme that converts text to speech, which is taught at the centre.
He stresses that it is not easy for those who lose their eye sight. They grieve and need post trauma counselling. At the CTSB they connect with others who have walked the same road.
"They need to gain self confidence, independence and ability to feel positive".
Dodgy people are suing us. Please support us by contributing to our legal costs and helping us to publish news that matters.
© 2016 GroundUp.
This article is licensed under a
Creative Commons Attribution-NoDerivatives 4.0 International License
.