New toilets for Khayelitsha creche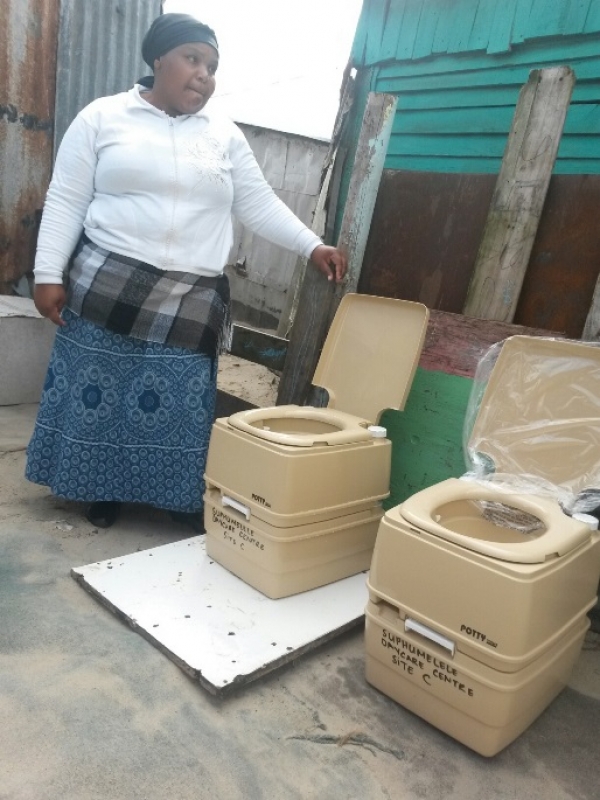 It's an hour before snack time at the Sophumelela Day Care centre in Site C, Khayelitsha, and one of the toddlers has indicated to his teacher that he needs to use the toilet.
For the past year, this toddler and his 24 peers, aged from infants to five-year-olds, have been using five litre buckets to relieve themselves.
Teachers have been emptying the full buckets into toilets about 200 metres from the creche.
However, following reports highlighting the plight of the crèche published on GroundUp the City's Mayco member for Utility Services, Ernest Sonnenberg, promised to remedy the situation.
And after a delay caused by budget issues, the City of Cape Town has delivered seven new portable flush toilets to the creche.
When Groundup revisited the crèche on 15 August, the toddler and his peers eagerly pointed out their new toilets.
"The parents and all the teachers were so thankful when the toilets arrived. I'm just happy the children don't have to use those buckets anymore," says creche founder Zodwa Mdiko, who opened the creche in 2013 after parents in the area approached her for help.
One of the teachers, Bongwe Gongo, demonstrated how the toilets flushed.
"The City said they will clean the toilets three times a week. We got seven, but are only using three at the moment because some of the parents still keep their children at home in the winter months. Now all we have to do is apply to get a proper house for the creche," says Mdiko.
She plans to approach the City's disaster risk management to a building msk for building materials to secure the crèche.
"The only people helping us at the moment are the surrounding schools in Site C that donate food parcels to us," she says.
© 2016 GroundUp.
This article is licensed under a
Creative Commons Attribution-NoDerivatives 4.0 International License
.