Patients turned away from Mfuleni clinic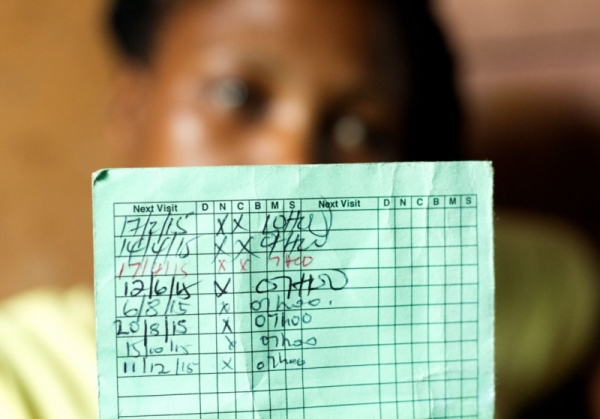 Mfuleni community clinic turned away some patients on Friday as staff went to an end-of-the-year function.
Sithembiso Magubane, communications officer at the Western Cape Department of Health, said adequate staff had been left to see to walk-in patients.
"The staff on duty included one clerk, two medical officers, one Clinical Nurse Practitioner, two Professional nurses, one Enrolled Nurse and two cleaners. This staff complement was sufficient to see to patients attending the facility," he said.
"No appointments had been scheduled for the 11 December 2015", he said.
But one patient showed GroundUp an appointment card for 11 December.
At the entrance a security guard was turning people away, telling them only emergency cases would be seen.
Angie Peter, an activist for the Treatment Action Campaign, in the area said she received a call from two patients who had been turned away when they went to fetch antiretroviral medication.
She had gone to the clinic manager's office only to find that he was not there.
She had called the sub-district in Khayelitsha to report the problem, she said.
"One of them is going to the Eastern Cape today, and she was supposed to get the medication.
"Who wants to disclose their status at the gate to a security guard?" said Peter.
Peter, who was also supposed to get her medication that day gave her clinic card to the clinic clerk. He told her to go to the pharmacy where she was told to go back to the clerk and ask for her file. He went to look for it on the other side of the clinic and came back after a few minutes to say he couldn't find the file.
"I don't know how the filing system works. I don't work here I was just asked to help out today." he said.
Peter finally managed to get her medication after refusing to leave without it.
Another TAC volunteer, Phathiswa Shumane, said people who collected TB medication were being turned away.
"There are people who just started their treatment. "Now the clinic will be the reason why many people default," said Shumane
A patient who didn't want to be named said she was at the clinic to fetch her treatment but read the notice at the gate and returned home.
"I am leaving for the holidays and my departure date was today. I am only coming back in January. Now I must postpone my bus ticket which will cost me more money," she said. "The Department cares about the wellbeing of its clients as well as its staff. The end of year function is an opportunity for staff and managers to appreciate the efforts that have been made as a unit throughout the year," said Magubane. But, he said, "our first priority is always our clients".
Dodgy people are suing us. Please support us by contributing to our legal costs and helping us to publish news that matters.
© 2016 GroundUp.

This article is licensed under a Creative Commons Attribution-NoDerivatives 4.0 International License.