Over 2000 in Cosatu march to parliament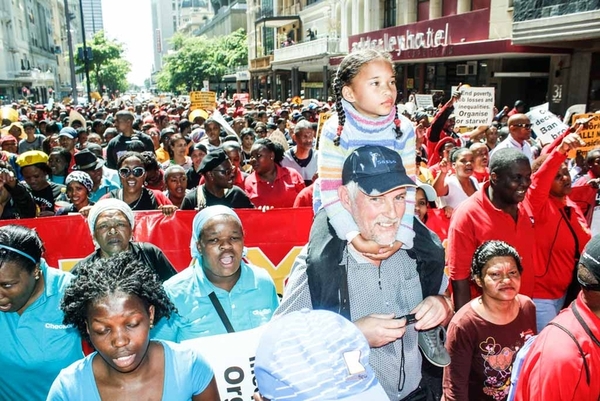 At least two thousand workers from all sectors of the economy in the Western Cape marched to parliament today to hand over a memorandum of demands.
The march started from Keizersgracht Street and continued through Darling Street, Adderley Street and Plein Street to the parliament buildings. Most of the marchers sported red COSATU T-shirts.
Placards included calls to: 'Stop e-tolling highway robbery', 'End poverty, job losses and inequalities', and demands for anational minimum wage.
The marchers chanted slogans and sang political songs, echoing the names of liberation struggle heroes such as Oliver Tambo and Solomon Mahlangu.
Among the protesters' demands were: 'a safe, reliable, affordable, accessible and integrated transport system' with 'one ticket for train, bus and taxi'; no increase in Value Added Tax; a halt to retrenchments and dismissal of workers; a secure electricity supply for economic growth; and the release of the white paper on national health insurance as well as urgent attention to the state of health care.
Western Cape COSATU secretary Tony Ehrenreich led the marchers.
Workers who did not attend the march, such as some workers in the FNB Adderley Street, joined in by cheering as the march passed them.

Some of the marchers that joined Cosatu in Cape Town today. Picture by Masixole Feni.
Before handing over the memorandum, speakers from various unions addressed the marchers.
"We demand government address the transport system to take care of all classes. There should be a railway line going through black townships," said Andile Ndevu from SANCO.
"We need to tell our government that we should go back to the early days of our independence and see how we manage to survive. Again, we need to tell white capital that we need a social pact," said Faiez Jacobs, ANC Western Cape provincial chairperson.
Freda Oosthuysen, COSATU national treasurer, signed the memorandum which was received and signed by Department of Transport Deputy Director-General Mathabatha Mokonyama.
"We will take the memorandum as usual to the Minister of Transport and other individuals mentioned for their consideration. We appreciate the discipline you have showed today," said Mokonyama.

Some marchers held up fake money. Picture by Masixole Feni.
© 2016 GroundUp.
This article is licensed under a
Creative Commons Attribution-NoDerivatives 4.0 International License
.