Some panic as Zimbabwean special permit closes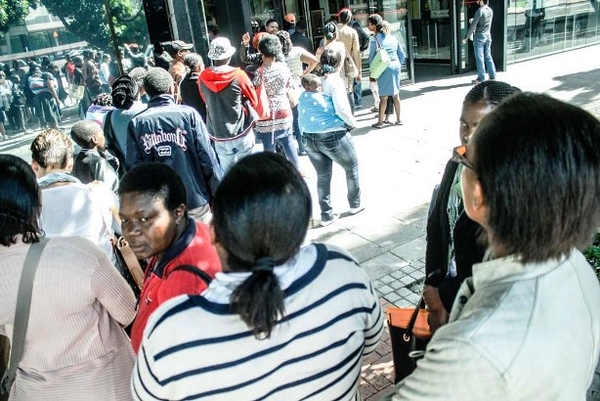 On Monday, panicked applicants who had not yet received their Zimbabwean Special Dispensation Permit (ZSP) started queuing outside the ABSA building in central Cape Town for help.
This was after they found a notice outside the VFS Centre, which had until then facilitated the application process, stating: "Please note that this office is closed from 30 September and has moved to 21st floor, ABSA building, Riebeek Street, Cape Town. Please collect your result from 21st floor ABSA building or email info.zsp [at] vfshelpline.com."
Applicants standing in the queue told GroundUp they were in a panic as they had not yet received any correspondence from the Department of Home Affairs (DHA) since applying for the new permits. They are also worried that if their applications were rejected, they might not be able to appeal the decision since the office is now closed.
On 12 August 2014, Minister of Home Affairs Malusi Gigaba introduced a new special permit for Zimbabwean permit holders who wished to remain in South Africa after the expiry of their old permits. Approximately 245,000 holders of the old Dispensation for Zimbabweans Project (DZP) were eligible. ZSP online applications opened on 1 October 2014 and the project closed on the 30 September 2015.
Mercy Kufakunesu, who started queuing at 8:30am, applied for her permit on 13 December 2014. She said she had been to the VFS centre more than 10 times to check on her permit, using up all her work leave days . After a long day standing in the queue, she was told her permit is pending and she should come back to check. She feels the officials who helped her were overwhelmed.
She said, "I handed my receipt to the VSF official together with another man. A few minutes later, the official came and told us they are still pending and we should come back again. The man [with me] then told the official to take his receipt back and check again because his brother, who collected his permit last week, checked his as well and he was told it was ready. The official went back to check. He returned with the permit."
Kufakunesu said she was told the permit would be issued after four weeks when she first applied. She is worried her Capitec bank account will be closed. She has received a message from the bank saying her account will be deactivated if she does not produce a valid permit.
"I am grateful my employer understands when I ask for leave days to check on my permit's progress. When I was standing in the queue in the morning, others gave up and had to rush to work."
Bernard Toyambi of PASSOP said, "Our staff visited ABSA building where the ZSP applicants are now being helped and established that they have their own help desk … Unreceived permit cases are less than rejection cases. Our office currently has a database of less than 20 cases of unreceived permits and 300 rejection cases."
Thabo Mokgola, home affairs media liaison officer, said, "The applicants will receive their permits. The Department of Home Affairs and VFS made a provision for the continuation of collection of outstanding permits. We will in due course announce the closure date for collections. We call upon applicants to constantly visit the VFS website for updates.There is no further appeal process. In this regard, rejected cases are very minimal. No extension will be granted after their expiry date on 31 December 2017. Those who wish to apply for other types of visas will have to leave the country and apply from Zimbabwe."
Dodgy people are suing us. Please support us by contributing to our legal costs and helping us to publish news that matters.
© 2016 GroundUp.
This article is licensed under a
Creative Commons Attribution-NoDerivatives 4.0 International License
.