"Not enough money allocated to sanitation," say SJC protesters
| Bernard Chiguvare
Brief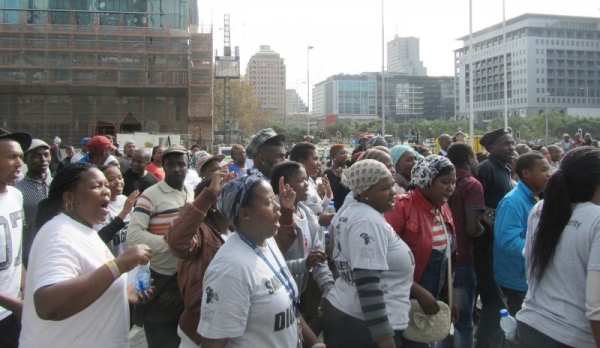 Yesterday, about 150 members of the Social Justice Coalition (SJC) marched to the civic centre. They demanded "a detailed account" of hundreds of submissions to the City of Cape Town on the 2015/16 budget.
On 23 April the SJC handed the submissions of Khayelitsha residents on the draft budget over to City of Cape Town officials.
In an open letter addressed to the City yesterday, the SJC stated that it has analysed the budget, which will be finalised by the end of the month, and it had found that insufficient funds had been allocated for sanitation in informal settlements. The letter claimed that the R22 million budgeted for sanitation in the new budget is not enough for Cape Town's 204 informal settlements.
"We would like the City of Cape Town to increase the budget for informal settlements because nowadays there are a lot of thugs in informal settlements so it is dangerous especially at night to visit outside toilets," said Zukiswa Qezo of Khayelitsha, who participated in the protest.
The letter was received by Wilfred Solomons-Johannes, the City's manager of special projects and community engagement. He responded to the protesters that the submissions had been considered. He emphasised that the full city council, not any one one individual, debates the budget. "The City of Cape Town will respond to all issues raised by different organisations," he said.
The protesters marched through Cape Town in groups of 14 to avoid falling foul of the law dealing with protests. Only 15 or more people constitutes a gathering requiring permission. The SJC did this because the route the organisation proposed for the march was modified by the City. The SJC's Dustin Kramer said the City tried to make the organisation "march around the back of the civic centre instead of through town".
The protest ended without incident.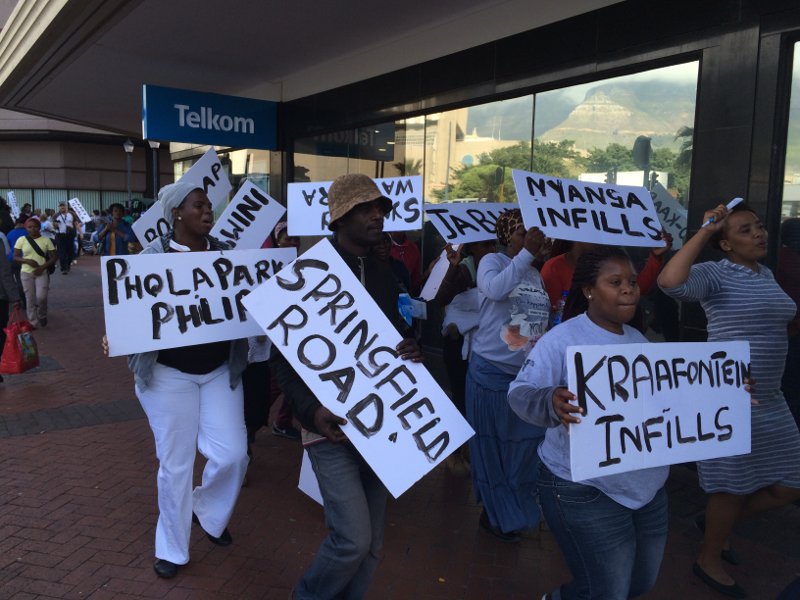 Marching in groups of 14 as a way of avoiding falling foul of the law dealing with protests. Photo courtesy of the SJC.
© 2016 GroundUp.
This article is licensed under a
Creative Commons Attribution-NoDerivatives 4.0 International License
.