Making a living selling smileys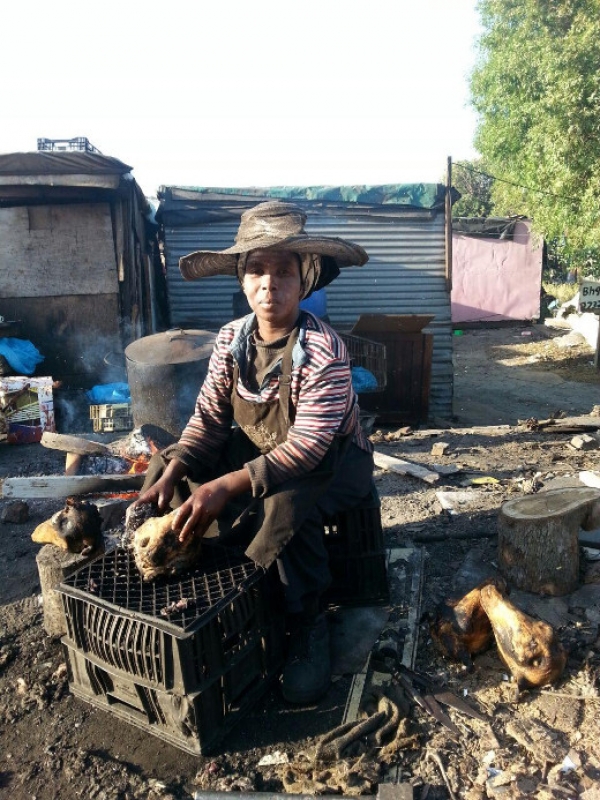 Nombulelo Mtibe eeks out a living selling smileys. And no, a smiley is not an emoticon on your phone!
A smiley is a cooked sheep's head, and it is extremely popular in townships.
Mtibe was born in the Eastern Cape. Living in poverty, she came to Cape Town in her early teens to find work, but it was not easy.
"When I came to Cape Town I did not have anything and all I wanted was to find a job. Since I finished my schooling in grade 6 I couldn't find employment. I tried to become a domestic worker but I got fired from my jobs because I couldn't speak English," says Mtibe (in Xhosa).
For the last 15 years she has been supporting herself by making smileys. She buys sheep heads from a butcher. She then cleans and cooks them, and then sells them from her stand on the side of the road in Langa.
She is 39 and lives in a two bedroom shack in Joe Slovo informal settlement. It is not easy to make smileys. By mastering this technique she is able to bring in enough money to feed her family.
Mtibe started her first job when she was 14. At the time she did not understand why education or even being able to speak English was needed, because she could do domestic work very well. She says she later understood the need for education but there was no money to go to school.
Mtibe says that her mother introduced her to the smiley selling business since she saw that finding a job was hard. "My mother sold smileys in the Eastern Cape all her life and as a family that was how we survived and now I am doing the same business to provide for my family," she says.
Mtibe has two daughters, 13 and 19. The younger attends Zonnebloem Primary in Woodstock and the older one attends Good Hope High in Salt River. Mtibe says that when she couldn't find work because of being uneducated she told herself she would invest in her children's education.
"I want my children to have the best education. I don't want them to struggle like me and sell sheep heads to make a living. I believe that if my mother had done the same for me, my life wouldn't be this hard," says Mtibe.
Mtibe said that the business doesn't provide a lot of money. So to help her survive daily she joined money saving societies in her community.
Mtibe is not the only woman selling smileys in this area. There are ten other women who are doing the same thing. The competition is tough.
"There are so many challenges in this business because sometimes you will go home without selling anything. But in a good business week, mostly in summer, I can make up to R300 a day. I sell my meat cheap at R50 a head. But it depends on the customers who chose who they want to buy from."
"And even if I am not feeling well, I have to come sell because I need to have food for the children. I open my business at 8am and wait for customers to come."
"Sometimes it's hard because during winter it is cold. Regardless, I have to wake up and clean the heads and make a fire to cook them. I normally close at 11:30pm," says Mtibe.
Mtibe's older daughter says she wishes that her mother would go back to school and leave her business. She says that she is working too much for too little money. "I want to have a part-time job to assist her because she is very young and already looks tired. What I can do for her now is to pass my grades and go to university, so that one day I can provide for my family."
Dodgy people are suing us. Please support us by contributing to our legal costs and helping us to publish news that matters.
© 2016 GroundUp.
This article is licensed under a
Creative Commons Attribution-NoDerivatives 4.0 International License
.