Jobs more important than smells, say Hangberg residents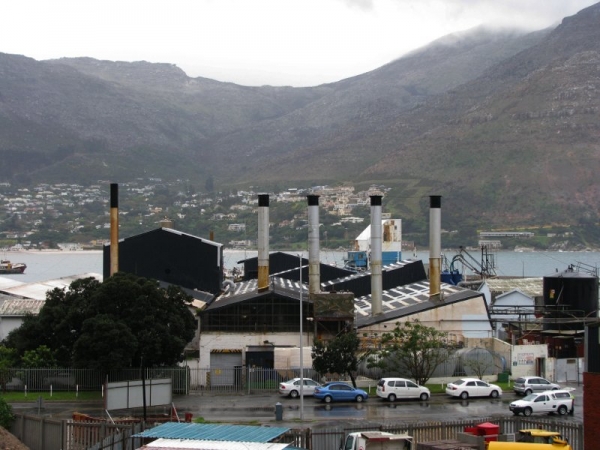 The proposed closure of Oceana's Hout Bay Fishmeal and Fish Oil Facility is worrying people of Hangberg, where many employees live.
Hangberg is a fishing community near the Hout Bay harbour, in the shadow of the Sentinel mountain. It is a struggling working class neighbourhood. Shacks and wendy houses are squeezed into every available space and employment is scarce.
On 14 August Oceana announced the proposed closure of the 57 year old factory, which would affect 98 employees. The company has cited complaints from the community and the inability to maintain financial viability with the current low level of production.
In the past three years Oceana says it has reduced production to "less than 40% of normal annual production" but that complaints have increased by 240%. They currently have 60 production days per year, meaning that there should be no odour from the factory for the rest of the year. Pre-2012, the factory had 120 to 180 days of production.
If the closure goes ahead, the 98 employees will be given the opportunity to relocate to St Helena Bay, 175km from Hout Bay, or be redeployed to other available positions in the company. If employees are unable or unwilling to relocate, they will be given the option of voluntary severance packages that will include a learnership programme or early retirement if this is a possibility.
Hangberg is a stone's throw from the fish factory. Next to Hangberg is Harbour Heights, a middle class neighbourhood, from where it can be expected many of the complaints emanate, due to its close proximity to the factory. There are also numerous luxury guesthouses within two kilometers of the factory, many situated in Northshore, another upmarket area.
The residents in Hangberg that GroundUp spoke to were vehemently opposed to the closure, with many saying that the employment the factory provides is more important than concerns about the smell.
Tracey Brown, whose father has worked at the factory for the past two years, says that if the factory closes her father will not be able to support her youngest sister.
Tracey Brown.
"If he doesn't work who is going to maintain his house? My sister goes to school. She needs toiletries. She needs money for food. She needs a lot of things. He needs to work for her," says Brown.
"I don't think he would want to move [to St Helena Bay]. He is 53 years old; he's not going to move. All he has known is Hout Bay. Hout Bay has been his life," she says.
Jennifer Weeder who has lived in Hangberg for 55 years, after moving there when she was ten years old, says that the whole community objects to the possible closure.
Jennifer Weeder.
"Why do they have to break the factory down now, just over a smell? It's not a smell that keeps on and on. It is the people's earnings. If they close that factory where must the men get food to put on the table for their kids?" asks Weeder.
Weeder says that the smell comes for a short period but then it goes away again. "We are used to it," she says. "Nearly all the factories closed here. Now if they close that factory there are no more," she says.
Cheryl Raatz who used to live very near to the factory, says that the smell was not emitted every day, only when the factory was in production. "Why do they complain now about it? I am now turning 52 and I grew up with this smell," says Raatz.
"It is only the people who come stay here now who complain about the smell."
Davina Julies's boyfriend has worked at the factory since 2010. Julies says that her boyfriend doesn't know for certain if the factory will close but that she is aware that he could relocate to St Helena Bay or be offered a learnership if it does.
"We are still young, I don't mind if he leaves to go work that side [St Helena Bay] because we need the money. I would prefer it to stay open. That makes everything a lot easier," says Julies.
Derek Cloete, who says he worked at the factory for about ten years before they downscaled and he found alternative employment working on the sea, is also against the closure.
Even though Cloete no longer works for Oceana he says that it has done many positive things in the community such as providing housing for residents when there was a fire. "They are quite a good company. They do plenty things here for the schools. They help us," he says.
Derek Cloete.
"It is only the people who come stay here now who complain about the smell. They know the smell was here. Why did they move here?" asks Cloete. "The smell isn't so bad now [compared to] those days," explains Cloete. He says that the change in the way the factory produces its fishmeal has meant that the smell is much reduced. "The smell does not bother us," he says.
Fresh Air for Hout Bay (FAHB) is a forum for Hout Bay community members and operates alongside the Hout Bay Residents and Ratepayers Association (HBRRA). It has been a loud voice opposing the factory's odour. They believe the smell is a public nuisance and that it "causes headaches, nausea and discomfort".
FAHB says that they have never advocated for the closure of the factory. "FAHB has, however, consistently spoken to the need for something sustainable and we have been trying to understand all aspects of the situation. Since the proposed closure of the factory, we have developed this idea further and have a proposal we are currently drafting," the organisation's Kiara Worth says in an email.
"We need a long-term sustainable management plan for Hout Bay that effectively combines sound socio-economic and environmental research with authentic community engagement, and we need an interim plan to mitigate the potential negative effects of the factory's closure," says Worth. She says that FAHB is currently having discussions with community leaders to explore options.
FAHB also believes that complaints are just one reason for Oceana's impending closure and that an important factor is the company's "ambitions for expansion and increased profitability". Oceana recently acquired a US-based fisheries company, perhaps supporting this claim.
Over the past 15 years, Oceana claims it has invested more than R50 million into "odour minimisation technology, as well as to improve processing technology and minimise emissions". It claims it is using the best technology in the world to minimise any smells.
"The company now finds itself in the position where it either has to ignore the growing levels of community discontent and revert to pre-2012 production levels, or relocate the plant's processing capacity," says Oceana in a statement. If it reverts to pre-2012 production levels Oceana says that this would "escalate complaints from certain sectors of the community still further and it could make operations unworkable".
"It is unfair that these workers should lose their jobs when the factory has been in operation for decades – long before residents willingly chose to live in Hout Bay with the smells and all."
Food and Allied Workers Union (FAWU) opposes the closure that would affect 90 of its members, some of whom have worked in the factory for decades. FAWU's media officer Dominique Martin says that they are meeting with Oceana soon to "exhaust every single option left".
"While the residents' association [FAHB] say that it does not want the company to close down, the company has done all it could to reduce the foul smells," says Martin. "The residents' association is indirectly demanding that the company closes down since there are no other options left."
"FAWU is of the opinion that it is extremely unfair that these workers should lose their jobs when the factory has been in operation for decades – long before residents willingly chose to live in Hout Bay with the smells and all. Hout Bay has always been a fisherman's town with the smells of the industry and to ask the factory to close down to give the tourism industry a boost seems completely unfair," she says.
FAWU is planning a march on 10 September to protest the closure and hand over a memorandum to Mayor Patricia de Lille.
All photos taken by Furlong.
Correction: The article originally stated that Oceana was acquired by a US company; it was in fact the other way round.
© 2016 GroundUp.
This article is licensed under a
Creative Commons Attribution-NoDerivatives 4.0 International License
.