Barcelona residents angered by piles of rubbish
|
Mary-Anne Gontsana
News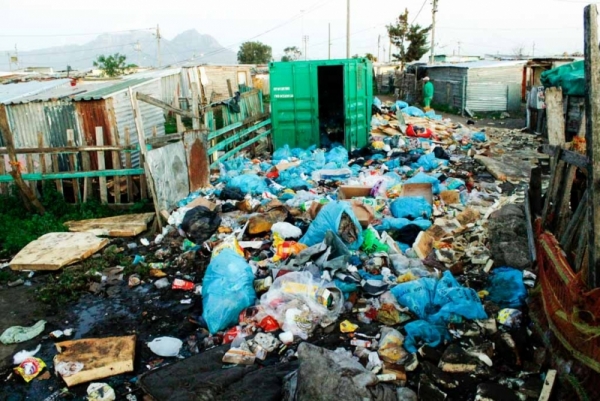 Rubbish is piling up in front of people's homes in Barcelona informal settlement near Gugulethu and the airport in Cape Town. Residents showed their displeasure this morning by dumping rubbish on the N2.
The build-up of rubbish follows a dispute over employment at Mawose Cleaning Services, the company responsible for removing rubbish from the informal settlement. Frustrated residents have been holding ongoing protests.
This morning at about 4am, Barcelona residents threw rubbish on the road in Gugulethu's NY108 and part of the N2 Highway. In July protesters closed the N2 for nearly three hours with burning tyres, accusing the ward councillor, Mzwakhe Nqavashe, of hiring people close to him.
Barcelona community committee vice chairperson Mawethu Thafani said residents were frustrated because the rubbish was becoming worse and no one was doing anything about it. "It has been like this for four months now, we've complained numerous times but nothing is being done. We have also been to the Fezeka Municipal Offices to tell them about this problem and a meeting was arranged where the ward councillor, Nqavashe, who was also present. This meeting was held last month. We were told that the situation would be attended to but till today nothing has happened. So residents say they will keep protesting until they are heard and they will throw the rubbish on the N2 if they have to," said Thafana.
Nqavashe said he was aware of today's protest but said he believed that the residents were "troubling themselves". He said residents wanted their own people to be employed instead of the City of Cape Town's policy being used. "The process in employing the 16 people was done as the policy states. The City has a database of names on a computer and that is where names are chosen for employment."
He said residents were using violence to air their frustrations and even if the City would send people to collect the rubbish, the residents would stop them because they want their own people to be employed.
Mayoral Committee Member for Utility Services, Councillor Ernest Sonnenberg said that a new contractor for the three year refuse collection tender had been in place since 1 July. "Services have been delivered up until the end of June without incident. The new workers were hired on time by the new contractor ready to start work from 1 July, but certain community leadership members are raising conflict over who they feel should get the jobs, instead of using the council approved process of random selection of unemployed residents off a database. This system was devised exactly so as to stop any nepotism by either councillors or officials, and as such any accusations that these opportunities have been distributed unfairly are not true. It is for that reason that the services have been disrupted."
This article was updated on 3 September with Councillor Sonnenberg's comment.
© 2016 GroundUp.
This article is licensed under a
Creative Commons Attribution-NoDerivatives 4.0 International License
.