NEWS
Gugs Youth perform hip hop at the Baxter theatre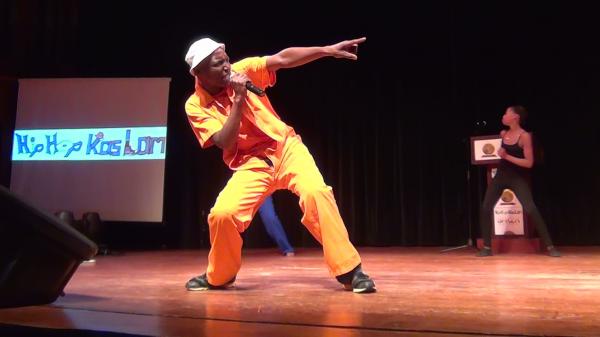 Hip Hop Kaslam (which means "my location") is the name given to the first hip hop event organised in 2010. The event is returning to the Baxter Theatre on 2 March 2013.
The events are organised by Archie "DAT" Sopazi, the first local rapper from Gugulethu to write a verse in his mother tongue, and Phila Nkuzo, a former administrator at the Baxter Theatre, and currently the project manager at Hip Hop Kaslam.
The two wanted to give youth coming from poor backgrounds who have not had the experience of performing in a theatre a chance to do just that. They want young people to show their rapping talent in the vernacular. This is also known as spaza hip hop music.
GroundUp interviewed Nkuzo.
GroundUp: Please could you tell me what Hip Hop Kaslam is all about?
Phila Nkuzo: It's about the youth explaining and expressing what freedom means to them as young South Africans today in the form of rapping and singing through poetry. We want to expose them to a professional theatre environment and showcase their culture.
GroundUp: Who is involved in organising the Hip Hop Kaslam events?
Phila Nkuzo: Archie "Dat" Sopazi is the director of the show and I, also known as Lady P, am the project manager. We have new members on our team namely Fundi Ntshwanti as the stage manager and Sisanda Henda our publicist.
GroundUp: What do you hope to achieve with the show?
Phila Nkuzo: We hope to preserve our indigenous African languages and share knowledge through entertainment. We hope to encourage hip hop artists to think more deeply about the themes they explore in their songs. Are they writing consciously? How are their topics relevant to society? We are attempting to promote a generation that can think constructively. Freedom was the theme we chose for this show.
GroundUp: Who are the key players in these events?
Phila Nkuzo: The Spaza artists are our main characters because the show is about our language in hip hop and they are the ones delivering the lyrics.
GroundUp: When and where will the event take place?
Phila Nkuzo: The show will be on Saturday 2 March at the Baxter Theatre in Rondebosch, Cape Town. It runs from 6pm to 8pm. Tickets are R40 and available from Computicket, Shoprite and Checkers outlets. Buses from the townships are provided free of charge and are sponsored by Solomons Bus Service.
GroundUp: Will there be prizes?
Phila Nkuzo: There are no prizes but artists get a percentage of the ticket sales and normally a free t-shirt.
GroundUp: What are the criteria for entering the event?
Phila Nkuzo: Artists need to write and perform in an indigenous African language, have at least 100 fans on their Facebook page and have an album or several recorded songs. For the Freedom show, artists needed to submit three songs which expressed their viewpoint on freedom.
© 2016 GroundUp.
This article is licensed under a
Creative Commons Attribution-NoDerivatives 4.0 International License
.