Memorial for police officer shot dead in front of his house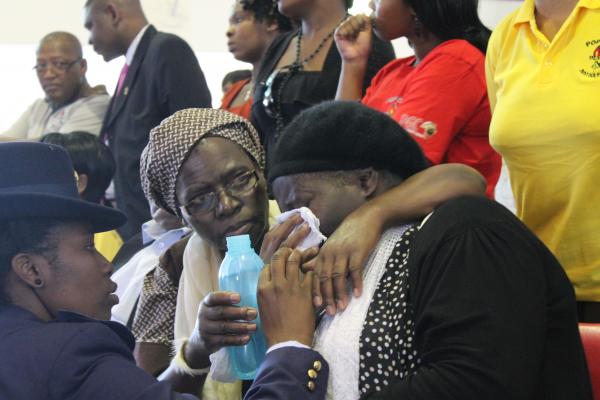 A memorial service was held at Salvation Church in Makhaza, Khayelitsha, for Constable Ngangezwe Calvin Mkhize, who was shot at D-section, Khayelitsha, on Saturday 26 January. The shooting happened at 1am in the morning.
Constable Mkhize and a friend returned home to D-section (Lingelethu West) late at night. As they were getting out of the vehicle, two armed men approached them. Constable Mkhize and his friend were forced out of the vehicle and robbed. During the ordeal, shots were fired and Constable Mkhize was fatally shot in the head. His friend was assaulted during the incident, but survived and is in hospital.
At the funeral, Busie Dlula a family friend said, "Constable Ngangezwe Mkhize had two sisters and three brothers and was awaiting his first born baby." Dlula also added that "He was a very humble person; he loved people and was very quiet." Constable Mkhize was stationed at Site-B police station. Police have confirmed that Mkhize was off-duty at the time of the incident.
Captain FC Van Wyk, Corporate Communication SAPS Western Cape Media Centre, said, "The motive for the attack is believed to be robbery and no arrests have been made yet."
Major General Jacobs said, "We condemn attacks on police officials. They are there to serve the community. Our detectives are working around the clock to ensure the killers of Constable Mkhize are brought to book."
Family members of Mkhize were reluctant to talk to the media.
Dodgy people are suing us. Please support us by contributing to our legal costs and helping us to publish news that matters.
© 2016 GroundUp.
This article is licensed under a
Creative Commons Attribution-NoDerivatives 4.0 International License
.