NEWS
Boystown residents protest over housing corruption allegations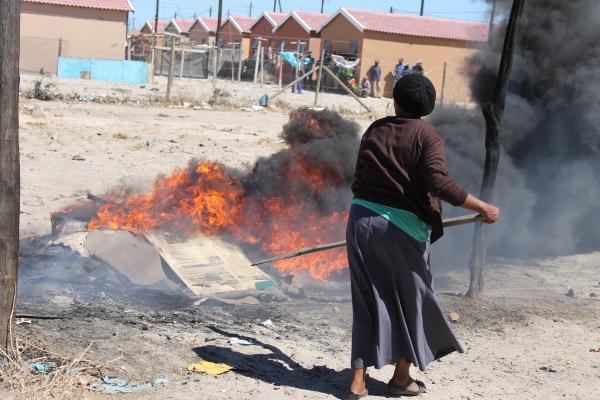 Residents burned tyres at Boystown near Crossroads in Nyanga. They complained that houses were being built without knowledge of who is going to receive them.
Some residents have accused ward councillor Elese Depoutch of fraud and incorrect distribution of houses. The protesters want construction of a new phase of housing in the area to be halted until their allegations are addressed. Residents living in 176 shacks that are on the land that is part of a new development phase have been told they will be moved.
Nolitha Mbhalo is a street committee member who lives in Boys Town. She had to move her shack to make way for the first phase of housing in the area when it was built. She understood that she would receive a house in the next phase. Now however she has received a letter from the Housing Development Agency telling her that she will be moved to an open space in Delft. She is therefore angry. "We were moved from phase 1 when the new houses were built and were promised that when the next phase of houses were completed we would surely receive a house." Nolitha added, "We just saw tractors coming to phase 2 of Boys Town to start building with no-one coming to us to tell us what's what."
I spoke to a women, who would not give me her name, but told me she has been living in Boys Town for 24 years. She is frustrated that she still hasn't got a house. She says Depoutch cannot be trusted and that he sold houses to people in phase I who were not supposed to get a house. She wants the corruption in phase I to be addressed before phase II is completed.
Depoutch dismissed allegations of corruption against him. "I never sold a house to anyone. The allocation committee decides who gets a house according to their own structure. I have been accused of corruption but I have been cleared. An investigation has found that the people who are in the phase I houses are supposed to be there."
Bruce Oom, spokesperson for the Western Cape MEC for Human Settlements, told GroundUp, "We went to five houses, two of which were given by the people leading the disruption of development and of the five houses, two the residents were not home and the last three were proven to have been given to the correct recipients. The allegations against Cllr Elese Depoutch are therefore unfounded and the investigation has been dropped."
Oom said, "There are allegations of corruption in almost all projects." He added "Minister Madikizela is aware of these, and has repeatedly asked that anyone with proof must give it to the department and he will investigate."
Minister Madikizela held a meeting last week Thursday with the residents of Boys Town to try and find out their grievances. During the meeting, community member Eric Njonga said, "I have been living in Boystown for about 20 years. I received a house last year when the development started but now we are fighting for those who have not received houses. The development must go on!"
In a press statement Minister Madikizela wrote, "There is no reason to stop construction while we investigate any proof submitted, and if needs be, construction and the investigation of [corruption] can run parallel to each other. If anyone has tangible proof [of] wrongdoing, then I repeat the call I have made many times, for those people to submit that proof to my office, and I will speedily investigate, and publicly report back. We cannot, however, act on unsubstantiated allegations and hearsay, or let endless allegations halt delivery."
A total of 394 units are planned for construction in Phase 2, with a total budget of R59.4 million.
© 2016 GroundUp.
This article is licensed under a
Creative Commons Attribution-NoDerivatives 4.0 International License
.