In the footsteps of Dudley Lee: prisoners to sue government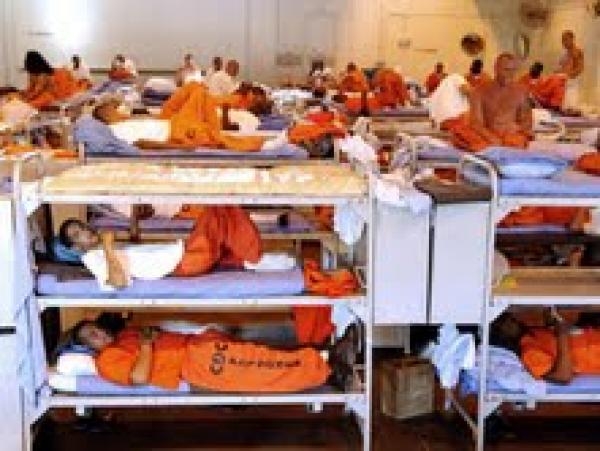 Several prisoners intend suing the Department of Correctional Services because they contracted tuberculosis (TB) in prison.
From 1999 to 2004, Dudley Lee spent over four years as an awaiting trial prisoner in Pollsmoor before he was acquitted.
He told GroundUp two years ago that he "begged, bullied, and bribed" his way through his stay. Like countless other inmates he contracted tuberculosis at some point during his incarceration. TB is rampant in South Africa's vastly overcrowded, poorly ventilated, and medically understaffed prisons, and Lee's case was used by TB researchers and activist organisations to highlight the problem.
After his release, Lee sued the government, claiming that Pollsmoor authorities had neglected to sufficiently guard him against the threat of TB. After nearly two years of litigation—stretching across the High Court, Supreme Court, and the Constitutional Court and draining more than R2m in costs to the state—he achieved a Constitutional Court victory on 11 December 2012.
He was given R270,000 in damages. Equally, it was a victory for activists campaigning to reduce TB in prisons.
Lee passed away from cancer in Cape Town's Victoria Hospital on 21 May 2014. But other prisoners are now following his example.
Jonathan Cohen, Lee's lawyer in his landmark case, says that his firm represents several current or former inmates planning to sue the state for damages inflicted during their time within the Western Cape prison system. The majority of these cases are TB-related, drawing from what Cohen claims is a "vast population of potential TB claimants with an unfortunately limited knowledge of their rights to legal recourse."
While one of these actual claimants was imprisoned at the same time as Dudley Lee, a number of them cite more recent TB infection from incarceration in Western Cape prisons.
"We had a gentleman contacting us from a cellphone within Pollsmoor a few days ago," Cohen said.
The inmate reported to Cohen that he had been coughing up blood for a few weeks, and had gone for a sputum test and tested positive for TB. He was apparently told that there was no medication available for TB and that he would have to wait until medication became available. They then sent him back to his overcrowded cell so he could (potentially infect) other inmates, the inmate said.
Cohen's firm said that later attempts to follow-up with the inmate were unsuccessful. Still, claims such as this fuel concerns that recent developments in the fight against the prison TB epidemic have been "halfhearted, at best," as Cohen puts it.
John Stephens, a researcher with the public interest law firm SECTION27 says, "The lay of the land now is that we've got significant traction on rolling out tuberculosis testing in prisons—some really good work by the Department of Health and NGOs."
But, adds Stephens, "[this progress] is too little, too slow, and so far has dealt primarily with testing—only a part of the problem."
He points to overcrowding and lack of ventilation as two critical areas that have shown little signs of any aggressive action being taken.
One Pollsmoor warder (who asked to remain anonymous) believes that the TB situation has actually deteriorated in the past year.
"A few guys have actually died that I know of," he said, adding that offenders in communal cells had been complaining that very morning about not having received TB treatment for the past week and a half.
"There isn't even paracetamol available right now," he added.
But Nizaan Cassian of the Pollsmoor Hospital Pharmacy denied this claim, saying, "There's no shortage of medication that I know of…we just fill the scripts."
A possible explanation for the factual dispute is a staff shortage. On the day he spoke to GroundUp, the Pollsmoor warder was one of three warders in a section housing close to 375 inmates. This means that the responsibility of handing out pills has to be given, unofficially, to inmates.
"We give them lists with names of the inmates who need medication, but sometimes [these inmates] conveniently forget to hand them all out," he said.
Similarly, the shortage of medical staff and access to medical services prevents active diagnosis of TB. "I'll go with 24 sick inmates to the clinic, and the staff there will say, 'No, come back tomorrow,'" he explained.
The DCS employs just eight doctors nationwide. According to the DCS' Annual Performance Plan for 2012-2013, the vacancy rate for financed posts increased from 10.5% in 2008/2009 (with the rate for medical practitioners at 20% and nurses at 26%) to 15.3% in 2010/2011.
When asked whether employees are actively seeking to prevent the spread of TB, the warder laughed, "When we see an inmate coughing, we tell him, 'It's winter.'"
Legal claims continue to be resisted by the DCS at the official level. With regards to his clients, Cohen said, "It is unlikely that the state will settle, and more likely that we will need to litigate the cases."
There is some question as to whether the causation established in Lee's case will extend to other inmates irrespective of their socioeconomic standing. "Dudley didn't come from an economically deprived environment," explained Cohen. "He was quite wealthy and healthy, and didn't bring with him a predisposition to tuberculosis. This was quite important to proving causation," he said.
Cohen points to the case of Nasira James, who contracted TB in Pollsmoor three years ago and is currently trying to make a claim against the state. The state's defense against James' claim includes the suggestion that her claim is directed at the wrong party. "The state is saying that she shouldn't be suing the prison authorities, but she should be suing the prisoners that infected her," says Cohen, laughing at the absurdity of it. "They want to carry on fighting these cases as though Dudley Lee doesn't exist. It's causing unnecessary legal expenses to build."
"In my experience dealing with DCS," says Stephens, "they've been very, very difficult. With the exception of a few individuals, they are slow, obstructive, evasive, refuse to answer letters, and refuse to engage."
The irony of this, in his view, is that, "The best way for the DCS to avoid liability is to tackle this thing head on," he says. "All that the court demands is that they have a reasonable response to TB in prison. We can't afford to have a department that denies the problem," says Stephens.
The DCS has ignored the opportunity to comment for this article. This includes several emails and upwards of 25 phone calls to their spokesperson, Manelisi Wolela, who alternately ignored the calls or requested that GroundUp "call back later". Two long-standing requests to visit Pollsmoor that have also gone unanswered.
Regulations that have been referred to informally by sources wishing to remain anonymous as "gag orders" work to similar effect in restricting contact with Pollsmoor. According to the warder, he and his coworkers were made to a sign a "form of secrecy" several years ago, according to which any spread of information about the inner activity of Pollsmoor beyond its walls would be punishable by law. He agreed to speak to me believing that these forms were "null and void". He said, "We weren't workshopped on these forms or informed what they were about. We were just told to sign."
Researchers must go through a similar protocol, signing a form that indemnifies the DCS against any legal claims, stipulates that all researchers submit to an internal DCS guide who will "identify issues which could cause embarrassment to the Department," and states that "research findings or any other information…may not be published or made known …without the written permission of the Commissioner of Correctional Services."
Even with such agreements, human rights advocates such as Nooshin Erfani-Ghadimi of the Wits Justice Project are continually denied access to correctional centres, and must routinely rely on letters from inmates requesting help in order to stay informed on their treatment.
Cohen, Erfani-Ghadimi, and Stephens all agree that assertion of prisoners' rights by prisoners themselves—like the former inmates under Cohen's legal representation—is crucial under such conditions. They emphasise the importance of prisoners being made aware of their rights to such claims, and hope that many more will begin to exercise these rights. In this sense, Dudley Lee's legacy extends beyond TB and into the whole set of abuses prisoners regularly suffer within the country's prisons.
An important correction was made to this article after publication as it initially implied incorrectly that the Wits Justice Project believed letters from inmates were heavily censored.
Dodgy people are suing us. Please support us by contributing to our legal costs and helping us to publish news that matters.
© 2016 GroundUp.
This article is licensed under a
Creative Commons Attribution-NoDerivatives 4.0 International License
.