Activists protest in solidarity with Dasnois
|
Sibusiso Tshabalala
News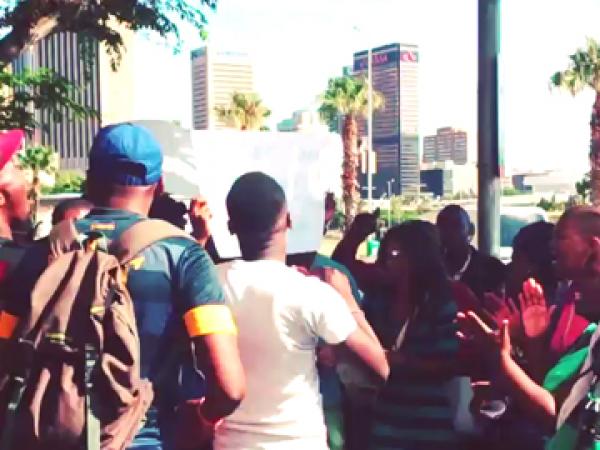 About 40 protesters gathered outside the Cape Town CCMA offices this morning in solidarity with Alide Dasnois, former Cape Times editor.
Dasnois was dismissed from her position as editor by the Independent Group's controlling shareholder, Sekunjalo Holdings in December last year.
Dasnois' dismissal was preceded by a story, published by the Cape Times, on the Public Protector's report on an R800-million tender that was awarded to Sekunjalo Holdings, which several months ago became the largest controlling shareholder of Independent Newspapers.
In a press statement published on 9 December 2013, 3 days after Dasnois was dismissed, Dr Iqbal Survé, chairman of Sekunjalo Holdings, claimed that Dasnois' removal as editor of the Cape Times had nothing to do with the Public Protector's report. Instead, Survé said that it was part of the "strategic repositioning" of the Independent Newspapers Group." He has also denied that Dasnois was fired, claiming that she was only removed from her position as editor.
Dasnois' hearing began this morning with a conciliation meeting between the parties in dispute – Sekunjalo Holdings Investment and Dasnois. A conciliation meeting is typically held to explore ways to settle a dispute by agreement.
If no settlement is reached then a CCMA arbitrator will have to decide if Dasnois was dismissed. If she was dismissed, the arbitrator will then decide if her dismissal was fair or not. According to the CCMA's Code of Good Practice, the employer must prove that the "reason for dismissal is related to the employee's conduct or capacity, or is based on the operational requirements of the business."
Murray Hunter, spokesman for the Right2Know campaign, says the protest (co-organized by Equal Education and Right2Know) was an act of solidarity with Dasnois.
"We believe that this is more than just an human resources dispute. Alide's removal from her position as editor highlights the challenge we have in protecting media freedom and editorial independence," said Hunter.
The Right2Know campaign had previously sent a memorandum to the Chairman of Sekunjalo investments, Dr Iqbal Survé calling for her re-instatement and written assurance that Sekunjalo Holdings, and their Chairman, Dr Iqbal Survé, would not threaten any of the Independent Newspapers' editorial staff.
"Media transformation has come up in this debate, and this is significant. The challenge here is that too few people control the media in South Africa. Titles and newspaper groups are owned by a select few, in turn, this determines the perspective on various issues reported in the media," said Hunter.
Hunter added that Dasnois exemplifies the values of journalistic excellence. "As a journalist and editor, Alide's work has focused on reporting on the issues facing working class South Africans."
The hearing ended this afternoon and the dispute resolution process at the CCMA is set to continue. Neither party said anything definitive about how the hearing went and the media were not privy to the discussions.
© 2016 GroundUp.
This article is licensed under a
Creative Commons Attribution-NoDerivatives 4.0 International License
.