Harrowing testimony about vigilante killing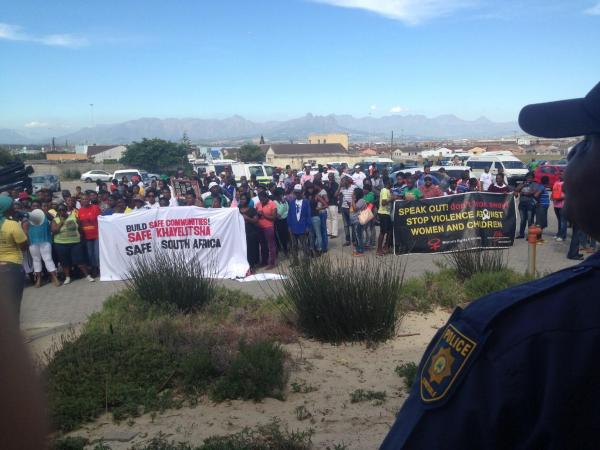 This morning the Khayelitsha Commission of Inquiry heard disturbing accounts of vigilante justice.
An emotional Nomakhuma Bontshi gave an account of what happened to her nephew Andile Mtsholo. She spoke on behalf of two other members of her family; Mbulelo Ntezo and Nandipha Mtsholo. Andile Mtsholo was the victim of a mob justice killing in Khayelitsha, in May 2012. He was 32 years old. He was unpopular in Khayelitsha and blamed for stealing cellphones and smoking drugs. Mtsholo's house was seen as a space where young children could go and use drugs.
The community had a meeting with Mtsholo's family on Friday night, 18 May 2012. His family was told that he should leave the area. The family agreed. None of this was reported to the police. But the agreement never had a chance to be implemented. After midnight Mtsholo was necklaced by angry residents. Those suspected of being involved in the murder of Andile were arrested.
Adv. Sidaki gently led the witness through her statement. Bontshi described seeing the burnt body of her nephew and realising how brutally he had been killed. Bontshi asked the people who she had met with why Andile was killed. They responded "No it was not us (the residents of Site B), it was residents of TR section who killed him."
Adv. Arendse responded in cross-examination, asking specifics of what had occurred. He opened with "What you experienced is unacceptable to myself and my colleague, Adv. Masuku, and to the police and to everyone in the room." He spoke softly, saying that some of the questions may seem insensitive as they were written before the testimony was heard.
At one point when Arendse was asking about who seemed responsible for the murder, Justice O'Regan firmly guided him away from this line of questioning as he was attempting to determine guilt or innocence. The aim of the Commission is not to assess criminal liability, but to investigate and understand policing.
A fourth witness was called, Mzokolo Thame. On Saturday 19 January 2013, Thame's cousin was caught while breaking into a house and murdered. His cousin was referred to as 'Xolisile' throughout proceedings.
Thame spoke of the poor treatment he received from the investigating detective at Harare Police Station. The detective was described as harsh and uncaring. During the initial conversation when Mr Thame was inquiring as to what happened to his cousin, who had been murdered the day before, he was told, "The lightie was caught with his body half way through the window of a house, and he was moered."
Thame was informed that the accused in the case were the three residents of the house. When he spoke about getting legal counsel, the detective commented, "You would be wasting money as the deceased was caught in the act."
Thame argued with the detective, as he felt he was not being respected the way a bereaved family member should be. The family had, up until that point, had not been called by the police. When asked to explain why Thame felt that the detective was disrespectful, he said, "The tone of his voice and the manner in which he conducted himself. He did not offer me a seat, he was busy with other things, he never gave me any attention while we spoke. He gave me less than ten minutes."
Thame met with the detective's supervisor as a result of the lack of contact. The superior assured him that the detective was the right person to investigate the case. That was the last contact he had with Harare Police Station. He complained about a lack of feedback to the supervisor, yet still received no further feedback.
"I personally feel that they don't understand their fundamental responsibility, which is to service the community, they feel that they are doing the community a favour," said Thame.
In cross-examination Arendse did not ask any questions. He did however state that a new detective has been appointed to the case. The new detective currently has 382 open cases. The original detective has been referred to senior management for disciplinary action.
Arendse attempted to challenge the expression of Mr Thame's views on policing in Khayelitsha. Justice O'Regan, again, spoke firmly to him and undercut his comments.
After a short adjournment, Josette Cole spoke on the "the Making and Re-Imagining of Khayelitsha." She is an accomplished academic, author and researcher specialising in history and human settlement. She provided a detailed history of the social, legal and economic forces that have shaped Khayelitsha.
After lunch Phumeza Mlungwana is due to give evidence, she is a resident of Khayelitsha and the General Secretary of the Social Justice Coalition (SJC).
Yesterday, the SJC arranged a march towards the end of the day through part of Khayelitsha. The march was to show community support for the Commission, as well as to make people aware of it.
Dodgy people are suing us. Please support us by contributing to our legal costs and helping us to publish news that matters.
© 2016 GroundUp.
This article is licensed under a
Creative Commons Attribution-NoDerivatives 4.0 International License
.