Workers say Metrorail endangers their livelihoods and lives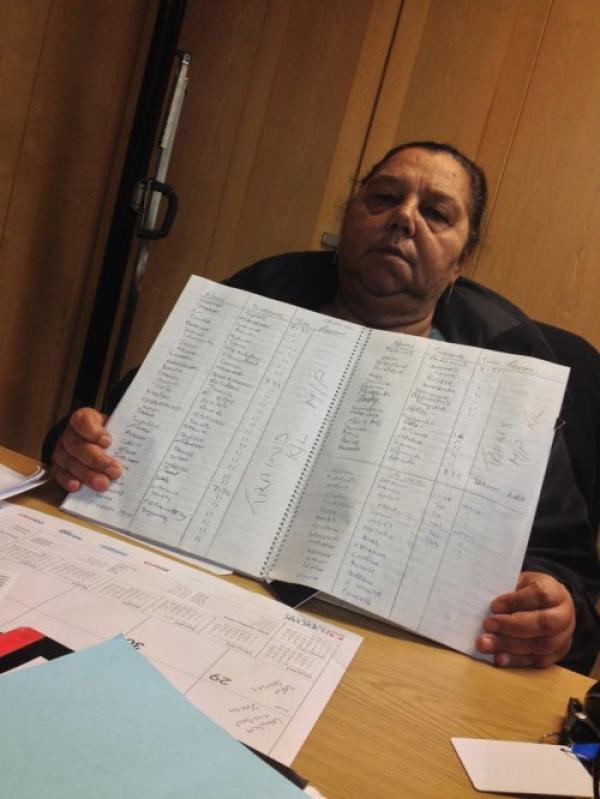 Every morning at the TCI Apparel factory in Epping, shop steward Mymoena Williams writes down the names of the textile workers who arrive late. In this notebook are entire pages filled with employees being late for the same reason: the trains.
Production is scheduled to begin at 7:30, but, explains Williams, when the trains from Khayelitsha and Mitchell's Plain are late, "more than half of the factory is empty."
Williams serves as the regional chairperson for the Western Cape branch of the Southern African Clothing and Textile Workers Union (SACTWU). She keeps record of tardy arrivals, not so workers will face disciplinary action, but rather to collect proof of the train's poor service for when the clothing workers take Metrorail to task.
Last week, clothing workers thought they'd finally got their chance to confront the rail system when COSATU, the umbrella trade union over SACTWU, called for a one-day strike to protest Metrorail's upcoming fare hikes. Union members were intending to meet in town to march in front of Metrorail offices on 24 June. But on 23 June, COSATU postponed the strike when the union failed to receive legal protection from the National Economic Development and Labour Council (Nedlac).
"We were all disappointed," says Vanessa Minnaar, a sample machinist and member of SACTWU. "We wanted to strike. It's urgent for Metrorail to know how we feel about them." Shop stewards Gasiena Williams and Sumayah Kleinsmidt spent the week leading up to 24 June building up momentum among factory workers, but this is the third strike in three years that COSATU has declared then postponed. The textile workers are "sick and tired of it," says Williams. "They just warm up the people and disappoint us." To make matters worse, a taxi driver strike on 24 June made minibus taxis come to a standstill, leaving commuters stranded at train stations.
Garment workers have been losing wages due to the train's frequent delays and cancellations. But because of how expensive other transport options are, many of these workers have no choice but to continue taking Metrorail. Jeannette DeSilva, a sample machinist, takes the train because the fares are more affordable than the taxi or the bus. She, like most textile workers, is a single working mother and the sole breadwinner of her household. In her recollection, there has "not been a week since January when the trains ran on time." At DeSilva's textile factory, workers lose R20 of wages for every 15 minutes that they're late.
Some workers end up borrowing money from a neighbour to take a different form of transportation. Other times, says shop steward Belinda Botha, a worker who's waited on the platform for three hours in the morning will sometimes turn around and go home, losing an entire day's pay.
DeSilva, Minnaar and other workers live in constant fear that they'll lose their jobs if they continue arriving to the factory late. This fear is magnified for short-term contract workers. When they are late consistently because of the trains, Williams says, they are told, 'You are a problem, and you cannot continue."
Workers also complain about the trains putting them in danger regularly. DeSilva says that on three occasions she has been pushed out of overcrowded carriages. "I was so scared," she says, but she had to pick up her grandson from crèche and couldn't wait for a later train.
The majority of textile workers travel via the Central and Cape Flats lines, areas prone to shootings and gang violence before sunrise and after dark. DeSilva and Minnaar, like most clothing workers, begin their commutes from Mitchell's Plain at about 6am. They used to leave closer to 7am, but they started taking the earlier trains to accommodate delays.
The danger of commuting by train worsens at night, especially for women workers travelling alone. According to shop steward Marie Olifant, one night, two weeks ago, a train stopped mid-track on the Cape Flats line. Olifant says that no taxis were in service by then, so people had no choice but to walk home. "Some of our workers got home at 9, or even 11!" she says. "That night there was a gang fight in Mitchell's Plain."
Tony Ehrenreich, regional secretary of COSATU, says that at the moment COSATU is still in talks with the transport ministry and waiting for Nedlac to approve the strike so workers' jobs will be protected.
On the ground, commuters are increasingly impatient. "People were ready for this strike because they've had enough of Metrorail," says Olifant. "Tony must push Nedlac so they can give a date for the strike."
When asked about the delays on the Central and Cape Flats lines, Metrorail spokesperson Riana Scott said in an email that an "additional R233 million recently allocated for urgent procurement of safety-critical rail components has [been] fast tracked" to address the infrastructural problems that cause most of the delays. She also included a list of interventions that have already "received attention", including high mast lighting and surveillance cameras at train stations and a shuttle between Nyanga and Cape Town to alleviate over-crowding during peak hours.
According to MyLine, Metrorail's weekly commuter publication, 27% of the trains on the Southern-Cape Flats line were cancelled last week, while 14% of the trains on the Central Line were cancelled. MyLine statistics also show that 284 trains on the Southern-Cape Flats line ran on time last week, and 237 trains on the Central ran on time, though the percentage couldn't be calculated because MyLine did not show the total number of trains on each line.
© 2016 GroundUp.
This article is licensed under a
Creative Commons Attribution-NoDerivatives 4.0 International License
.