Suspected ATM robbers beaten severely in Mfuleni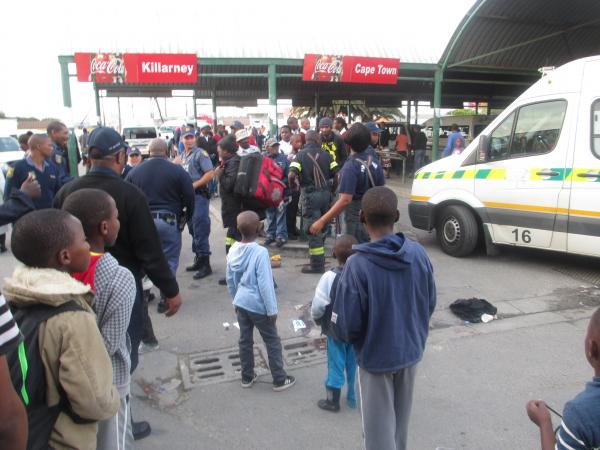 Two men suspected of ATM fraud were severely beaten and stoned in a mob attack at the taxi rank in Mfuleni on Wednesday afternoon.
The men allegedly tampered with an FNB ATM, which is close to the taxi rank, and were also suspected of targeting other ATMs near the taxi rank.
An ATM user noticed that there was something wrong after she attempted to withdraw cash. The money didn't come out though the bank machine reported a successful transaction.
"The woman alerted some of us," said a taxi operator who was at the scene. "As they were walking towards [another] ATM they noticed that we were following them and ran. When they started running they caught the attention of other people. There was shouting and wailing and some people pursued them while they were running away."
The men hopped onto a minibus, but other taxi operators and motorists stopped the taxi and instructed it to bring the men back to Mfuleni taxi rank.
"By the time that taxi arrived with them, there were lots of people waiting for them. Just as it stopped they grabbed them, beat them and demanded to know where their money was," said a hawker who watched from her stand during the attack.
Several taxi operators pulled out their sticks, iron rods and sjamboks. Other people at the taxi rank joined in and the suspects were stoned with bricks, bottles and other objects. They were stripped. Some people took photographs of the incident.
The chairman of the Mfuleni taxi rank, Ntuli Nkophe, said, "We don't know what happened and how it started. We just saw lots of people and heard the noise. We were not part of it."
"We are not equipped to react to random incidents like that."
Mfuleni SAPS wrote to GroundUp that they were informed of an assault by the community at the Mfuleni taxi rank. "There were allegations that the men were trying to commit robbery at the ATM. The two men are currently at a nearby hospital receiving medical treatment. A case of attempted murder was opened for investigation."
Dodgy people are suing us. Please support us by contributing to our legal costs and helping us to publish news that matters.
© 2016 GroundUp.
This article is licensed under a
Creative Commons Attribution-NoDerivatives 4.0 International License
.