SAMWU protests against "racist, and "corrupt, City managers
| Nombulelo Damba and Bernard Chiguvare
News
Protesters ululated, clapped hands and blew vuvuzelas in the Cape Town Civic Center, when Mayor Patricia de Lille promised to investigate allegations of racism by the City of Cape Town's line managers.
Hundreds of South African Municipal Workers Union (SAMWU) workers marched to De Lille's office demanding her to fire their line managers, accusing them of being racist, dishonest, and mistreating them.
SAMWU went on strike on Monday 4 May.
The march started peacefully but this changed as protesters moved from Keizersgracht Street to the civic centre. Rubbish bins were thrown on the road. Workers also looted stalls in Adderley street next to Standard Bank.
Charlene Marie, a vendor with a stall opposite the Fountains Hotel, said, "Eight Sausages were taken from my food warmer and thrown away. A bowl of onions was kicked down. My stand was thrown down."
She said that she normally closed at 5:30pm but today she closed at 12pm, because of the protest.
There were also claims that striking workers threw garbage across roads in Khayelitsha today.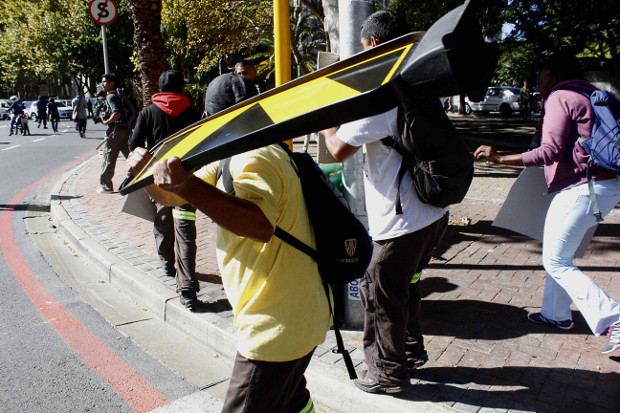 A protester lifts a street sign in order to hit a bin with it. Photo by Masixole Feni.
When protesters arrived at the civic centre, they sang struggle songs. The workers said they would "not accept any lies" from the City.
Workers listed several grievances including discrimination, nepotism, victimisation, refusal of appeal which led to unfair dismissal and others. SAMWU Cape Metro Regional Chairperson Lennox Bonile said their grievances have been known to the City for the past two years but there has been no solution. He told GroundUp that the march and strike were their last resort. He said SAMWU would not take any blame for workers' actions.
"Workers are tired of empty promises. We are fighting for our rights here. We are not here for something new. These are the same grievances we had last year," said Bonile. "We engaged with the City managers several times but they are not taking us seriously," he said.
SAMWU Regional Secretary Michael Khumalo claimed that a shop steward was fired because he called his manager brother instead of sir. He said a decision to fire workers is always taken before they attend the disciplinary hearing. "Those who go for a disciplinary hearing know that they won't come back. We always know that they are going to fire us," he said.
A SAMWU member who asked not to be named said she was victimised in 2012. The woman who said she works in the Bellville Water Technical Operating Center claimed that her management accused her of sexual activity in the workplace. "They made my life miserable. The trauma I went through! But at the end it turned out to be a lie," she said.
The woman said that after the City investigated the matter her name was cleared. However she says she never received any apology. "Even today they still talking about that thing and I'm struggling to work under the same management who accuse me of something I did not do," she said.
When Mayor De Lille was about to address the crowd, some workers shouted, 'liar, liar', but when she told them she will engage with their union just after she addresses them, workers started clapping hands. De Lille said she was aware that workers have been waiting for the past two years for their grievances to be addressed. She told workers management and SAMWU had failed to come up with a solution to worker grievances. "I know I should have intervened earlier, but now I'm going to engage with your union so we can address the issues. Today we will all move together," she said.
De Lille said she's also aware of the allegations against a doctor in Khayelitsha, who's accused of being racist. "We approached the CCMA to investigate the matter. The CCMA called the first meeting on 18 March, but SAMWU did not attend the meeting. Now the CCMA will call another meeting," she said.
De Lille said she will not tolerate racism and asked workers to report allegations straight to her.
The march ended without further incidents.
© 2016 GroundUp.
This article is licensed under a
Creative Commons Attribution-NoDerivatives 4.0 International License
.