The Rwandan student who hung on to her dream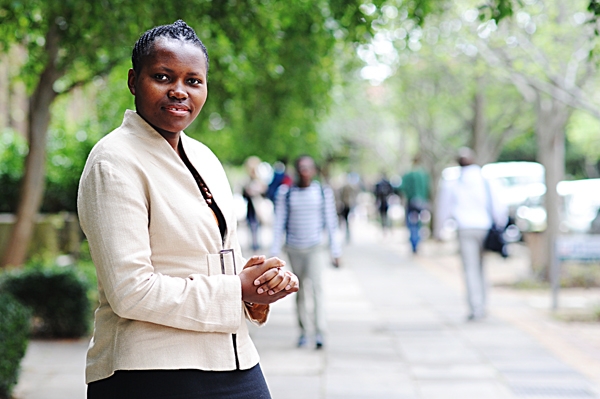 Alice Wamundiya comes from a background where the importance of education is emphasised. When she settled in South Africa after her family fled the Rwandan genocide, she decided to help other refugees and asylum-seekers with their education.
Wamundiya says one of her friends told her: "Yes, your family lost almost everything but you did not lose your brains. You can still persist with your dream".
Today she holds a BA in Psychology and an Honours degree in Development Studies from the University of the Western Cape and is currently doing her Master's, graduating next year in March.
But she found university education difficult to access, and this inspired her and other students to found the Unity for Tertiary Refugee Students organisation, while she was studying and working part-time as a car guard. The organisation, which aims to help refugees and asylum-seekers wishing to further their education or resume in South Africa studies interrupted in their own countries, has assisted some 1,200 students since it was founded in 2005.
Some university programmes were closed to foreign students, she says; other universities did not recognise the category "refugee" and only accepted "international" or South African students. Refugees were expected to provide the same documents as other foreign students such as a passport, study permit and police clearance from original country.
Some refugees had documents in French or Portuguese which needed translation and when the documents were valid for less than six months the universities demanded guarantees, if possible from South African citizens. "It was difficult getting a South African guarantor when one had only been in the country for six months."
Refugee students battled to get loans and like Wamundiya had to work part-time, some studying during the day and working as security guards at night. Internships were difficult to get with refugee documents.
Wamundiya says at first she and her colleagues tried to solve each individual case. "As a car guard I used to earn less than R100 a day and would sacrifice R20 to go and help other struggling students. Because of that spirit of selflessness and unity, the word spread. We then realised case-to-case basis solving was not working anymore."
At a conference on education in Cape Town in 2004, the students were encouraged to form an organisation and the first meeting was held in 2005.
"Now I worry about what will happen when we leave. We are doing this out of passion and we do not have funding. Not everyone would want to continue with what the six executive members have been doing. Running the organisation from our pockets, from producing reports to buying computers and paper."
The organisation, which was a runner-up in this year's Reconciliation Awards from the Institute for Justice and Reconciliation, helps refugee students find bursaries, refers them for help with food and shelter and engages on their behalf with the South African Qualifications Authority (SAQA) and Higher Education South Africa. It also offers workshops for refugee and asylum-seeker professionals on job preparedness and interview skills and runs career workshops in township schools, in a bid to share their experience with students.
The organisation's long term hope is to develop uniform standards for university policy on asylum-seeker and refugee students. At present the universities have different policies, which has caused many challenges for refugee students, says Wamundiya.
"We will start by surveying institutional policies across the country and analysing the data and writing a report. From the report we hope to write recommendations on asylum-seeker and refugee students' university policy."
© 2016 GroundUp.

This article is licensed under a Creative Commons Attribution-NoDerivatives 4.0 International License.