Wolwerivier residents track down city councillor at the beach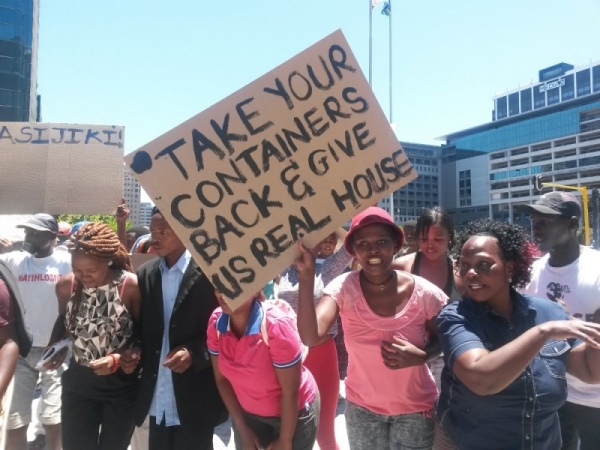 Wolwerivier residents and Ndifuna Ukwazi activists tracked down the City Council's Benedicta van Minnen at Camps Bay beach today after she was not available to meet them at the Civic Centre.
The residents had picketed outside the Civic Centre today, calling on Van Minnen, who is the City's mayoral committee member for Human Settlements, to accept the findings of the social audit report released last month.
When she was not available, some residents went on to Camps Bay beach where Van Minnen was participating in a campaign with Mayor Patricia De Lille to advertise the city's beaches.
Resident Mzwandile Jackson Mgudlwa said water pipes were broken and "no-one comes to fix" them. "We are not satisfied with the services," he said.
The demonstration follows the forced removal on Sunday of some residents accused of occupying some of the vacant structures in the development. Residents have said the units are overcrowded and cannot accommodate larger families and households with adult occupants.
In a statement later Van Minnen said the Housing Directorate would meet residents on 23 December.
"The City has scheduled a meeting with community leaders to discuss the establishment and recommended process of electing a new Steering Committee, comprising an existing relocation committee, beneficiaries, as well as City officials," she said.
"It is hoped that this will provide an inclusive platform for all affected parties to collectively discuss and address matters in order to improve the lives of residents at Wolwerivier," she said.
The social audit report focuses on conditions at the newly developed settlement, situated about 30km from the city centre.
The audit was conducted by NU, the Social Justice Coalition and the residents of Wolwerivier, and the results presented at a meeting on 21 November. Van Minnen was invited to attend the meeting, but declined.
Asked why she had not attended the event, Van Minnen told GroundUp that the City had not been invited to participate in the social audit process. "The accepted methodology for a social audit is a collaborative process. The City was not afforded the opportunity to take part in this process," she said. The City officials had informed NU that they would not attend via email two days before the event.
But activist Zackie Achmat accused her on Twitter of being 'a liar' and 'one who holds black people in contempt'.
At the protest today residents and activists chanted and held up posters outside the Civic Centre.
Mgudlwa said that the community's decision to demonstrate outside Van Minnen's office was made after a meeting over the weekend.
"People are mad. We've been trying to meet the city council three times and still nothing. People are very unhappy. We didn't know which way to go for help. We decided to come to Van Minnen so she can see that we are desperate for help," he said.
Magdalene Minnaar, a resident living on the old Wolwerivier Farm, said there were about 36 families still living in dilapidated houses on the Farm.
"No one knows what's happening because the City hasn't come back to us to tell us anything. Most of the families have already signed for their houses, but no one has been moved yet," she said.
Minnaar said the lack of communication from the City about plans for the settlement was a major problem.
"Our people are worried. We can already see that there is a problem of overcrowding because these places are so small. Most people have four or five children, so how will those families fit into such small houses?" she added.
In a statement today, NU said attempts by Wolwerivier residents over the past six months to meet and engage with City officials had been ignored.
"Despite spending around R60,000 per unit…there are no community facilities, streets, traffic regulations, street lights or fire hydrants," NU said in the statement.
"When poor communities protest violently, the City is quick to condemn leaders for apparently failing to seek peaceful ways to engage the municipality. Yet, the contempt with which Van Minnen and her officials have responded to Wolwerivier's requests for an engagement shows that the City either doesn't have the capacity or does not care for meaningful public participation," the NU statement said.
Dodgy people are suing us. Please support us by contributing to our legal costs and helping us to publish news that matters.
© 2016 GroundUp.
This article is licensed under a
Creative Commons Attribution-NoDerivatives 4.0 International License
.