Residents march for essential services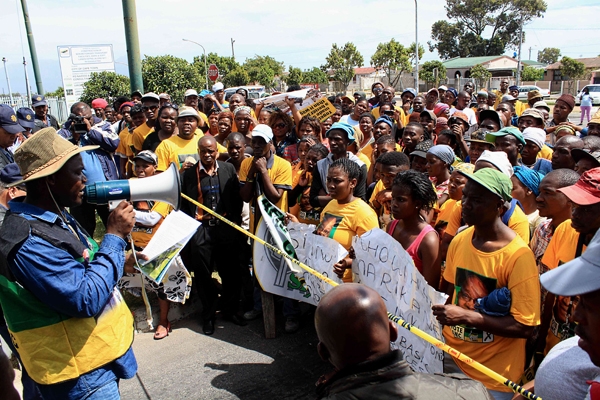 The City of Cape Town has been given 14 working days to respond to a memorandum of demands from the residents of Marikana, Rolihlahla Park and Klipfontein informal settlements.
The residents of the three settlements are faced with pending evictions by different owners of the land but they say services are an urgent need, since pending court cases could take years.
They came in their numbers on 23 October to march for service delivery to Fezela Municipality, which falls under the City of Cape Town. Some residents said the march was organised for political reasons to serve the ANC.
ANC leaders from Ward 35 joined the march.
Residents said they had lived in the settlements longer than three months but did not have essential services.
"We don't have water, toilets and electricity, we buy water
for R30 a bucket and most of us are not working and can't afford that," said Nosiphiwo Lali. She said most people were living on child support grants and battling to make ends meet.
Lali said many residents had been renting accommodation in other areas and had moved to the settlements when they could no longer afford the rent.
Another resident said the situation was a health hazard, "We don't have toilets, we relieve ourselves in the open and children are playing next to faeces."
ANC Treasurer for Ward 35, Mzawuhlalwa Dlala, read out the memorandum of demands. He said the City Council must provide clean water, sanitation, electricity and rubbish removal immediately, saying the communities needed proper toilets not the portable ones.
He accused the City of Cape Town of using court processes to escape its responsibility to provide services.
The memorandum was received by Councillor Rhoda Azil who said she would forward it to Mayor Patricia de Lille.
But some of the residents said they opposed the march because of the pending court cases.
Gcinikhaya Nqaqu lives in Rolihlahla Park and has been assisting the residents with drafting legal papers on pending court cases. He said, "The march is politically motivated to serve the ANC, not the needs of the people in the three informal settlements."
Nqaqu said the City Council was the second respondent in the matter which would be heard in the Western Cape High Court next month.
He said ANC members in the community were hoping that the national department of Human Settlements would intervene as it had in the Lwandle evictions, where a Commission of Enquiry was set up by Minister Lindiwe Sisulu.
But the ANC denied being politically motivated. Dlala said, "The people are vulnerable and will listen to anyone who says he has got a solution. Ses'khona tried to collect R25 from them claiming it's for legal fees, when there are human rights lawyers who don't charge a cent to represent them."
© 2016 GroundUp.
This article is licensed under a
Creative Commons Attribution-NoDerivatives 4.0 International License
.