NEWS
Religious leaders inspect Khayelitsha's sanitation
Members of the Western Cape Religious Leaders Forum led a sanitation walkabout in Khayelitsha to collect evidence to present to the City of Cape Town, about the huge problem of sanitation in the township.
The looming 2014 elections and polarizing acts like the human waste protests have escalated tensions between the ANC and DA over sanitation in the Western Cape.
To jump-start meaningful progress, the SJC, which focuses on safety and human rights issues in the townships, has turned to religious leaders. Why? "[It's the] moral authority that they bring," said Joel Bregman of the SJC, "and the fact that [religion] cuts across race. They can afford to cut out all the politics."
On 30 July, the Social Justice Coalition led leaders from several different religious communities on a site tour of the sanitation conditions in two informal settlements of the Western Cape.
The tour, which passed through Endlovini and RR Section in Khayelitsha, attracted over a dozen members of the media and religious communities. The SJC has given two similar tours to religious leaders in the past, referred to as "Walks of Witness" because of their emphasis on observing everyday on-site conditions in the selected communities.
"It's about them (the religious leaders) seeing it for themselves and not being directed to it by us," said Joel Bregman.
In keeping with the erratic history of sanitation maintenance efforts, on-site conditions varied wildly across the two communities.
The tour began in RR, a community visited by one of these earlier tours. "Last month I saw this and it was overflowing," said one veteran participant, pointing at a functioning row of Mshengu chemical toilets.
Only minutes later, a honey sucker truck sputtered past on its way to clean local chemical toilets.
A trip to Endlovini, however, quickly shattered hopeful notions of widespread improvement. The tour's first Endlovini stop, a row of non-flush "container" toilets enclosed in cement shelters, demonstrated damning failures of the present system,
Mickey Glass, a member of the Jewish community, expressed surprise that the entrances of container toilets faces the street, making it difficult for honey sucker trucks to reach the pumps (located at the back of each toilet) for maintenance.
Padlocks are used to restrict each toilet to its intended users. In most cases, although multiple families share a toilet, only one person is given a key. "Because there are so many people, some people do not have access to the keys of the toilets so they would rather relieve themselves in the bush," said one community member.
That desperation was clearly apparent. Behind the toilets, countless mounds of human faeces dotted the cement.
"Padlocks are handed to community leaders to distribute to five families or so, but if it is twenty families it creates a problem, or if you don't get along with your neighbours," said Bregman.
Looking behind the toilets at the endless piles of solid waste, participant Waheed Sookool shook his head. "That is not fit for an animal," he said.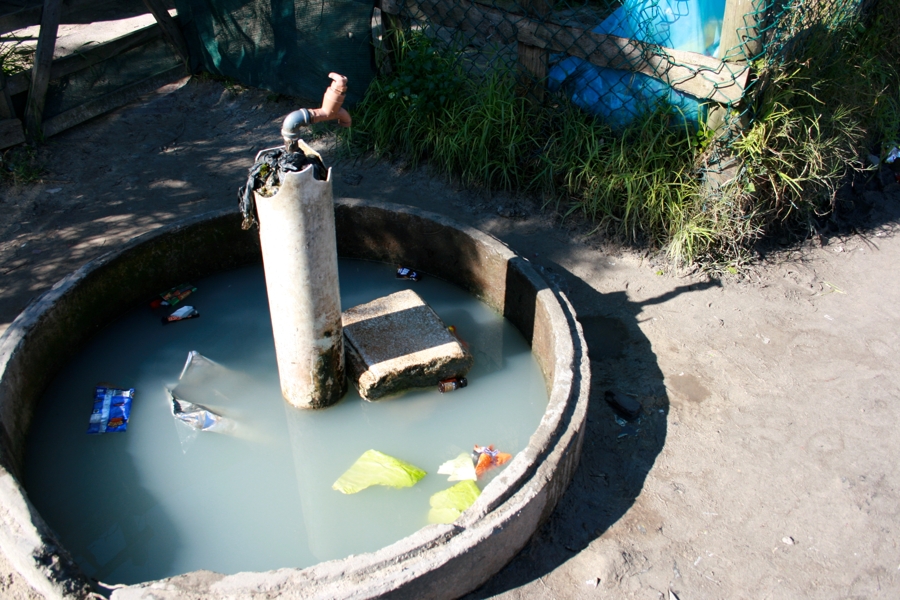 A water tap filled with stagnant waste water and trash in RR section of Khayelitsha.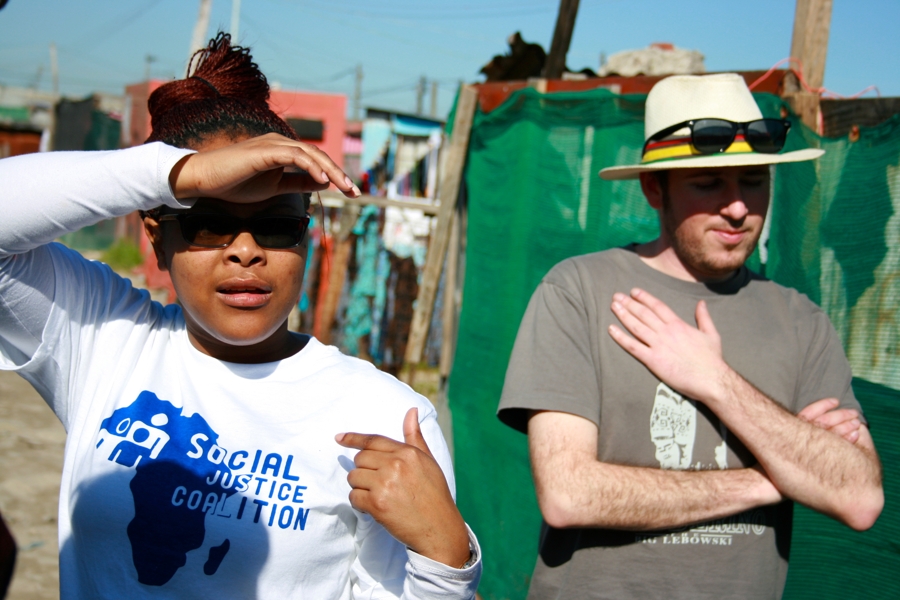 The SJC's Phumeza Mlungwana and Joel Bregman led religious leaders through two township communities.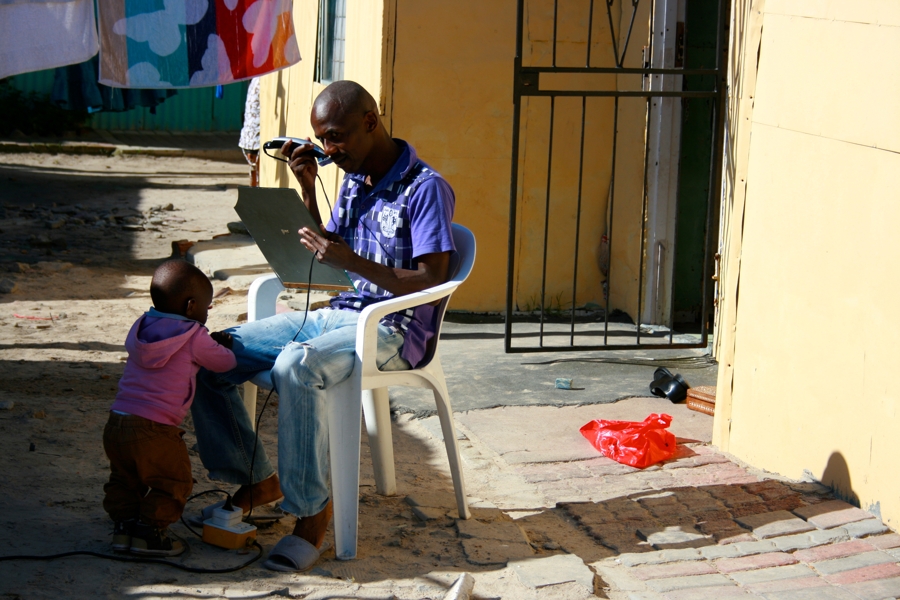 Having to share water and electricity sources turns daily hygiene into a public activity.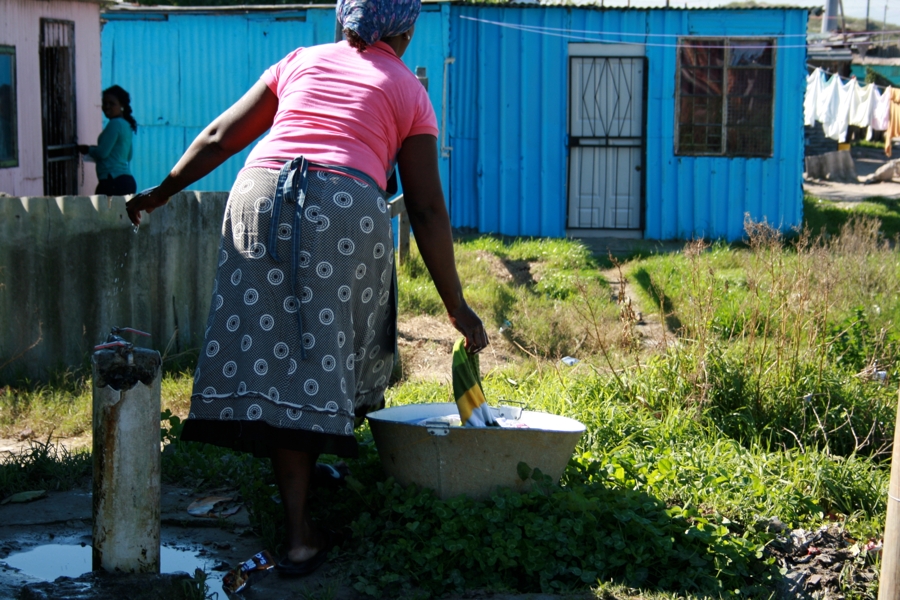 A woman washes clothes with water from her community's tap.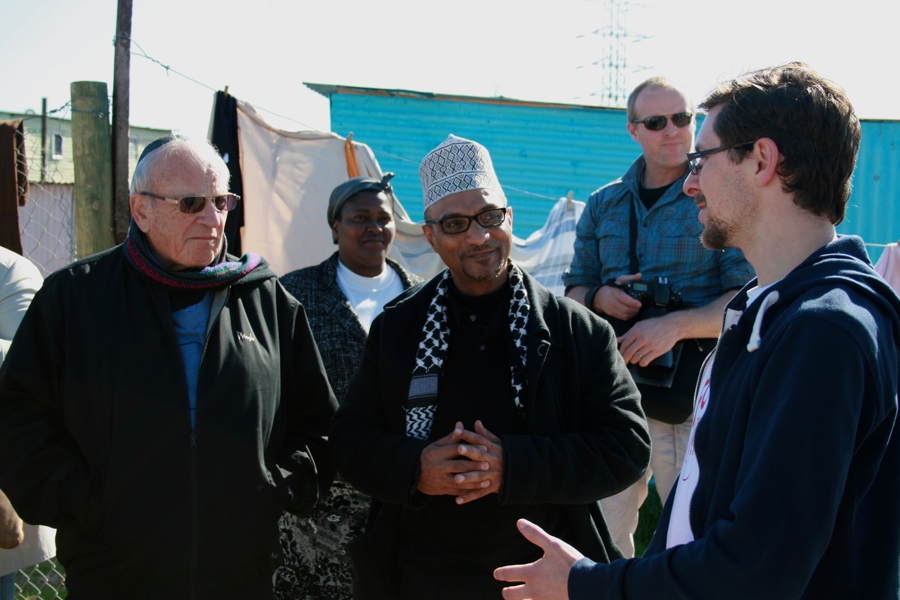 Imam Rashied Omar of the Claremont Main Road Mosque and Jewish community member Mickey Glass listen to the SJC's Dustin Kramer.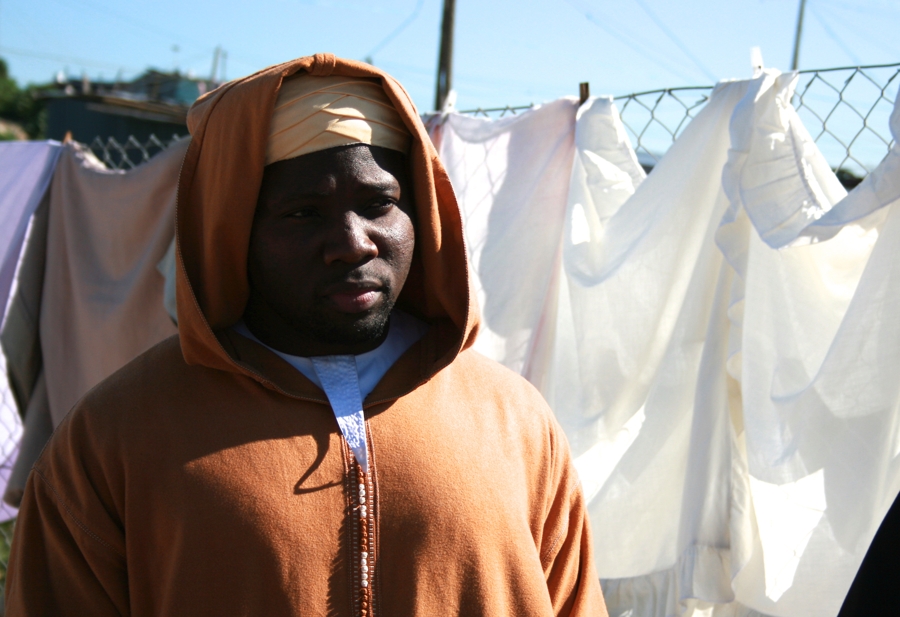 Omar Masoud in the RR section of the tour.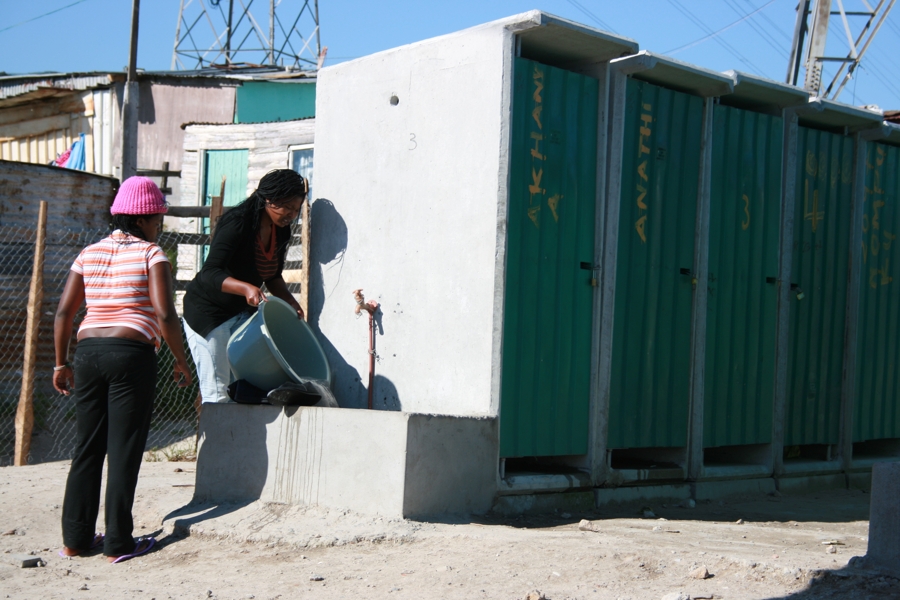 A woman pours out household waste-water in a tap attached to a row of city-maintained toilets.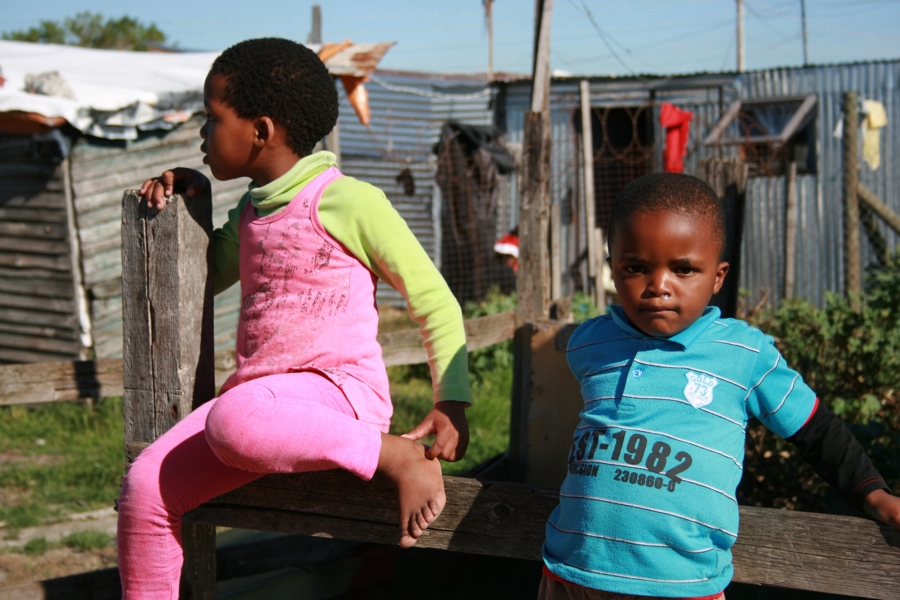 Children in RR observe the passing troupe of media and religious community members.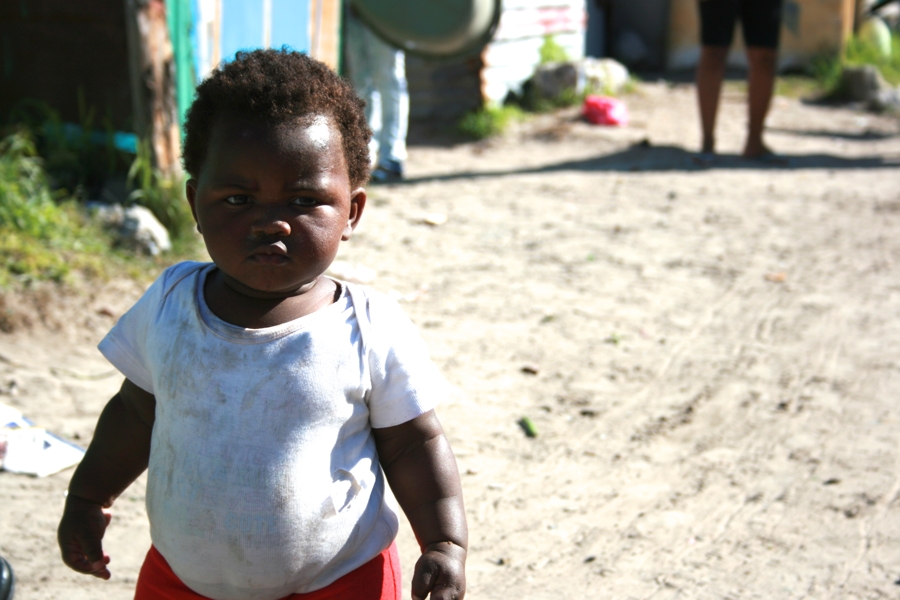 Children in RR observe the passing troupe of media and religious community members.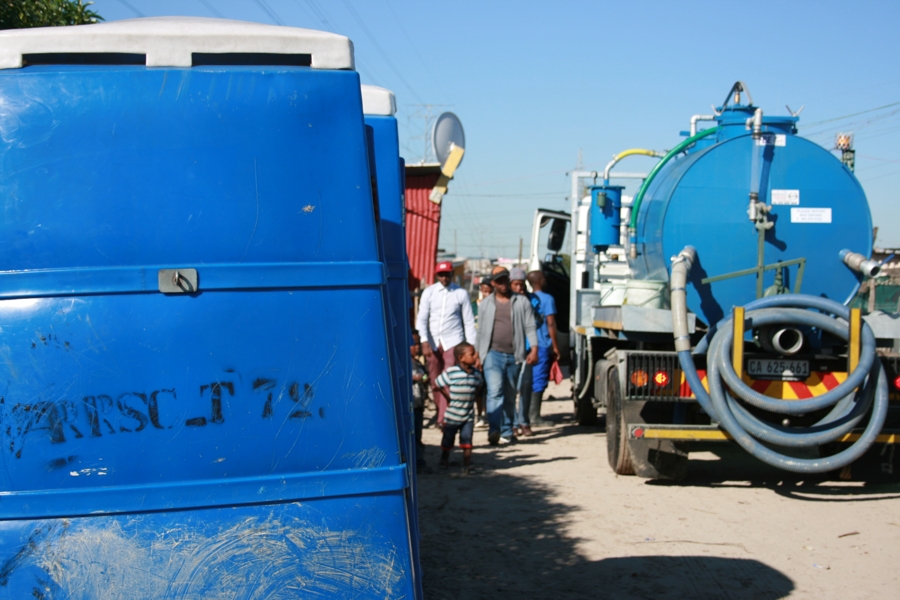 A Mshengu honey-sucker drives through the streets of RR maintaining toilets.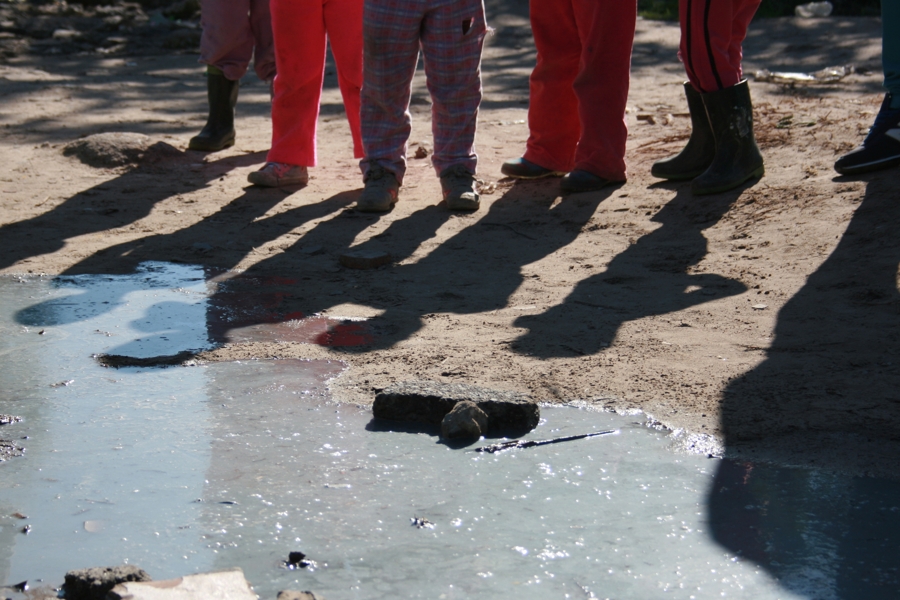 In RR, the shadows of children are cast onto a pool of water adulterated by detergent and other household chemicals. Due to a lack of a formal drainage system, water stagnates in the street.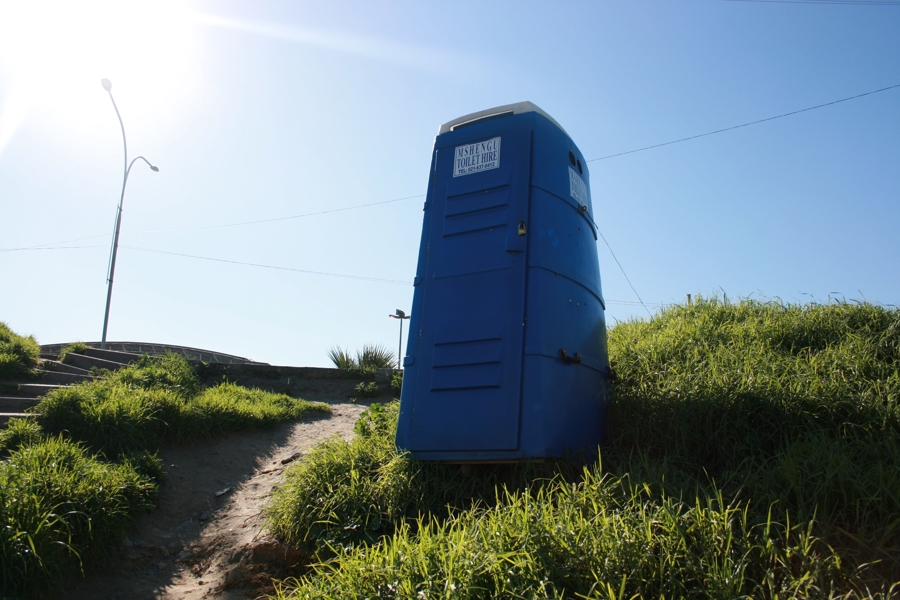 A Mshengu toilet perches precariously on the edge of a steep ravine by the highway.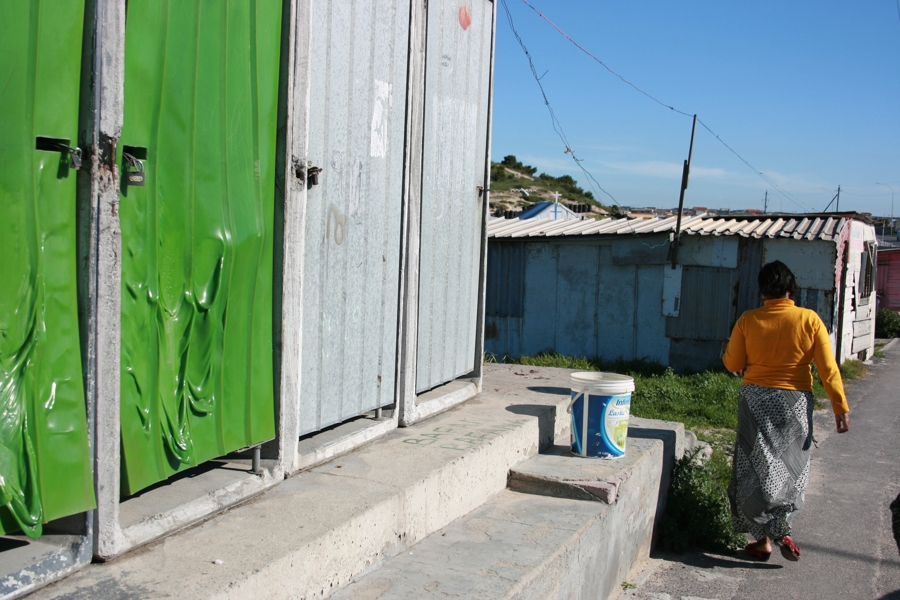 A woman in Endlovini brings the water needed to flush waste from her family's assigned toilet. Several doors show signs of heat damage.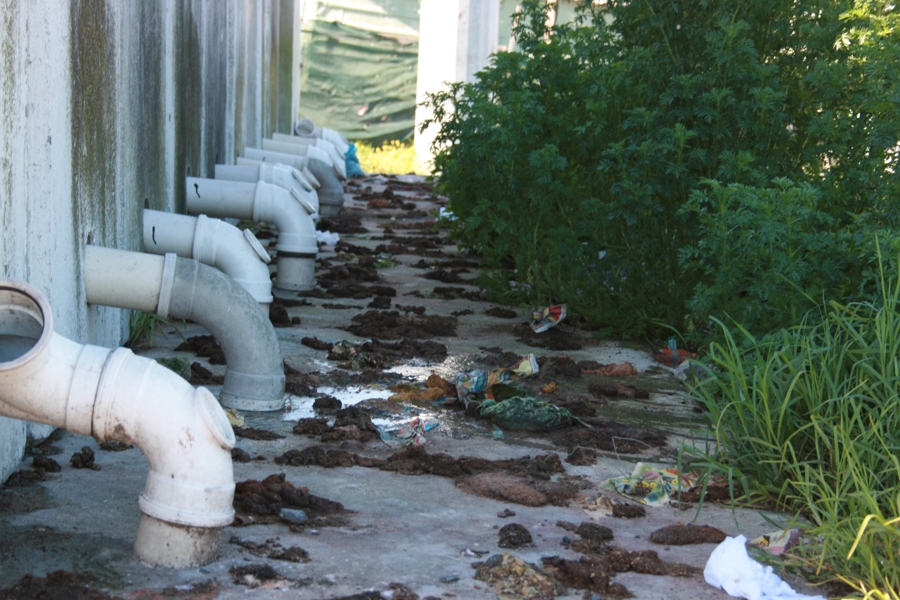 Human waste accumulates behind a row of city-maintained toilets in Endlovini, Khayelitsha. Padlocks limit a toilet's use to a small number of families. Usually, a leader amongst the families holds the one key that unlocks the toilet. Marginalized community members, people disliked by the key-holder, and children who have a difficult time waiting to use the bathroom have a difficult time predictably accessing facilities. Here, they find an alternative.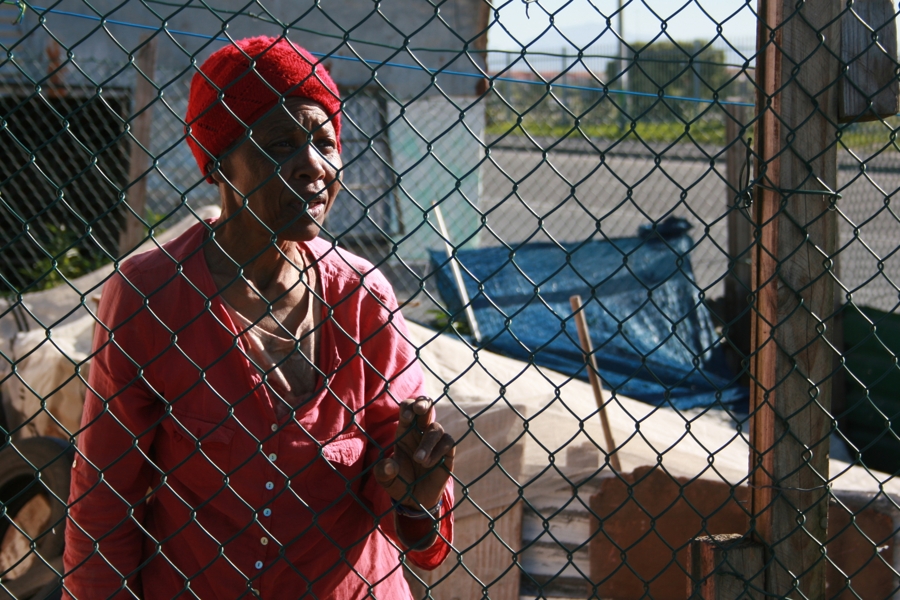 One Endlovini woman explains that she helps clean the toilets by her house.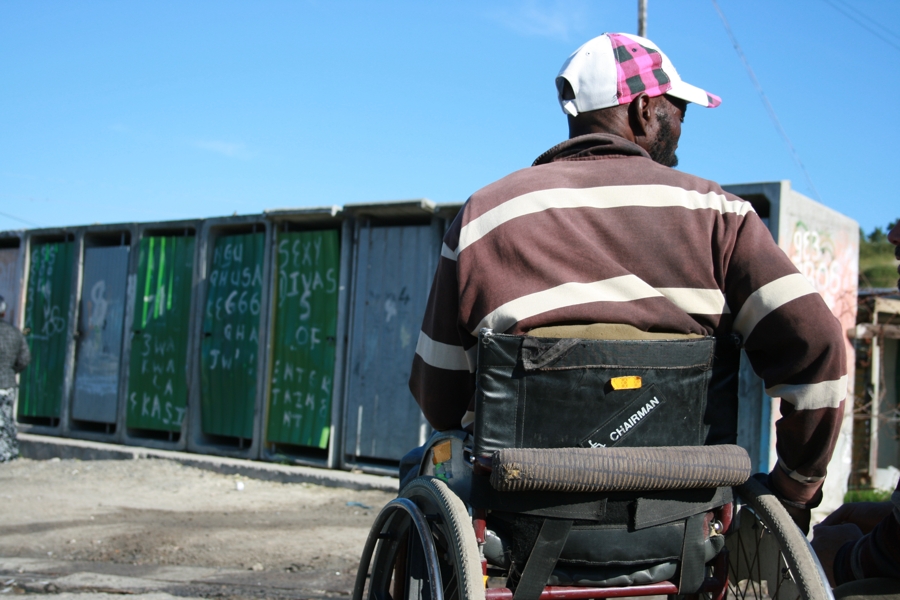 Vincent, a man who lost both his legs in a shooting, has difficulty using the city maintained toilets by his house. He cannot access the toilet without help because of its raised foundation. Furthermore, his wheelchair cannot cross the deep rut carved by flowing wastewater in front of the toilets. Once inside, he cannot use the toilet alone, since flushing waste in the toilets requires carrying a large bucket of water.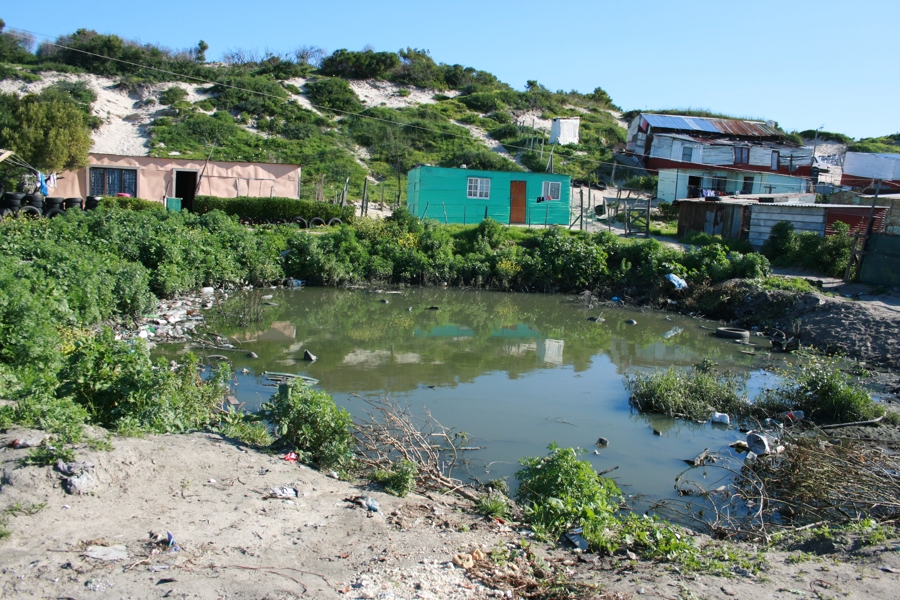 A waste-water pool in Endlovini.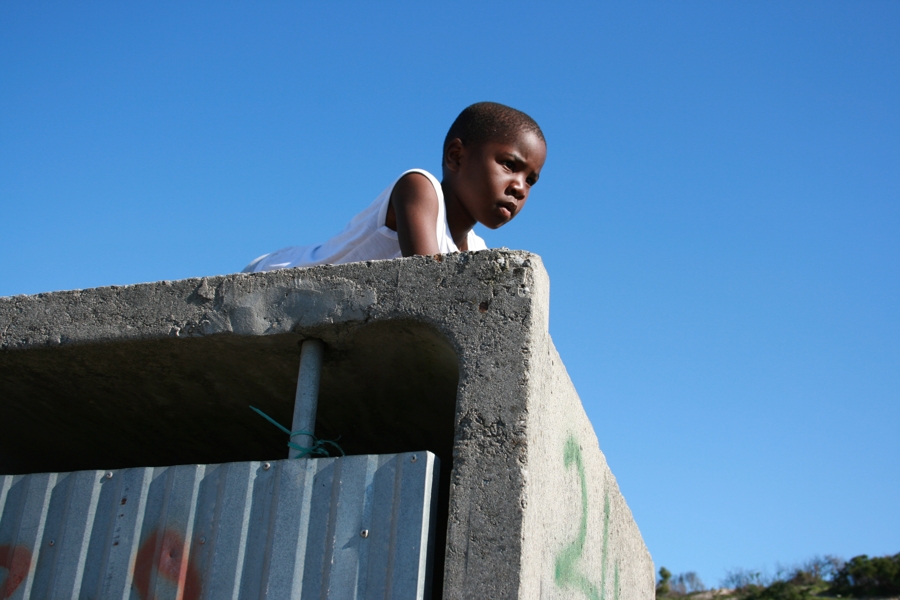 A child plays on top of city maintained toilets.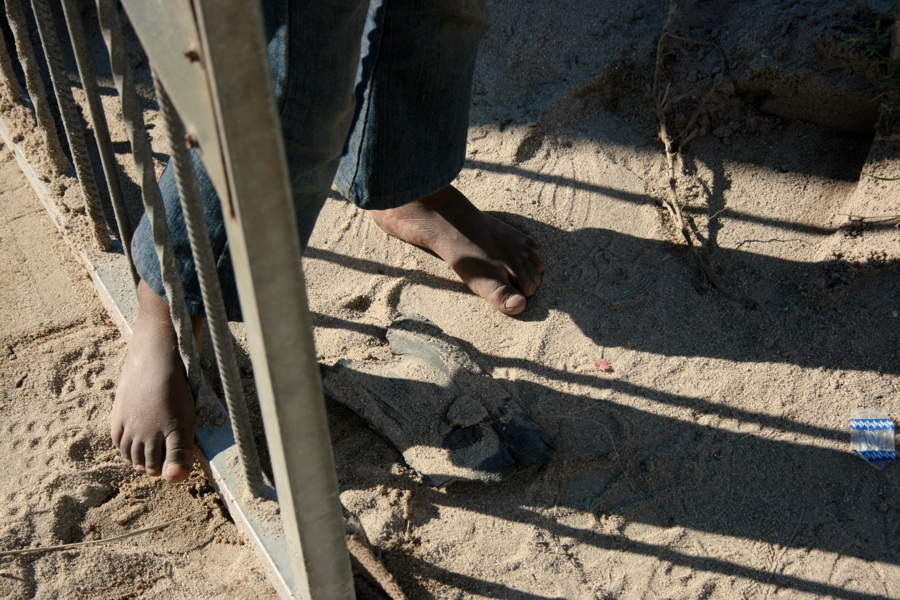 Many children do not wear shoes, exposing themselves to diseases caused by waste on the ground.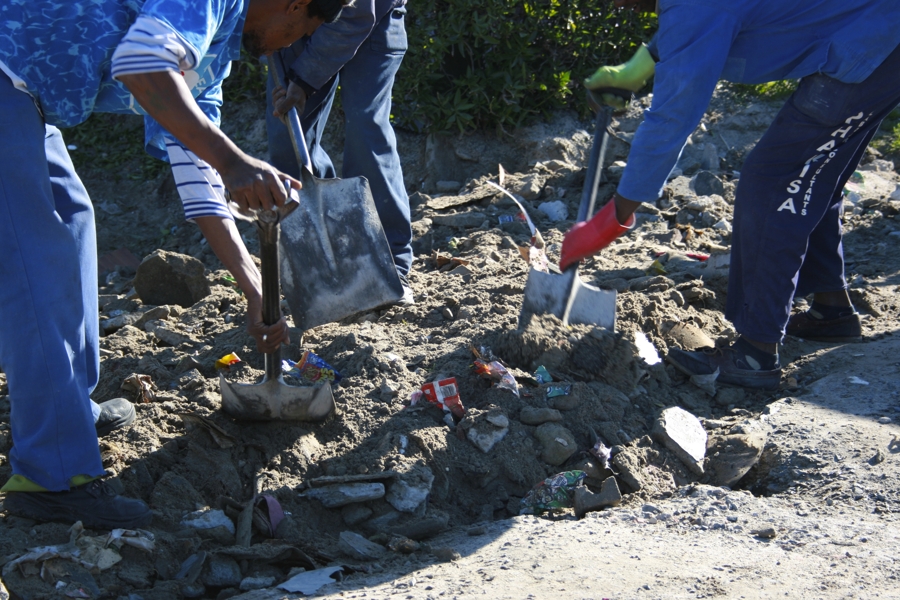 Men clean litter from the streets of Endlovini.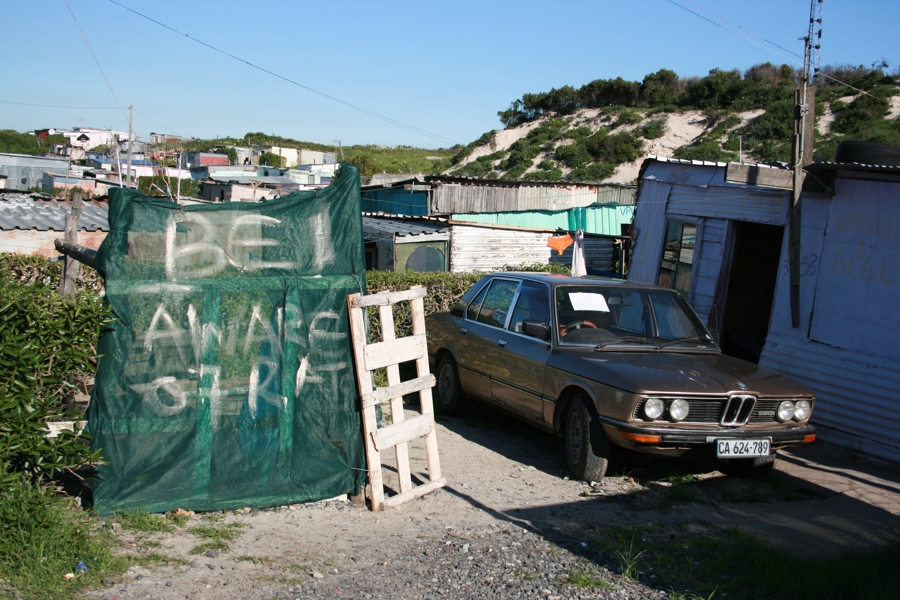 "Be aware of rats."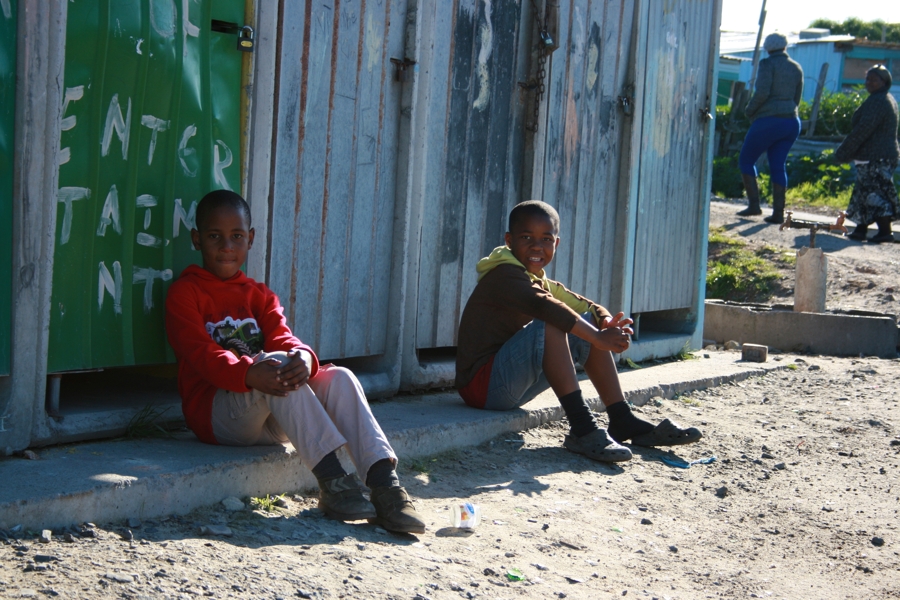 Boys hang out at the toilets.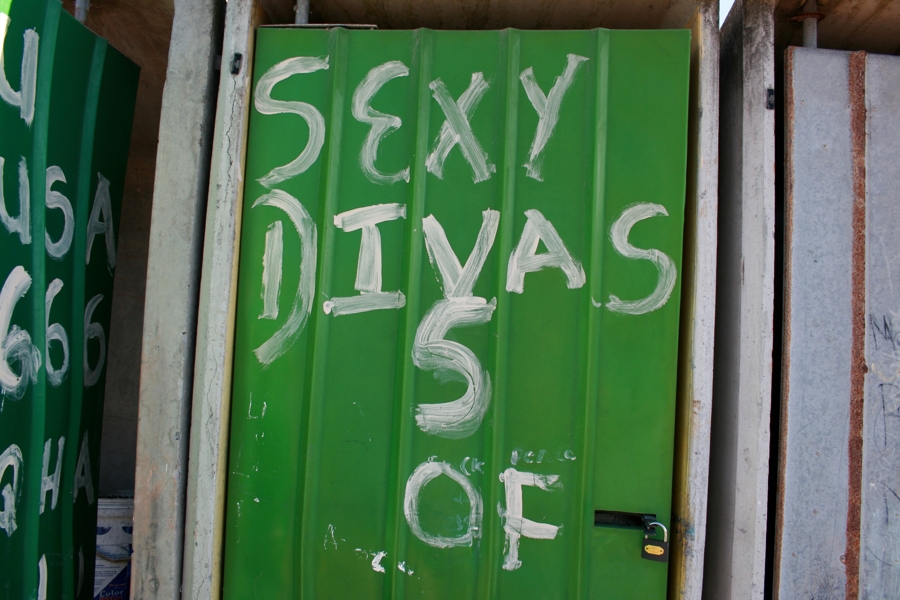 A toilet shows the mark of a local female gang, "the sexy divas"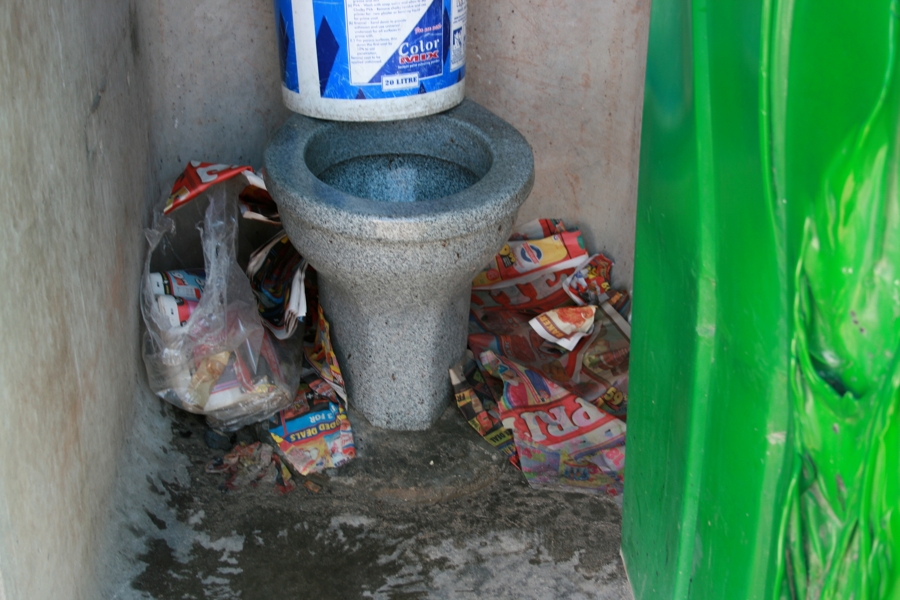 A toilet in Endlovini.
© 2016 GroundUp.
This article is licensed under a
Creative Commons Attribution-NoDerivatives 4.0 International License
.