No room for the homeless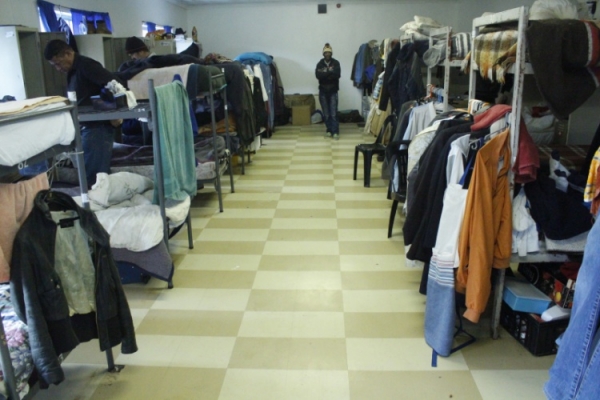 Non-profit organisations in Cape Town say they are doing their best to assist homeless people living on the streets of the city, but there are simply not enough shelters or beds. The City's street people enumeration project counted 7,383 homeless, of whom 2,521 were sleeping in shelters.
Wayne Staner of Somerset West Night Shelter says, "When we run short of space, we refer people to other shelters."
Staner says more organisations need to offer shelters and that there should also be more care workers on the streets working with the homeless.

A homeless man lives next to a factory building in Woodstock. Photo by Masixole Feni.
John Philnon, director of Youth Solutions Africa, says his centre has space for 80 mattresses, which are usually used during winter.
"We are doing our best, working closely with the City of Cape Town, but the City has to come up with more developmental programmes and skills training," says Philnon.
Hassan Khan of the Haven Night Shelter, which has several shelters dotted around the Peninsula, says more is expected from the City. He only found out about recent interventions through the City's website.
"The City is not doing enough intervention programs. We as an NGO are not aware of their programmes, which makes it difficult for us to work closely with the City," says Khan.
Shafeek Ortell from the Elim Night Shelter says, "Yes, the number of homeless people is increasing daily in Cape Town. The problem is that street people typically do not want to come into shelters."
"Though it is difficult to take people off the street, we should try by all means. Some people do not want to abide by the rules of the shelter, so they live exclusively on the street, and it is difficult to help them," says Ortell.
GroundUp contacted every shelter in Cape Town it could find. The table below shows the number of beds each place told GroundUp it had available. Some shelters are able to take in more people by supplying them with mattresses.
At a media briefing, Councillor Suzette Little said the City had made a noticeable effort to reduce the number of people living on the streets.
"We have made tremendous strides in recent years in our efforts to address the complex phenomenon of homelessness. This includes the finalisation of our Street People Policy in 2013, the establishment of our Reintegration Unit at the end of 2014, and the partnerships we continue to build with non-governmental organisations working in this sector."
But Little admits the City still has a long way to go.
According to Little, last year, the City assisted 613 street people to get off the streets. Of these, 58 were reunited with their families and 555 were assisted with access to social, health and rehabilitation services. The City budget for its directorate's Street People Programme is R9,7 million for 2015/16.

A homeless woman sitting on her bed in Woodstock. Photo by Masixole Feni.
Dodgy people are suing us. Please support us by contributing to our legal costs and helping us to publish news that matters.
© 2016 GroundUp.
This article is licensed under a
Creative Commons Attribution-NoDerivatives 4.0 International License
.