Slaughterhouse proposed for Nyanga, following SPCA complaint
| Mary-Anne Gontsana
News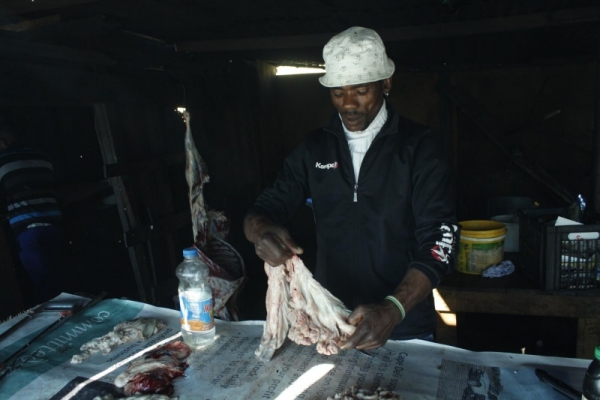 Nyanga meat sellers might be in line to receive a formal animal slaughter site after the City of Cape Town finalised a pre-feasibility study into this site for informal meat traders.
Meat selling is a big business in Nyanga. Smoke can be seen from meat stands on every pavement, with slaughtered animals lying next to the men and women braaing the meat to sell to customers. Last year, the Cape of Good Hope's Society for the Prevention of Cruelty to Animals (SPCA) called for the abattoirs operating in the Nyanga township to be closed down because the animals were sometimes slaughtered on the pavement or bound by their feet.
A statement by the City said it was awaiting the specifications of the proposed permanent animal slaughter site after ongoing discussions about how to address challenges facing meat traders. Some of the challenges included insufficient sanitary facilities and ablutions, poor waste management, disposal of blood and body fluid from slaughtered animals into stormwater, lack of drainage and contamination of food products from dust, dirt and contagious germs.
When GroundUp visited Zwelitsha Drive earlier today, the meat sellers were braaing their meat. They said they had slaughtered the animals at 7am.
Two vendors we approached said they were unaware of the City's plans to introduce a slaughter site in the township. They did however point out a corner where a site that had been built to slaughter animals. The vendors said the site was not big enough to accommodate all of them.

Meat selling is big business in Nyanga, and the City of Cape Town is planning an informal slaughter house for the area. Photo by Masixole Feni.
The site, behind the vendor stands is a small platform, fitted with grey paving bricks, with no drainage, next to a block of flats. Another vendor, who has been a meat seller in Nyanga for 15 years, said she knew about the City's plans to build a slaughter site and that this was something that was conveyed to them in a meeting held in May.
"May is the last time we had a meeting with the City of Cape Town about the slaughter site. Nothing else has been said to us. The small site that you see now is the site that we got after that meeting when we expressed our challenges. We want them to come to us and tell us what these plans are. It's no use them making plans and then not telling us about them because they should be asking us what we want. Next thing they will say we are being difficult when we object to plans, when it's them that don't communicate with us," she said.
According to the City, vendors had expressed an interest in basic facilities such as taps, sinks, on-site refrigerators, bins and drainage systems.
Mayoral committee member for Health, Siyabulela Mamkeli said, "The construction of a formal slaughter site is the next big step because we cannot continue to have animal by-products end up in the stormwater system. It is a risk to public health, but it also means that the system is at risk of blockages which have other unintended consequences.
"We want to improve the look and feel of the area, but also improve the lives and economic potential of the residents and the traders who are trying to make an honest living. We now have a framework for the abattoir. The next step is to start working on the details," said Mamkeli.
© 2016 GroundUp.
This article is licensed under a
Creative Commons Attribution-NoDerivatives 4.0 International License
.