NEWS
"We can't smile for passengers when there is pain in our hearts" - MyCiTi bus driver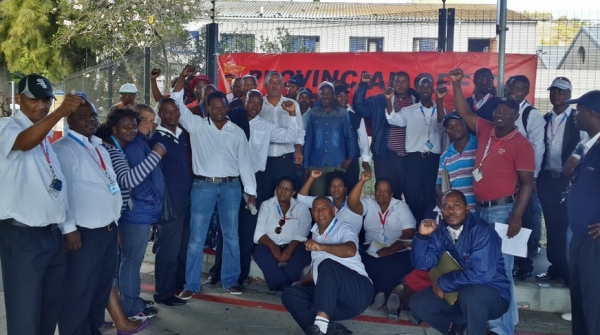 MyCiTi bus drivers say they will not go back to work until the South African Transport and Allied Workers' Union (SATAWU) is recognised by Transpeninsula Investments (TPI). The strike that started yesterday continued today, with a picket outside TPI's depot.
TPI is one of three vehicle operating companies (VOCs) that the City of Cape Town uses to provide the MyCiTi bus service.
Ishmael Sontundu, a SATAWU shop steward at TPI, says that he and his fellow TPI bus drivers are primarily striking "for organisational rights - the recognition of SATAWU by TPI."
"We need a credible representative, that's why we chose SATAWU - they will take our issues forward."
Once the union is recognised, it plans to take up the other major issues being voiced by the drivers, such as poor working conditions, unfair dismissals, and low pay.
Sontundu claims that of the approximately 220 bus drivers employed by TPI, 175 are SATAWU members. He says that TPI wants to renegotiate SATAWU's recognition on a yearly basis, but Sontundu rejects this offer, saying that while SATAWU has the majority membership at TPI, it must be recognised as the official union.
Sontundu complains that many of the TPI drivers were employed "under false pretences". He says that some drivers, without their consent, have been outsourced to Concord Employment Contractors (Conco), even though they were trained by TPI. Sontundu says that Conco were originally brought in to help TPI with human resources but, later on, drivers found out that they had been "offloaded" to Conco. Drivers who are outsourced to Conco are disadvantaged, says Sontundu, as preference is given to TPI employees when deciding shift times.
About 15 drivers approached GroundUp at the picket line outside TPI's depot in Green Point. They described their frustration with the City of Cape Town. Some said that the City knows about the problems that they're facing at TPI, yet does not help them. Drivers asked, "Who is City? Who is MyCiTi? Where is MyCiTi?"
Sontundu "blames the City big time" for not intervening in these issues with TPI.
The City's Mayco Member for Transport, Roads and Stormwater, Brett Herron, said, "The City is not the employer and the employment relationship is between the operating company and their staff. We have put measures in place, in our contract with each of the operating companies, to ensure that the companies adhere to fair employment practices. … Our operating companies are complying. We have been closely monitoring the negotiations between TPI and their employees for some weeks now but we have no authority to intervene nor are we able to resolve this particular dispute which is not about working conditions but about union organisational demands."
TPI said, in a media statement on 5 February, that SATAWU "continues to demand that all employees who are not SATAWU members, namely members of other transport unions as well as non-unionised employees, be forced to join and pay SATAWU subscription fees (even without their consent)."
Sontundu denies this, saying that "non-SATAWU members are not forced" to become a SATAWU member or to take part in the strike.
The media statement also says that only "shop stewards (who are paid while striking) stand to benefit out of this strike." Sontundu and the drivers at the picket line disagree, saying that they want SATAWU and that it looks like the strike is the only way to get it recognised by TPI.
The drivers at the picket also had lists of complaints about TPI. They said that TPI "doesn't look after their drivers," and that in the past when they've complained about the number of hours they work and the times they work, nothing has been done. Some told GroundUp that there is nowhere to rest between shifts and that there is no toilet paper in the restroom so drivers must go ask for toilet paper at dispatch, and they are given a few pieces of toilet paper to use. The drivers say that these poor working conditions are part of why they want SATAWU to be recognised.
The drivers also complained of unfair dismissals that "depend on the mood of the day".
One driver said "we can't smile for passengers when there is pain in our hearts."
Herron said, "Allegations of employment conditions that are non-compliant with the collective agreement would have to be investigated by the Bargaining Council and if the operating company is in breach of the collective agreement they would also be in breach of their agreement with the City, placing their contract with the city at risk. The bargaining council has found no breach."
Sontundu is confident that the strike will continue till there is some answer from TPI. "The plan is to strike till TPI put pen on paper."
© 2016 GroundUp.
This article is licensed under a
Creative Commons Attribution-NoDerivatives 4.0 International License
.