Mothers march for quality care
| Mary-Anne Gontsana
News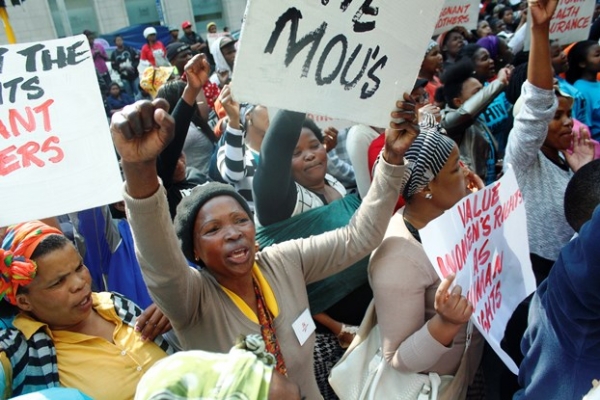 Several hundred mothers, pregnant women, men and activists marched to the provincial legislature and parliament on Thursday to highlight problems accessing quality maternal and obstetric care in the Western Cape.
The march, organised and led by the Treatment Action Campaign (TAC), follows reports to TAC of poor treatment of pregnant women in maternity wards.
TAC's Amelia Mfiki said the organisation had received a stream of complaints from women about mistreatment in clinics. "The complaints we received included expectant mothers being told to go and wait at home while in labour and come back when fully dilated."
"We want to tell provincial Minister of Health, Nomafrench Mbombo, that we are not happy. We want her to monitor services at these clinics. Our children are growing up with deformities and disabilities because of complications during labour, complications that can be stopped at the clinic," she said.
The marchers sang songs, The name "women" must be praised, You strike a woman, you strike a rock and Don't cry mom, TAC is here and we will fight for you.
A crowd gathered outside the legislature where the memorandum was accepted by Siviwe Gwarube on behalf of Mbombo. The crowd then marched in song to parliament, carrying banners, posters and baby dolls.
Nomfusi Libala from Philippi is one of the mothers who says she was mistreated at Hanover Park Clinic.
"When I became pregnant, I registered to have my check-ups and appointments at Hanover Park Clinic. Everything went well until a couple of months into the pregnancy when I fell ill and started having painful cramps in my stomach. I went to the clinic and I was told by one of the nurses to go back home because there was nothing wrong with me and it wasn't time yet for me to give birth. I explained to the nurse the pains I was feeling but she insisted that I go back home.
"On my way home the cramps became worse and I started bleeding heavily, I sat down on the pavement and luckily people saw me and took me back to the clinic. When I got there I was told to wait while an ambulance was being called for me. The ambulance came and took me to Groote Schuur Hospital. While there, I was not told anything about what was happening to me.
"After a while, a doctor came to me and told me that my child had died inside of me and they couldn't operate to get the baby out, but I had to give birth myself naturally even though the baby was dead. I did as I was told and pushed with all my might until the doctors saw the baby's head; they then used a silver instrument to pull the baby out. The baby was taken away and I wasn't even shown it. It was only after three days, when my husband asked to see the baby that we were taken to the morgue. No counselling at any point was provided to me," she said.
The memorandum addressed to the office of the provincial MEC of Health demanded an urgent investigation by the Department of Health into the state of maternity and obstetrics care in the public sector in the province.
It also demanded sufficient space and better monitoring of mothers in maternity units; improvement of the quality of education, counselling and birth preparation; an increase in the number of professional healthcare workers; implementation of a system of early bookings and diagnostics to avoid mothers giving birth at home; and the availability of the BCG tuberculosis vaccine at health facilities. The memorandum called for women to be treated with dignity and respect at all health facilities across the province.
© 2016 GroundUp.
This article is licensed under a
Creative Commons Attribution-NoDerivatives 4.0 International License
.