Parents claim victory in battle over Dunoon school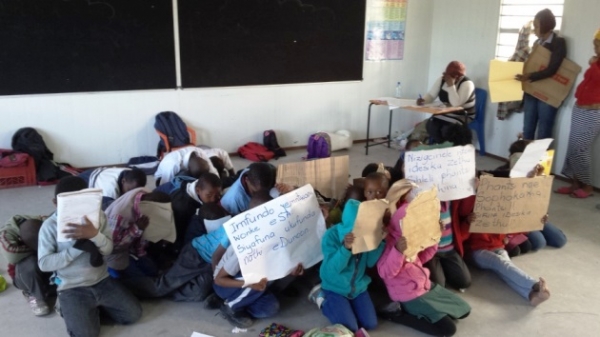 Dunoon parents and representatives of the Western Cape Education Department (WCED) reached an agreement on Thursday after weeks of argument over the use of mobile classrooms next to the Sophakama Primary School.
Parents had been trying to persuade the WCED to open a new school in the area rather than place their children in the new R40 million Sophakama Primary School.
More than 300 children are being taught in mobile classrooms which were set up as a temporary school while Sophakama was being renovated. When the Sophakama school was completed, students who could not find places in either Sophakama or the other primary school in the area moved into the temporary classrooms where they have been taught by voluntary teachers and parents. The classes are divided from grade one to grade seven.
On 27 August the WCED and parents agreed that 113 students would be accommodated at the mobile school until the end of the year and that the school would be managed by the WCED.
The department also promised to provide furniture and desks to the school this week. Formal tuition will start next Monday.
Parents had refused to let their children join Sophakama Primary, arguing that the mobile classrooms should become a new school.
Thandi Jonga, the parent of a child at the school, said parents wanted the WCED to turn the structures into a functioning school and provide teaching materials. "We do have qualified teachers and they can just add to the number. These structures have the potential to be turned into a good school so that children won't be on the streets. We do not want our children to be part of Sophakama Primary," said Jonga.
Minister Debbie Schafer said the department had allocated four new teaching posts. "Due process will now be followed in appointing the teachers for that school. By agreement, they will be contract positions until the end of December 2015."
Students would be assessed and evaluated, and catch-up programmes and support would be provided.
"I am glad that we have been able to reach an amicable solution, and hope that we can now move forward in the best interests of our learners," said Schafer.
Dodgy people are suing us. Please support us by contributing to our legal costs and helping us to publish news that matters.
© 2016 GroundUp.
This article is licensed under a
Creative Commons Attribution-NoDerivatives 4.0 International License
.