Mayor de Lille, here's your evidence. It's time for action.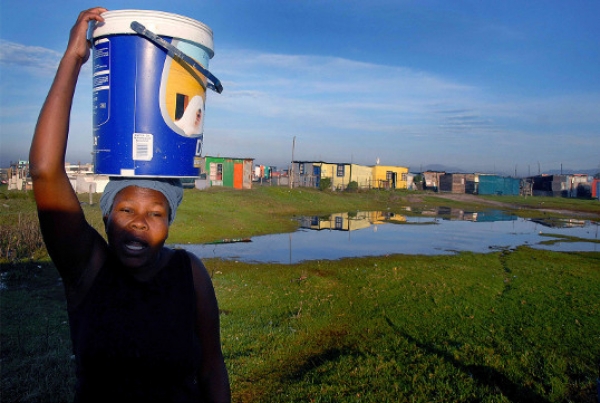 When Cape Town Mayor Patricia de Lille tabled the 2015/2016 draft budget last week, she said, "In my years as Mayor, not once has any substantive proof to counter our evidence of pro-poor spending ever been offered."
Download City of Cape Town draft budget.
I would suggest that the burden of proof lies with the Mayor. Nevertheless, to move the discussion beyond the annual posturing, we have decided to take up the Mayor's challenge, specifically regarding budget allocations and expenditure on sanitation in informal settlements.
This is based on research conducted by the Social Justice Coalition and Ndifuna Ukwazi, supported by the International Budget Partnership.
We argue that the City:
has consistently allocated an inexplicably small share of its water and sanitation capital budget to informal settlements – 1.7% of the total budget this year, decreasing to 1.4% and 0.9% over the next two financial years;

spends an inexplicably small share of its water and sanitation operating budget in informal settlements - 2.5% of the total operating budget - and prioritises temporary sanitation facilities as long term solutions that are extremely expensive and largely inferior; and

has significant capital reserves that could be used to fund sanitation infrastructure in informal settlements.
The City allocates its capital budget primarily to build sanitation infrastructure, including communal flush toilets in informal settlements. In the 2014/2015 capital budget, the Mayor allocated R20 million for installing sanitation infrastructure across all 204 informal settlements. In fact, the Mayor has consistently allocated R20 million or less to informal settlements since 2007/2008 (with the exception of R28.5 million in 2009/2010).
According to the budget documents, in the 2015/2016 draft budget the Mayor has allocated only R18 million, and this is set to decrease further to R15 million the following year. The City has also consistently underspent on this budget allocation.
To put this into perspective, the R18 million allocated to informal settlements is just 1.4% of the R1.2 billion capital budget for water and sanitation across the city, the budget documents show. The share for informal settlements has decreased from 1.7% in 2014/2015 and is projected to decrease again to 0.9% in 2016/2017.
This is an extraordinary figure considering that 21% - one fifth - of households in Cape Town are informal, according to the budget documents.
And these are the very areas which have the greatest and most urgent need.
The Mayor may say that there are indirect benefits for informal settlements from capital investments elsewhere in the city. The City is making large investments in bulk infrastructure, for example. But these would benefit informal settlements only if the necessary top structures (such as toilets) in informal settlements were being built as well. Yet it is clear that capital funding for sanitation infrastructure in informal settlements is actually decreasing after years of stagnation.
As for the operating budget, the City does not publish allocations for operating expenditure in the budget that would allow residents to understand how much is allocated to informal settlements.
However, we can determine expenditure for informal settlements, as these are reported by the City's water and sanitation department in its monthly monitoring reports to the Utilities Portfolio Committee.
The 2014/2015 financial year only ends in June, so we turn to the last financial year for the most complete expenditure. In 2013/2014, according to a report to the committee, the City spent R137 million of its water and sanitation operating budget on sanitation in informal settlements. This represents just 2.5% of the R5.5 billion spent by the water and sanitation department across the city (see page 9, marked as page 53, in the linked PDF file).
Most if not all of this is spent on outsourced private contractors providing temporary facilities that are extremely expensive and largely inferior.
A long-term solution to the sanitation crisis in this city would require the Mayor to undertake a significant reallocation within capital and operational budgets to ensure allocations are at the very least equitable, and geared towards areas where the need is most urgent.
In the short term, the Mayor could draw from substantial capital reserves, set at R761.3 million in the draft budget.
This should be accompanied by a long-term plan for sanitation in informal settlements in Cape Town developed with residents of those settlements.
There is a sanitation crisis in informal settlements. The current budget and spending patterns in this City are unjust. The Mayor has a choice – leave things as they are for another three years, or take decisive action now.
The Mayor has asked for evidence. We ask the Mayor for a plan.
Notywala is a member of the SJC. No inference should be made on whether the views expressed in this article reflect the editorial position of GroundUp.
Dodgy people are suing us. Please support us by contributing to our legal costs and helping us to publish news that matters.
© 2016 GroundUp.
This article is licensed under a
Creative Commons Attribution-NoDerivatives 4.0 International License
.