How Willowvale women live in fear of rape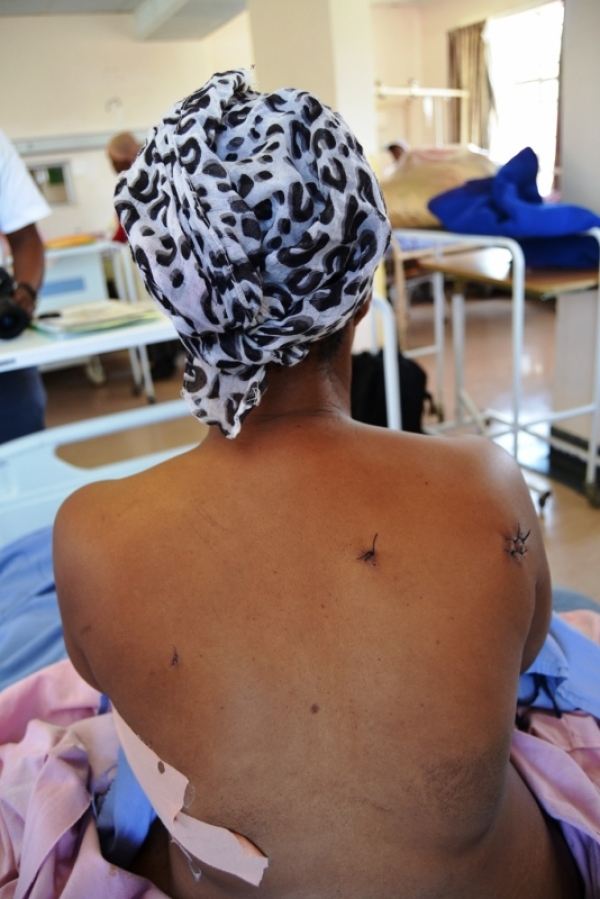 Willowvale resident No-Italy Gola, 54, used a machete to fight off the man who tried to rape her. Many other women have not managed to thwart their attackers in this town where at least two rapes are reported to the police each week.
According to SA Police Service 2015 statistics, the number of sexual assaults reported to the police station dropped from 105 last year to 90. But women in the town also known as Gatyana say they are easy targets for rapists because there are not enough police officers, the townships have no electricity, and houses are built far from each other.
"Here it's either you fight or you die," says Gola, who lives in Chafutweni, 35 kilometres from Willowvale.
At about 9.30pm on Sunday, 1 November, she heard dogs barking outside.
"I didn't pay much attention to them. I was watching television with my grandson. After a few minutes, the barking stopped. I decided to go to bed, leaving my grandson watching TV. While I was busy preparing to sleep, I heard the dogs barking again. I looked through the window. I saw someone standing in my other room, carrying a torch. I asked him what he was doing there but there was no reply."
Gola said she believes the man targeted her because she lost her husband in June. She was still wearing her blue clothes, a sign of mourning for her husband.
"I heard a big bang on my window. I screamed to my grandchild to go hide in the other room. I quickly went to the door trying to push it; in my other hand I had my phone. I kept on calling my neighbours who live a few kilometres from my house, but I didn't have enough airtime," she says.
"This area has no police. We have to fight on our own," she says.
"I looked for the machete and went back to the door. He kicked the door open. I hit him on the head and I continued hitting him."
She says she asked the man what he wanted and he said he was there to rape her. He stabbed her four times in the back and once in the neck. The fight lasted 20 minutes, she says, and ended only when her brother appeared.
"Luckily, my grandson had managed to escape through the window and he called my brother."
She says her attacker is a 23-year-old boy from her area.
"I know him, he's one of the boys in the area," said Gola.
She spent four days in hospital and the nightmare is not over as her attacker is still free.
Police spokesperson Captain Jackson Manatha said he is not aware of Gola's case, but Gola says police visited her in the hospital and they took a statement.
Boniswa Simayile left Chafutweni in Willovale after she was attacked by three men who wanted to rape her.
"I could not just give up … I fought back," she says.
"We are living in a very dark area, where there are no police. We only see a police van once in awhile. When you want to open a case, you are forced to wait until the next morning before you get transport to town, and by that time, the culprit has already left," says Simayile.
Some women keep quiet about these incidents, she says.
Another rape survivor, who asked not to be named, said there is no communication between residents and the police. The 62-year-old woman from Gwadu was raped and stabbed by a 22-year-old earlier this year.
"When I think of what happened to me, I get angry. If I had the power, I would have killed my rapist."
"I don't remember how many months he was sentenced, but he's out and I am scared he's going to rape other women … if he has not done it already," she said.
Last week, Manatha said, the Butterworth Family Violence, Child Protection and Sexual Offences Unit arrested a 20-year-old suspect for raping a 58-year-old woman in Ncalukeni in Willowvale. The victim was sleeping in her house with her mentally challenged son, when she was woken and forced outside.
Eastern Cape police spokesperson Lieutenant Khaya Tonjeni said the Willowvale police station had 19 vehicles, but most of the vehicles spent time in the police garage due to mechanical failures. He suggested GroundUp drive to Willowvale to see the condition of the roads. He did not respond to questions about shortages of police officers in the area.
Manatha said police relied on village committees, rural patrols and traditional leaders to help them reduce crime.
"Our hands are tied. There is nothing more we can do. This town has one police station and there are no mobile police stations," he said.
Dodgy people are suing us. Please support us by contributing to our legal costs and helping us to publish news that matters.
© 2016 GroundUp.

This article is licensed under a Creative Commons Attribution-NoDerivatives 4.0 International License.