Free pet sterilisation campaign in Khayelitsha
|
Mary-Anne Gontsana
News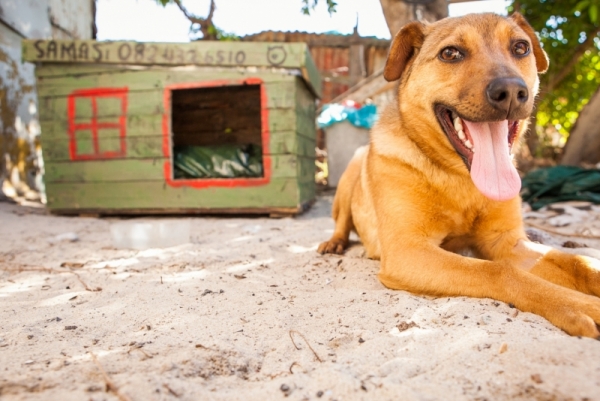 In the canine sterilisation ward of the South African Mass Sterilisation Trust (SA.MAST) in Khayelitsha, several dogs lie in cages, unconscious, with their tongues out. Others are brought in on stretchers, after being successfully sterilised.
Whatsapp is one of them. He's a medium-sized tan coloured dog who's just been sterilised, one of 45 pets brought into the animal hospital on Tuesdays and Thursdays, as part of the mass sterilisation campaign - the biggest ever in South Africa, according to SA.MAST founder and director Tamsin Nel.
SA.MAST occupies several shipping containers in Khayelitsha's Village North 2. The organisation plans to sterilise 80 to 90% of dogs and cats in the township over the next two years. The service is offered free to pet owners.
Showing GroundUp the clinic, manager Chewe Mademutsa said SA.MAST formerly operated from a single container used for sterilisation, and another which was used as an office and to house cats.
"We got six containers donated to us and we cater to cats and dogs," she said. Animals to be sterilised were identified through a "census" procedure where workers went to houses and asked the animals' guardians to fill out a form.
"This helps us identify the dogs that we need to collect for sterilisation. We sms the guardians first, just informing them when we will be picking up the patients. Initially we would take dogs from all over, but last year we decided to do it systematically, so we started off in Site C," said Mademutsa.

Veterinarian Charles Anderson performs a sterilisation on a dog. Photo by Sheldon Moultrie.
Site C, Site B, Khayelitsha, Town Two, Ilitha Park and Monwabisi have already been surveyed and Harare is currently being studied.
"Our target is to get 45 patients per sterilisation day; it doesn't really matter how many dogs or how many cats, as long as there are 45," she said.
Nel says: "This is the largest mass animal sterilisation campaign that has ever taken place in South Africa. We have just gone past 10,000 sterilisations since we started … in 2006."
"Every single patient is collected from their homes and returned to their homes. While they are in our care they get the primary treatment like vaccinations and de-worming as well as tick and flea treatment. When they are returned home, the guardians get a care sheet that explains how to look after their cat or dog."
A short health check is conducted beforehand with a guardian to determine whether the pet suffers from any diseases and to find out about its living conditions, shelter, access to water, and whether or not a dog is tied up. Cases of abused animals are documented and reported to the SPCA.
Nel said the animals did not feel pain during the operation, which took between five and 15 minutes. Animals spent the night in the clinic and were monitored for post-operative complications before being taken home the next day.
SA.MAST does not charge for sterilisations and is hoping to raise R500,000 through a funding campaign to equip the hospital and build a reception and area for patients and guardians, a consultation room, an isolation ward, an X-ray room and X-ray machine and an area where pets can undergo minor procedures, like de-worming or tick and flea powdering.
To contribute, go to https://www.thundafund.com/samast. GroundUp is not connected to this campaign.
SA.MAST's premises are made out of seven converted shipping containers to form a single structure. Photo by Sheldon Moultrie.
Dodgy people are suing us. Please support us by contributing to our legal costs and helping us to publish news that matters.
© 2016 GroundUp.
This article is licensed under a
Creative Commons Attribution-NoDerivatives 4.0 International License
.