NEWS
Evicted resident breaks down at Lwandle inquiry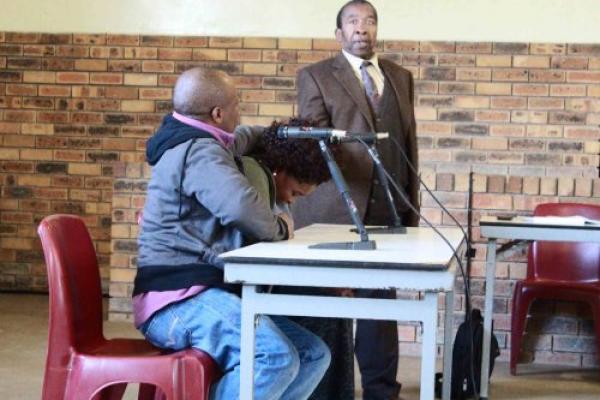 Xoliswa Masakala broke into tears at the ministerial inquiry into the Lwandle evictions today as she was asked to comment on two pictures of herself which were published in the media. In one of the pictures, she is seen with her breasts and upper body completely exposed and the rest of her clothes appear torn.
The inquiry has moved from Cape Town city centre to the Lwandle Community Hall in Strand, so that evicted residents can give testimony. More than 50 members of the evicted community attended today's proceedings.
Xoliswa testified alongside her husband Albert. They were among several residents who testified today.
The couple with their three sons had been living as backyarders in Asanda Village. They moved to South African National Road Agency (SANRAL) land, where the evictions at the centre of the inquiry took place, on 15 December last year.
Xoliswa is also the secretary of the settlement's steering committee.
"I was working as a volunteer at SAPS and we couldn't afford the R500 rent and R300 electricity a month anymore. We as backyarders just decided to occupy the land. We didn't know who it belonged to until the (ward) councillor told us it was private land," she said.
When asked to give her account of the evictions at the beginning of June evictions, Xoliswa said, "There was barbed wire fencing blocking off the area. They told us all to get out of our homes. Police wouldn't listen to our ward councillor who asked them to stop. They just started shooting at people. The children were crying. They were so traumatized."
Albert, who was on his way to work at the time, described how he was physically assaulted by police who then arrested him.
When shown the photos that caused her to cry, Xoliswa said, "I was just trying to intervene and ask them why they arrested my husband. The police grabbed me and beat me. They tore my clothes I had on and stripped me half-naked. I don't want to be shown these pictures please," she said.
Xoliswa added that she had picked up a live round during the evictions.
She also said the community hall where the evicted residents are now staying was not an environment conducive to bringing up her children as they were constantly being exposed to the abuse of alcohol and drugs.
"We are living in a terrible situation. It's not right for us to live like that. My children are still traumatized by what happened. I had to go to school because one of my children couldn't concentrate in class anymore," she said.
Another evicted resident, Daluxolo Mvoko, whose home was demolished last month told the inquiry that he moved to the SANRAL-owned land after he could no longer afford to pay rent as a backyarder.
"I was staying in as a backyarder with my wife, our four children and my sister who has three children. We were staying in a backyard in Nomzamo for seven years. When I lost my job, I had no other way to pay rent so I chose to move to the land," said Mvoko.
"At a meeting with backyarders in the area, we all decided to go and occupy that land because of our financial state which was very bad. I moved my family on 27 January. I went there and decided by myself where I wanted to build my house. I didn't have to ask permission from anyone," Mvoko told the inquiry.
After his home was demolished for the first time in February this year, Mvoko said he sent his family to live with a friend while he stayed at his brother's house nearby.
"This was while I organized more building material. In March, I rebuilt a structure. I was busy getting the younger children ready for crèche one morning in June, when I heard sounds from outside. I went out and saw the place was full of police. I was told to get out of the house. The policeman was very aggressive," he said.
Another resident, Thobeka Matakana, explained how she had been shot by police in the waist with a rubber bullet while carrying her two-month-old baby.
Nomapeli Pupu, said she had six structures on the land in which she and her six children each lived in.
She said they lost a lot as they could not save much from any of their homes during the evictions.
Most of the residents who addressed the inquiry made mention of Ses'khona leaders, Andile Lille and Loyiso Nkohla and their role in assisting residents since March.
Proceedings continue in the Lwandle community hall on Thursday.
© 2016 GroundUp.
This article is licensed under a
Creative Commons Attribution-NoDerivatives 4.0 International License
.