Robertson Abattoir was "hell"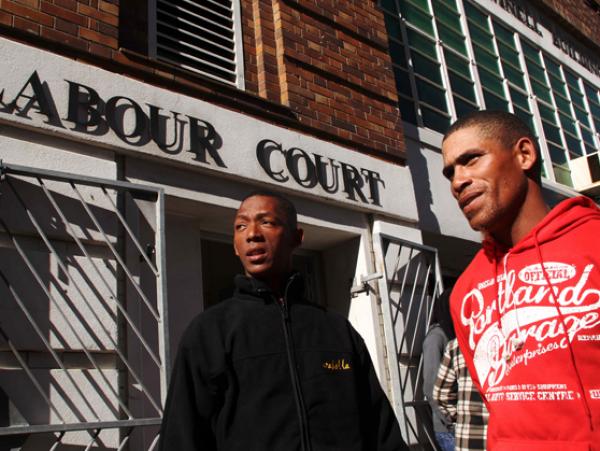 The case of 39 Robertson Abattoir workers who say they were dismissed for complaining about 18-hour days was back in court today after a 20 month delay.
Thirty-four of the workers, none of whom have been reinstated, travelled from Robertson to the Labour Court in Cape Town this morning to attend the hearing. Outside the courthouse they told how they had protested in November 2010 against what they considered illegal and abusive conditions of employment.
"My own children (aged four and eight in 2010) did not even know that I was staying in the home with them," former abattoir worker Piet Rossouw, 34, said. "I would leave before they woke, and they would be asleep when I got home. When my son said to me 'where do you live, daddy' I was so shocked. I realised that my family life was being ruined."
Many of the workers' claims are contained in affidavits to the court by the Commercial Stevedoring Agricultural & Allied Workers' Union (CSAAWU).
The workers spoke of 18 hour work days, typically from 6am to around midnight, with minimal breaks and no pay for overtime. They say they were paid between R300 and R400 per week.
Johan Filander, 24, had worked for the abattoir for around a year when he was fired as part of the mass dismissals in late 2010.
"When the boss says 850 animals have to be slaughtered today, you would know that you cannot go home until that quota is reached," he said.
"Our lunch break ended at 1.45 pm. Then it was a stretch until the end. By mid-night your legs would start giving way, because you stand all the while as you slaughter the animals with your knife. I cut my hands many times, because you are clumsy when you are half asleep."
These hours, Filander claimed, were different from those stipulated in the employment contract he signed before working.
He said working in the abattoir was "hell".
"You endure it. What choice do you have? There is no work in Robertson, and the boss knows this well. That is why he can do as he pleases."
Under the direction of Csaawu, the workers decided to protest by arriving for work at 7am, instead of 6am, on 30 November 2010. This was the time stipulated by their contract, they argued. They were locked out and subsequently dismissed.
Lawyers for Csaawu will argue that these dismissals were unfair, and illegal. The trial has however not yet started and today the court only heard a pre-trial application by the abattoir's lawyers to have the case of nine of the workers thrown out.
Advocate Hanrie Loots, for the abattoir, argued that these nine were dismissed separately from the 30 others and that their case had been improperly referred to the court. The application is challenged by Advocate Anne-Marie Louw who argued that the lockout constituted a de facto dismissal, regardless of subsequent disciplinary hearings which split up the workers' group. Judgment on the application is expected in a week or two.
"We will continue to come back, even though many of us have moved on with our lives," says Rossouw, who says he has now been branded a troublemaker and undesirable to employers. He was unemployed for two years after his dismissal from the abattoir, but now works as an irrigator on a wine farm.
"Being branded like that by the bosses makes your life difficult. But, we come back because we are fighting for a principle. We know that we did nothing wrong, and the court case must help to prove this. We want to show other workers that they can stand up against the boss when their rights are abused."
Robertson Abattoir owner Hendrik Swanepoel de Bod did not respond to GroundUp's request for comment and messages left for him at the abattoir's reception.
Dodgy people are suing us. Please support us by contributing to our legal costs and helping us to publish news that matters.
© 2016 GroundUp.
This article is licensed under a
Creative Commons Attribution-NoDerivatives 4.0 International License
.