Empowerment through art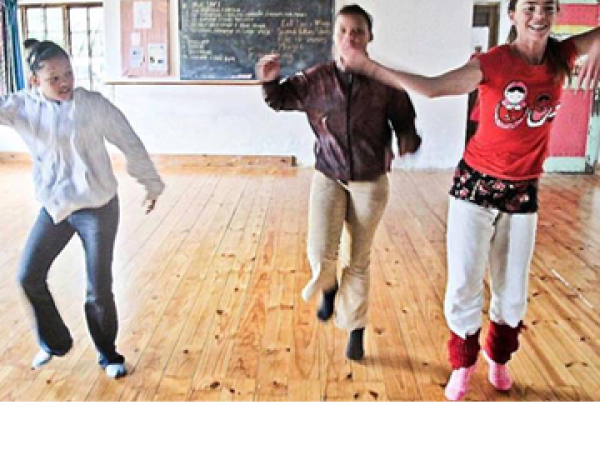 Hand in Hand Creatives (HHC) is a not-for-profit organisation (NPO) that aims to provide young people from disadvantaged communities with access to the creative arts through workshops, running outings, and planning festivals. The organisation believes that the arts can empower individuals and nurture self-respect.
Founding member and chairperson of HHC, Ulla Gosebrink, says "I believe that people who are involved with art are better rounded people with a deeper knowledge of humanity and nature. This will impact on their families and their work and on the society in their later lives. Even if not all of them will actually become artists, art will enrich their lives, and this they will pass on to their children."
Based in Muizenberg, HHC reaches out primarily to its neighbouring community of Vrygrond on the fringes of the Cape Flats. In stark contrast to Vrygrond, Muizenberg has an abundance of artists and arts facilities. HHC hopes to service more communities through collaborations with other NPOs.
"We are lucky to live in this very artistic community surrounded by natural beauty," says Gosebrink. "Many of our artists want to share their skills and to pass them on to the next generation. HHC wants to bring those two parties together by hosting workshops leading to festivals."
HHC's workshops run during school holidays, and involve transporting groups of youth to Muizenberg where they participate in classes and courses run by local artists. During a workshop week, participating youth will spend the day in the community, interacting with facilitators and the neighborhood. At the end, participants put together a showcase of what they have learned.
HHC wants to provide shorter day-trip outings to historical sites, museums, and other exciting places that youth are usually not exposed to. HHC is also a participant in the Muizenberg community effort to host a Muizenberg festival in 2014, as part of the City of Cape Town Design Capital of 2014.
But, Gosebrink says, "We need many more members with various skills to take over some of the workload."
Despite challenges, HHC is held together by a committee of Muizenberg community members determined to see a different approach to integration and engagement with other communities.
Julia Nowicki of Alive Dance Studio says, "As the dance facilitator for HHC's pilot project, I believe the workshop was successful. I enjoyed it very much and it was rewarding. Dance offers physical strength, self confidence, and facilitates the processing of stresses in the body."
The development of self-confidence and the ability to process stress are important for young people to trust that they are able to affect change in their communities. Gosebrink says, "Our approach is to offer an introduction to the creative arts as an alternative to crime and drugs. We do not want more walls and gates and security guards. We want a dialogue between diverse communities which might help us all to overcome the differences that still exist."
HHC's objective is an alternative way of addressing community development, social responsiveness, and security concerns. It is another way of dealing with the challenges that face a city plagued by its segregationist past.
Dodgy people are suing us. Please support us by contributing to our legal costs and helping us to publish news that matters.
© 2016 GroundUp.
This article is licensed under a
Creative Commons Attribution-NoDerivatives 4.0 International License
.