The elderly supporting the elderly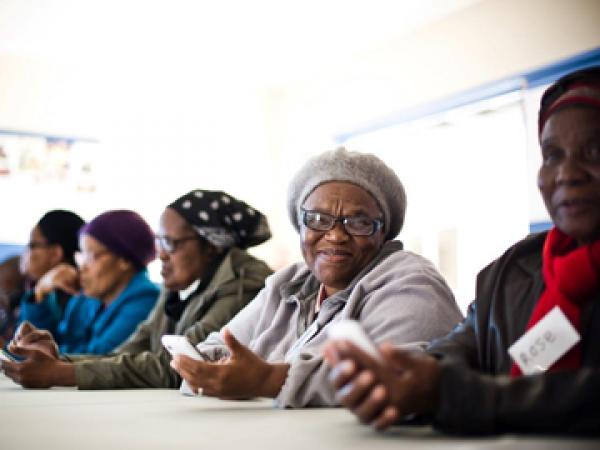 Nearly six years ago, Sindiswa Tati of Mandela Park in Khayelitsha, was going blind and often spent her days alone at home. Now, Tati, 68, has recovered, and since joining the AgeWell programme, says she feels "younger, confident and empowered" to help others in need of a friend.
"In 2007 I started going blind. I was sitting in my house alone. Even after my operation on my eyes not too long ago, I still didn't feel comfortable to leave the house. When I joined AgeWell, I came out of my shell and could talk to people again," Tati said.
In February this year, Dr Mitchell Besser, an obstetrician and gynecologist, initiated the AgeWell programme.
The non-profit organisation was created to improve the wellness of elderly people by having other more active and independent older people providing support and companionship to the elderly in their communities.
In 2001, Besser, founded the Mothers to Mothers programme which started at the Groote Schuur Hospital and has since spread to medical institutions countrywide.
Mothers who are HIV-positive provide support for other women experiencing similar challenges.
There are currently 36 trained AgeWell consultants who are part of the organisations two pilot projects in communities of Sea Point and Khayelitsha.
The consultants are trained to provide companionship and identify health concerns for their clients who are people in the community aged 60 and over identified by AgeWell managers.
Tati is one of 28 consultants in Mandela Park who underwent a four-week training programme she described as challenging.
They are required to work for 20 hours per week and given a monthly stipend.
"The training was so wonderful, but there was one thing that upset me so much. It was learning to use a smartphone. I never liked these tap-tap phones. The weekend after training, I went home and cried because I was worried I would never get it right. Now, I can use the phone in my sleep. My only son has four children, they always ask me what I'm doing and I tell them I'm messaging my clients on Whatsapp," she said.
Tati, who currently has eight clients, became tearful as she recalled seeing the change in lives of her clients.
"There is an elderly woman who stays alone sometimes for the whole day. When I went to her house, I introduced myself and the organisation. I told her that we are not there to hand out parcels or clothes, only to build a friendship. She is now excited to see me and my other clients want me to visit them over the weekends as well so they are not alone," she said.
During their visits with clients, AgeWell consultants are required to conduct 20 questions and observations to identify needs and assess the impact the programme has had on clients.
Tati said the monthly stipend from AgeWell has helped her improve the safety at her Mandela Park home.
"I didn't have a gate or a proper yard. My windows were in a poor condition, which isn't safe. I can afford to fix it [now]. I'm working again at my age. It makes me cry when I talk about AgeWell because it took me from the bottom. It changed my life and others," she said.
During a graduation ceremony for 12 Sea Point consultants earlier this year, founder, Mitchell Besser said the AgeWell programme was creating new ways for people to relate and interact with one another.
"We found the peer to peer programme worked effectively. We have created a social network of people that cares for the community. The AgeWells are trained to identify basic health problems and assist as much as possible," he said.
Besser said the elderly were often isolated and as a result became lonely which led to poor well-being.
"Older people too often go without companionship. This has an effect on their health and they tend to end up in hospitals unnecessarily. The notion is for active and more independent older people to provide support for those who are older and less active than they may be," he said.
Besser said they were in talks with officials from the Department of Social Development to extend the AgeWell programme into communities across the City.
AgeWell training specialist, Vanessa Lowndes, said while each consultant was required to conduct 20 wellness related questions and observations, they were not official health workers.
"They are not allowed to make any diagnostics or recommendations. The observations they do are to see if the house has been cleaned and if the client appears to be in good health. The algorithms from this data will give us a result to indicate when clients should be encouraged to go to the doctor," she said.
Lowndes said the aim of their system was to identify early signs of possible health problems and recommend their clients to local clinics.
"We aren't trained in health care. We are gathering data and recommending if someone needs to get to a doctor," she said.
Dodgy people are suing us. Please support us by contributing to our legal costs and helping us to publish news that matters.
© 2016 GroundUp.
This article is licensed under a
Creative Commons Attribution-NoDerivatives 4.0 International License
.