Dissatisfaction with service delivery at Khayelitsha District Hospital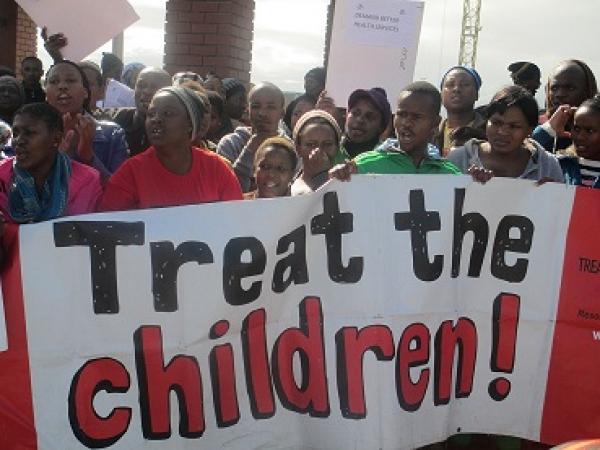 The new Khayelitsha District Hospital, officially opened in April 2012, has attracted widespread criticism and unhappiness with its quality of service, which has fallen far short of expectation.
About 300 members of the Treatment Action Campaign (TAC), former patients at the hospital, and community members held a protest at 10am on 14 August at the corner of Steve Biko Road. The protesters sang in unison, holding banners and placards.
Former patients said they had to wait for long periods due to incompetence and too few staff.
"This is our hospital, we voted for these people [hospital management] because we thought they would have our best interests at heart. But now they have shown us that we have put our trust in the wrong people. They don't care about us," said TAC spokesperson Amelia Mfiki.
The hospital has received many allegations of negligence from the TAC and former patients, as well as from families unhappy with the manner in which their loved ones have been treated.
Patients also complained of ill-treatment by nurses, doctors and receptionists at the hospital.
According to Mfiki the hospital is understaffed, yet eleven doctors have been dismissed. "The eleven doctors that were dismissed were low income doctors and they received extra funding from the hospital. Because of insufficient funds, the doctors' contracts were terminated."
Noxolo Bunu, a former patient who was pregnant at the time, said, "I will never forget that night. It was on 10 December last year when I came to this hospital. I arrived at 7:30pm and I only received help at midnight. The receptionists gave me a hard time, asking me sensitive questions and embarrassing me."
Bunu says that the doctors also mistreated her. "I did not even get a bed, as there were not enough beds to accommodate everyone. I was placed in a room with very sick patients, some of them men who were naked. I had a miscarriage."
Khayelitsha District Hospital CEO Dr Anwar Kharwa accompanied by his management team came out to meet the protesters. He accepted a memorandum with the demands of the community and the TAC, which he read and signed. He promised to liaise with TAC in a week's time.
The memorandum states that TAC submitted a list of complaints to the hospital on 14 May. TAC had collected 30 testimonials from patients that were treated at the hospital. Complaints that were submitted included poor treatment from hospital staff, insufficient doctors and a lack of beds for patients.
The memorandum also highlights how some patients, who live in Khayelitsha and are unemployed, have been billed after leaving the hospital. The TAC says these patients cannot afford to pay the bills.
One paragraph from the memorandum reads as follows:
*"As people living in Khayelitsha and being served by this hospital:
We demand better quality treatment and care. The impressive hospital buildings are of little value if patients are treated badly.
We demand more hospital beds in order to better meet the needs of the community.
We demand that the hospital hires enough staff to avoid the long waiting periods experienced by patients."*
Principal Communications Officer for District Health Services and Programmes Sithembiso Magubane said, "The complaints received from the Treatment Action Campaign have been investigated and are in the process of being resolved … Dr Anwar Kharwa, Khayelitsha Hospital CEO, together with the District Director and the board chairperson will be meeting with TAC on Wednesday 21 August to address the demands made in the memorandum."
Western Cape Health Minister Theuns Botha said, "The TAC's issues are on the agenda at the next meeting of the hospital's facility board. The hospital management and the facility board is committed to the hospital as a service delivery facility for the community of Khayelitsha and surrounds. My office is always open for discussion, and I have met with the TAC on several occasions. We want to move forward in a spirit of co-responsibility."
GroundUp previously reported the views of several Khayelitsha residents on the new hospital.
© 2016 GroundUp.
This article is licensed under a
Creative Commons Attribution-NoDerivatives 4.0 International License
.