Cape Town's informal rubbish dumps
|
Mary-Anne Gontsana
News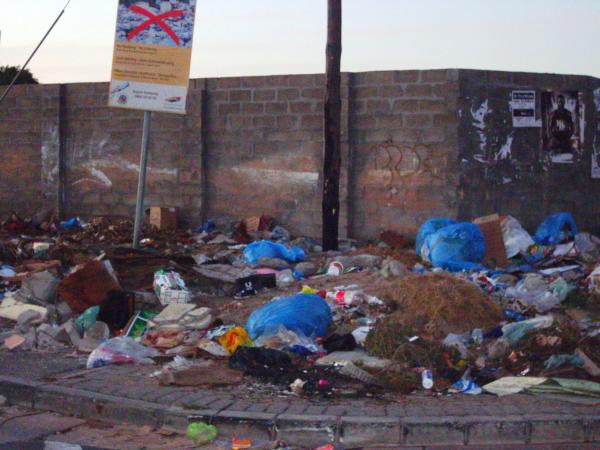 The rubbish stacked against the wall of Gugulethu's NY132 stadium has grown to the point that residents are unable to walk on the pavement.
Rubble, broken garbage bags, bottles and even baby nappies lie about. Other street corners in the township have also been turned into rubbish dumping sites. It is a common sight on the Cape Flats.
Bongani Ndimande, who lives a few steps away from the rubbish site in the photograph, says the residents just decided to use the corner as a dumping site.
"It started small, with people throwing bottles there and papers. Then all of a sudden blue bags filled with rubbish started being thrown there. So it just grew and grew. I have definitely seen rats there, especially when it starts getting dark," said Ndimande.
The City of Cape Town's Integrated Waste Management By-law states that no person may drop, throw, deposit, spill, dump, store or in any other way discard any litter or waste into or onto any public place.
Gugulethu Ward 40 councillor, Mzwakhe Nqavashe has strong views on the problem. "Society is at fault and people should take responsibility to keep the area in which they live in clean," he says.
Nqavashe, who has been a ward councilor for almost a year, said it must be the ninth time that the same area has been reported, with it being cleaned twice in August last year.
"Residents know that they are not supposed to be dumping their rubbish in that corner, but they continuously do it. Solid waste has cleaned that area countless times but each time it goes back to being dirty. It will now be cleaned again," said Nqavashe.
The waste truck collects rubbish every Monday in that area. Nqavashe says even though the rubbish is collected, residents still have rubbish left that they keep in their backyards. They then load the rubbish in the black wheelie bins which they use as wheelbarrows and dump it at the same spot that was cleaned, during the night.
Nqavashe continued, "What our people need is education about illegal dumping and we have put forward proposals to the council for workshops to be done. There is even a city bylaw that warns against illegal dumping."
Refuse not collected
Social Justice Coaliton's (SJC) senior researcher, Joel Bregman, offers a different view of the problem. He said rubbish dumps were a widespread problem and a number of factors contributed to them in the townships. One factor was that the city pays companies to collect the rubbish and sometimes it just doesn't get collected.
"In Khayelitsha's RR Section there are containers that are meant for rubbish but even those become full and residents end up throwing the rubbish outside the containers which are supposed to be monitored and locked. Another problem is that in Khayelitsha the houses are close to each other and there is hardly any space for the waste truck to drive through," said Bregman.
He added that these sites also posed health risks and dangers for children who played there.
Zukiswa Qezo, a Khayelitsha RR Section resident, said waste collection used to come door-to-door twice a week, giving out refuse bags in which residents should put in their rubbish then take it and dump it in the container. These bags are in place of the black wheelie bins. This doesn't happen anymore. These days you only get given a bag at the container, when you go and dump your rubbish," says Qezo.
According to Qezo, there are six sections in RR but only two containers. "The waste truck does not go into RR to collect rubbish, it goes straight to the containers."
Dodgy people are suing us. Please support us by contributing to our legal costs and helping us to publish news that matters.
© 2016 GroundUp.

This article is licensed under a Creative Commons Attribution-NoDerivatives 4.0 International License.