Bellville traders divided over City's actions
|
Siphesihle Matyila
News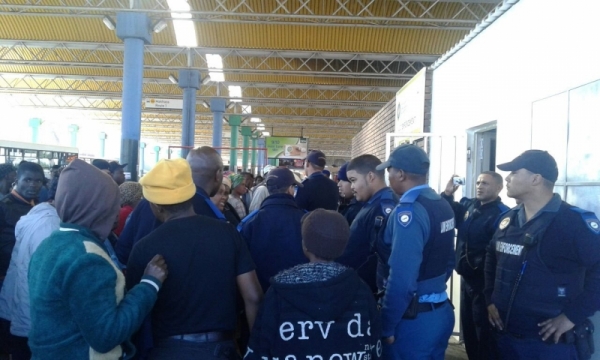 Attempts by the City to crack down on informal traders at the Bellville taxi rank who don't have permits have been welcomed by those who do.
The City's Executive Director for Tourism, Events and Economic Development, Anton Groenewald, said some vendors who did not trade from legal informal trading bays were selling counterfeit goods and DVDs, and taking business away from legally permitted informal traders.
He said that where informal traders were found to be in contravention of the City's by-laws and did not correct this, their goods had been impounded.
The City had tried to meet them and give them an opportunity to apply for a permit and trade from a legally demarcated trading bay. "These traders have refused to meet the City and have refused to make application for the informal trading bays that are available," he said.
When GroundUp visited the Bellville taxi rank on Saturday, vendors were divided about the City's actions.
One vendor who sells airtime complained that Law Enforcement was chasing her away and taking her goods. As she was talking she asked the GroundUp team to stand behind her so she could see if Law Enforcement officers were coming.
"Law enforcement is chasing us away because we don't have permits,and that hurts because we also have rights to sell here", she said.
Another vendor asked: "What are you writing? We do not want to be arrested."
Vendors complained that they did not have enough money to pay R84 a month for a permit.
"I do not have time for this, I'm waiting for customers, you are disturbing me," said a woman selling fruit at the taxi rank. She said she could not afford the permit.
A local resident, Avuyile Mpoza, said that last week the City Law Enforcement had first chased away foreigners who were selling DVDs and CDs at the taxi rank and then came back and arrested some street sellers who were selling fruit and sweets. Mpoza said this was not right as people were busy trying to survive.
But stall owners who do have permits were in full agreement with the City's actions. They said it was unfair that some people could run their businesses without paying for permits.
"If someone wants to do business in the taxi rank they must apply for a permit and pay a monthly fee, just like we do", said one of the vendors.
The woman, who has five children and seven grandchildren, said if she could afford to pay for the permit then everyone could pay.
She said she did not make much but she made sure that she had R84 for a permit every month.
"I fully support what law enforcement is doing because it is unfair that we have to pay for permits while other people refuse to", she said.
"These people make profits. Why are they refusing to pay for their permits?" said another vendor.
"It is unfair to us, because at the end of the day they sell the same things we sell but at a much cheaper price. They give discounts to people."
© 2016 GroundUp.
This article is licensed under a
Creative Commons Attribution-NoDerivatives 4.0 International License
.