Alexander Court, Parow: tenants say their lives are in danger.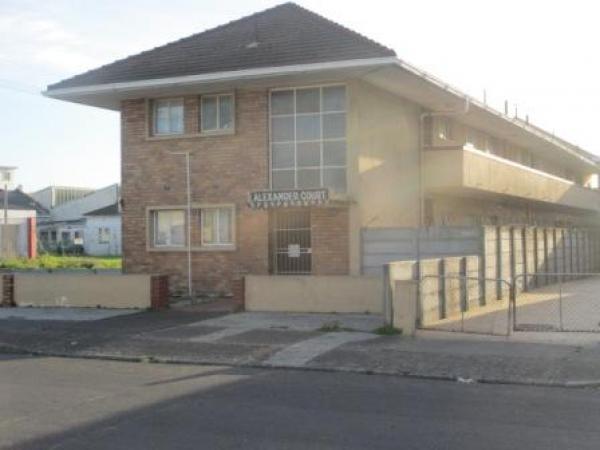 Property owners and tenants of Alexander Court in Parow say they are being terrorised by drug lords and sex workers who trespass on their balconies.
GroundUp visited the block of flats to speak to owners and tenants and witnessed the mess left by the trespassers. The stairs at the entrance to the complex were covered in human faeces.
One flat owner, Lydia Smith, a 69-year-old widow, told GroundUp she bought a flat in the complex 12 years ago. She said every night people jump over the wall, break the burglar bar screens, and occupy the stairs to the flats' entrance. They smoke, drink and make a noise, disturbing the flat owners and tenants till dawn. She claims the trespassers are involved in activities such as mugging, sex work and drug dealing. She says on numerous occasions visitors to the block have had their cars broken into.
She said, "This place is terrible. I have put my flat on the market thrice, but ended up changing my mind. My family is worried, and ask all the time why I am not selling the flat. It is not easy for me to just let go of my property just because some people who should be prosecuted by law are trespassing."
She says she has confronted the trespassers a number of times, but they are rude and aggressive.
A cleaner at the complex told GroundUp that he is sick and tired of cleaning up the mess. He said, "It is a health hazard to use my hands to remove human waste every morning."
Another flat owner, who did not wish to be named, said she bought her flat in 1996. She is scared to reprimand the trespassers. She fears they might harm her because she lives on the ground floor and leaves her house as early as 5am to catch a train. She feels the police and city council should step in because the situation is becoming worse.
Alexander Court body corporate chairperson Chris Matthee acknowledged the problem. He said the problem is a flat owner who makes lots of duplicate keys and gives them to different people who enter his place freely. A court order is needed to evict him lawfully. When they complained to the police, they were told they should fence the building to restrict movement across the boundary.
Matthee said he has stayed in the complex for 12 years and it was once safe and secure. He says the trespassers use knives to break the screens. It cost R600 to repair a broken screen and so far he had replaced three screens. He said he had been the chairperson for five years and was overwhelmed by the challenges in the complex. He intends to step down.
Ardela van Niekerk, subcouncil 4 manager for the City, said she has not received complaints in this regard from any of the residents at Alexander Court. However, she has reported the matter to law enforcement for investigation. The City encourages residents to report any criminal activities to their local police station.
Captain Van Wyk of SAPS Western Cape Media Centre urged the complainants to lodge an official complaint so that an investigation can be conducted.
© 2016 GroundUp.
This article is licensed under a
Creative Commons Attribution-NoDerivatives 4.0 International License
.