Women beaten with knobkieries in battle over Wild Coast land, court hears
Amadiba Crisis Committee secures interim interdict against development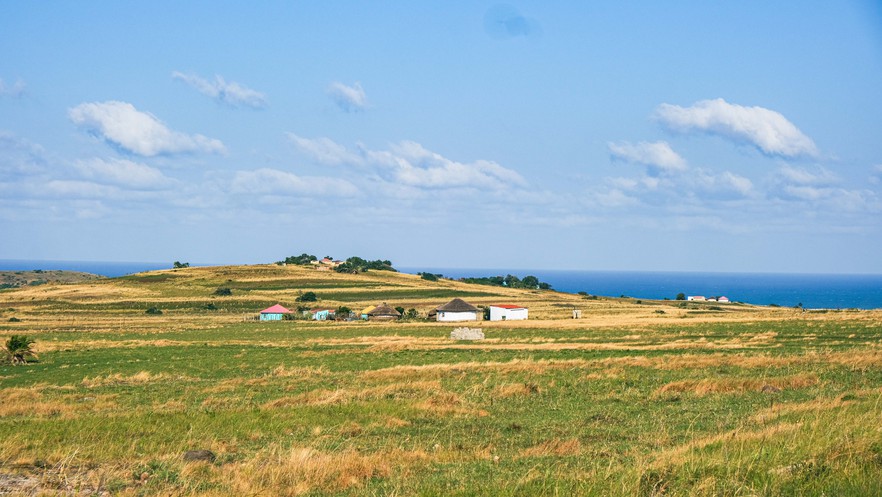 The Makhanda High Court has issued an interdict against any construction in Sigidi village in the Eastern Cape without community consent.
The Amadiba Crisis Committee brought the application against community member Nero Dlamini who they say wanted to excavate a site in a conservation area.
The committee says when women in the community tried to block the development, Dlamini's family beat them with knobkieries.
The Amadiba Crisis Committee (ACC), has secured an interim interdict against community member Nero Dlamini, stopping him from excavating a site - possibly for a hotel - in an Eastern Cape conservation site without authority.
The committee said that members of Dlamini's family beat several women with knobkieries when they tried to protect the land "with their bodies". They said he also said he would not "listen to women" and that "no woman could prevent him from his work".
The dispute is believed to have its roots in the bid by the South African National Roads Agency (SANRAL) to build a new toll road through the Wild Coast.
Dlamini only opposed the urgency of the application, which came before Makhanda High Court Judge Justin Laing on 9 May. Dlamini claimed Chief Lunga Baleni had given it the stamp of approval. Baleni also approved the Xolobeni Mining Project that was stopped by the courts in 2018.
But Judge Laing issued the interdict, giving Dlamini until 6 June to make submissions why it should not be made final.
In terms of the order, Nero Dlamini and Vuyisile Dlamini are interdicted from building on any land in Sigidi Village, Mbizana, within one kilometre of the sea or tidal river, without getting the required consent from the community and a permit in terms of the Transkei Decree 9 of 1992.
In her affidavit, Nonhle Mbuthuma Forslund, spokesperson for the ACC, said the community had defended "our land" for generations, in the face of colonialism, apartheid, and a multinational mining company, through recognised customary law property rights.
On 22 April this year, a tractor loader backhoe had begun to dig up a pristine site, overlooking the Mzamba Estuary, apparently at the behest of Nero Dlamini, she said.
"When challenged, he did not stop tearing up our land. Instead he claimed that no woman - not even the iNkosana (headwoman) of Umgungundlovu, would prevent him from doing his work."
Coastal conservation
Forslund said the coastal conservation area, established by the Transkei Decree, was no mere formality: "it protects our pristine, diverse and unique coastline".
Attempts to reason with Dlamini - who is the headmaster of a local school - came to nought, she said. After women resorted to "using their bodies" to protect the land, the digging resumed on 3 May, this time led by Vuyisile Dlamini.
Forslund said land not specifically allocated to individuals is owned and used by the community through collective rights defined by customary law.
There was an "absolute prohibition" on intensive or commercial land use without specific authorisation, and consensus was especially crucial for decisions with potential for conflict or division.
Nero Dlamini, she said, had not been allocated any rights to the site. As a member of the community, he was entitled to be allocated a residential site through the same process as any community member, but not the site in question because it was used for grazing and was in the conservation area.
Knobkieries
According to Forslund's affidavit, when first confronted by a group of women in April, Dlamini had told them to "go home and wash the dirt off", telling them they were "uneducated".
His relatives then arrived with knobkieries, according to Forslund. They beat several of the women. When the women asked where his Permission to Occupy certificate was, they were told this was a "men's issue".
Some elders heard their screams and came with their own knobkieries and spears.
Forslund said things calmed down. That evening seven women struck by the knobkierie, including herself, were treated at a local hospital.
After laying criminal charges, the investigating officer contacted Nero Dlamini who said that he had "bought the land" from his brother.
Forslund said from the extent of the land that was cleared, "it is more consistent with an intent to develop a business than a mere home".
The committee's lawyers immediately wrote a 'cease and desist' letter to Dlamini. They also wrote to the Provincial Department of Economic Development and Environmental Affairs and Tourism, which is responsible for enforcing Decree 9, seeking its intervention.
Men's only meeting
Then on 1 May, iNkosi Lunga Baleni called a "men's only" meeting", and it became clear that he was not attempting to mediate the conflict but was there in support of Nero Dlamini," Forslund wrote.
"iNkosi Baleni declared in the meeting that Mr Nero Dlamini must continue building inside the coastal conservation area … showing his rejection of Decree 9, the law that protects the Wild Coast … and promoting conflict."
The clearing activities then resumed on 3 May.
The community believed representatives of the provincial department were on their way, but they did not arrive, Forslund wrote. However, Zeka Mnyamane, a former director of the mining company who is now employed by SANRAL to promote the roll road, arrived and was allowed into the fenced area.
By then 50 members of the community had gathered outside the fence. Baleni was called but said he could not come as his wife was sick and refused to commit to a date when he could come to the area.
The community insisted that the clearing of the site was illegal and eventually, the tractor stopped work.
Forslund said the community was concerned that if Nero Dlamini was allowed to violate customary law with impunity, others might feel they could also claim land.
"This is not a remote concern … the land was stolen to make way for the Wild Coast Sun Resort and Casino and many outsiders have flooded in to 'buy' land adjacent to it with payments of a mere R10,000 …"
"We have some of the most pristine valuable land in all of South Africa. Many outsiders would jump at the chance to claim some for themselves."
Dlamini in his affidavit said that he only received the court papers the day before the hearing. He only responded dealing with the case being brought on an urgent basis.
© 2023 GroundUp. This article is licensed under a Creative Commons Attribution-NoDerivatives 4.0 International License.
You may republish this article, so long as you credit the authors and GroundUp, and do not change the text. Please include a link back to the original article.
We put an invisible pixel in the article so that we can count traffic to republishers. All analytics tools are solely on our servers. We do not give our logs to any third party. Logs are deleted after two weeks. We do not use any IP address identifying information except to count regional traffic. We are solely interested in counting hits, not tracking users. If you republish, please do not delete the invisible pixel.