White boy goes to circumcision school
|
Nombulelo Damba-Hendrik and Masixole Feni
News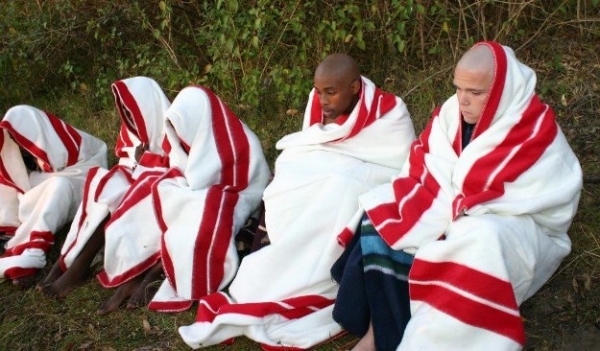 Not even initiation school could separate two teens from Hudson Park High School in East London. Estiaan Swanepoel, who is Afrikaans, and his friend Ndibulele Soboyisi, who is Xhosa, are both 18 years old and have known each other for the past eight years.
Their bond is set to deepen as they both take the traditional Xhosa rite of passage into manhood. The grade 11 learners, who live in Gonubie, made a commitment five years ago to embrace each other's culture.
On Saturday, the two were circumcised at an initiation school in Centane. They joined an estimated 20,000 initiates undergoing initiation this winter in the Eastern Cape.
Traditional surgeon Alfred Malova said he was shocked when he first heard Swanepoel wanted to enter manhood in the Xhosa tradition, but he then welcomed the decision.
Malova is a Christian and he has been a traditional surgeon since 1998. Once, in 2008, he circumcised a coloured boy.
Swanepoel's mother, Esta, said her son told her a long time ago that he wanted to go to be circumcised.
"At first I thought he was joking. I really didn't pay much attention to it," she said. "I was not happy about it, but he convinced me, giving me all his reasons of wanting to go to the initiation school."
The mother of two admitted she's nervous and worried about him. "But I know he's going to come back home safe," she said.
Since Swanepoel's father passed away six years ago, it was up to Soboyisi's father, Zwelinzima, to take the boys to the traditional surgeon.
"We discussed it and he was sure that he wants to do it. I could not refuse to take him," he said. "Sometimes Estiaan lives with us, when his mother is away. He understands Xhosa and he tries to speak it."
He said the boys were very close, like twins.
Malova said that Swanepoel is welcomed by the other boys and is responding well.
"Yes, it was new to them, but they are happy to have him. On the weekend, we will be celebrating his first week," he said.
Dodgy people are suing us. Please support us by contributing to our legal costs and helping us to publish news that matters.
© 2016 GroundUp.
This article is licensed under a
Creative Commons Attribution-NoDerivatives 4.0 International License
.