When the ANC jeered Madiba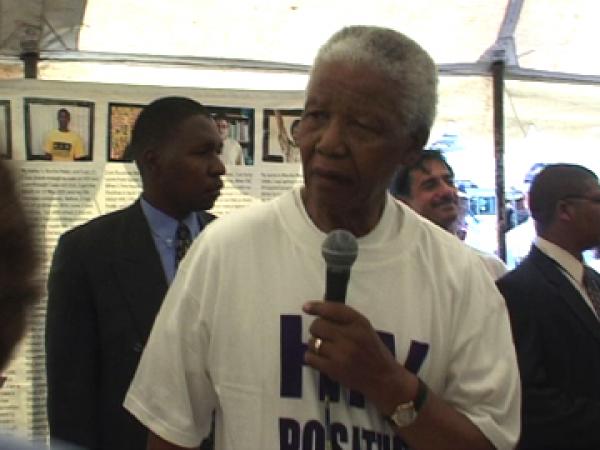 Do any of the members of the ANC's 1997-2002 NEC now regret the way they heckled and jeered Madiba at an NEC meeting in March 2002?
Andrew Feinstein in his book After the Party: A personal and political journey inside the ANC (Jonathan Ball Publishers, 2007), briefly describes the incident and the build up to it (pages 139-140). Mandela was seemingly being characterised at the time as a 'meddling old man' who was 'out of touch.' This was primarily in the context of HIV/AIDS and then President Mbeki's denialism. The onslaught on Madiba was led by Peter Mokaba – who died that year.
In a Sunday Times op-ed on 19 October 2008, Mr Ngoako Ramatlhodi, exposed further details of how Madiba had been humiliated at the NEC meeting in 2002. This article seems to be no longer available on the Sunday Times website. Khaya Dlanga takes Mr Ramatlhodi to task for having remained silent during the attack on Madiba, and all the intervening years. He quotes Mr Ramatlhodi as saying that none of the senior leaders present had the courage to stand up and defend an innocent old man who was 'being violated in the most brutal manner by junior leaders of the movement.'
The National Chairperson of the ANC at the time, who presided over the meeting, was Mr Terror Lekota.
Another mention of this incident is made by Mpumelelo Mkhabela in the DispatchOnline of May 23 2013 in an article about the Gupta's use of Waterkloof Air Force base as their own private airport. He quotes Ramatlhodi as saying that the ANC members were 'wild, aggressive and merciless against their former president.'
The whole incident could ironically be described as a bizarre show of 'unity' and 'social cohesion.' I think it demonstrates the danger of staying silent when clearly an injustice is in progress.
I have been wondering if any of the members of the NEC involved ever apologised to Madiba or asked for his forgiveness – either for their hostility, or for their fear and cowardice in remaining silent during the 'onslaught.'. It is unlikely that we will ever be told.
The ANC website conveniently lists the members of the 1997-2002 NEC in the report delivered at its 51st conference. Some members resigned during that time due to re-deployment elsewhere so we cannot know if they were part of the viciousness. Mr Ramatlhodi himself had resigned in order to take up the position of Provincial Chairperson of Limpopo's ANC and may therefore only have been present in an 'ex-officio' capacity. This is not clear. Others became ill or died (like Peter Mokaba). The "top six" of the ANC at the time, who were most likely present, were then President Thabo Mbeki; then Deputy President Jacob Zuma; then Secretary General Kgalema Motlanthe; then Deputy Secretary General Thenjiwe Mtintso; and then Treasurer General Mendi Msimang.
It seems that of today's "top six" ANC officials, the Chairperson, Ms Baleka Mbete, and the Secretary General, Mr Gwede Mantashe, were not involved in that shameful NEC meeting. It is reasonable to assume that President Zuma, Mr Cyril Ramaphosa, Ms Jesse Duarte and Dr Zweli Mkhize were all present – and kept quiet.
Surprises on the list – some who may today perhaps be having regrets about their behaviour – are Mr Collins Chabane, Rev Frank Chikane, Mr Jeremy Cronin, Ms Frene Ginwala, Mr Derek Hanekom, Mr Pallo Jordan, Mr Ronnie Kasrils, Ms Brigitte Mabandla, Mr Trevor Manuel, Mr Amos Masondo, Rev Smangaliso Mkhatshwa, Ms Thandi Modise, Mr Jay Naidoo, Mr Blade Nzimande, Ms Lindiwe Sisulu, Mr Max Sisulu, Dr Nkosozana Dlamini-Zuma.
According to Khaya Dlanga, Ramatlhodi's article elicited a response from our Minister of Justice and Constitutional Development, Mr Jeff Radebe. Dlanga states that Mr Radebe 'savaged Lekota for having presided over that meeting and for having allowed Madiba to be treated in the manner he was.' But as Dlanga rightly points out – Mr Radebe himself was present at the meeting and did not speak out! He is listed as an NEC member of that era. So did Mr Radebe choke up in Parliament this week, not only because of genuine grief for Madiba, but possibly also a regret at not having stood up for him at that notorious ANC March 2002 NEC meeting?
Roy Jobson writes in his personal capacity.
© 2016 GroundUp.
This article is licensed under a
Creative Commons Attribution-NoDerivatives 4.0 International License
.