What it is like to live in Masiphumelele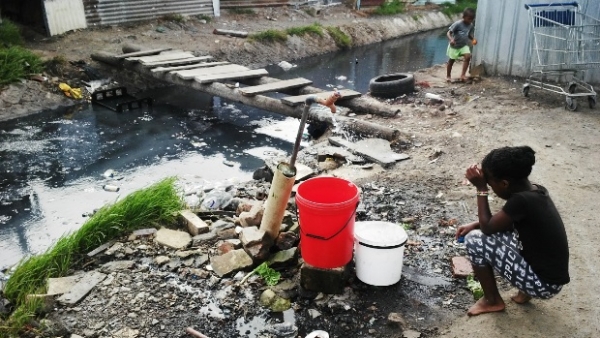 The Wetlands informal settlement of Masiphumelele is home to over 20,000 people. It is a jumble of corrugated iron shacks and electrical wires. The smell of sewage and rubbish fills the air. Among the many problems its residents face are a lack of toilets and taps for water.
Lorna Tshetsha wakes up early in the morning to get ready for work. Like many South Africans who live in informal settlements she carries a 25 litre bucket to fetch water from a faraway tap. She carries the bucket on her head and walks in the dark through the riddle of shacks, crossing a smelly open sewer by way of a small wooden bridge built by community members.
"Sometimes we stand for a long time at the tap, because the queues are so long. There are two taps and one doesn't work properly," says Tshetsha.
Tshetsha says the smell coming off open sewage is unbearable, but she needs a place to stay and she has learned to get used to it.
"I moved here because as a backyarder you don't get enough space. I had a one-room, but because I have a child that was not enough. We had to sleep with her in the same bed because there was no space to put a mattress," says Tshetsha.
Tshetsha, who lives with her husband and daughter, has been in Masiphumelele for almost 10 years. Like many people coming from the Eastern Cape, Tshetsha moved to Cape Town in search of greener pastures.
The informal settlement is located in a wetland area, making it wet all year round especially in winter when groundwater floods their homes. Many residents put crates and bricks under their beds and must constantly layer the ground with dry sand.
Dr Tallulah Oni, a public health specialist at the University of Cape Town, says that areas like Masiphumelele highlight the importance of taking an upstream public health approach to improving health care.
"We look at the environment, at their houses. There is a lot of overcrowding, with the houses very close together. A lot of the houses set up are not planned, so there's poor access to water and to sanitation."
Tshetsha now lives in a two room shack with a bedroom big enough to put a mattress on the floor for her daughter and a kitchen which also functions as a lounge.The shack is deep in the informal settlement, faces open sewage, and has layers of bricks and concrete as a foundation to prevent groundwater flooding it.
"We know that poor access results in or increases the risk of health conditions, particularly in vulnerable populations such children, pregnant women and the elderly. Things like diarrhoea, respiratory tract infections and pneumonia are prevalent," says Oni.
Poor access to roads and road infrastructure impacts on access to health services, such as getting to the clinic or an ambulance.
Social Justice Coalition (SJC) representative Axolile Notywala says a lack of service delivery is a continuous problem for many people, following them from rural areas to urban areas.
"People in the informal settlements are likely to be there for the next 30 years, that is a reality. But the problem in South Africa is the issue of the land. There is a shortage of land, and where there is land, it can't be used because it is privately owned … if you look at Cape Town, it's a much divided city.There's the rich side and the poor side. On the rich side there is land that could be used to build affordable houses," says Notywala.
Ward councillor Felicity Purchase says there are currently two housing developments underway in Masiphumelele but only a small number of people from the wetlands area will benefit from the housing development
"They [the housing developments] also need to cater for the backyarders. The beneficiaries will be taken off the housing waiting list in date order, starting with the first applicants," said Purchase.
"We had a list of people that are or were prepared to move to more suitable land, but when this land was prepared, it was invaded. This was out of the far south, but included people working out of the valley," said Purchase.
© 2016 GroundUp.
This article is licensed under a
Creative Commons Attribution-NoDerivatives 4.0 International License
.